Have you ever noticed the little check mark near a brand or person's name on social media? Did you refrain from following if it wasn't there? What's the importance of the little check mark on an account anyway? Aside from telling the real Kim Kardashian Twitter account from the numerous fake ones, having your brand's social media channels verified illustrates your authenticity and credibility. In addition to the added bonus of having the legitimacy of a check mark or badge, verification helps prevent identity theft, protects the integrity of the account holders and indicates to users searching for your brand that you're the real deal.
As October is National Cyber Security Awareness Month, a great way to protect your brand's identity online is by verifying your company's social media pages. Waste less time trying to outsmart the imposter accounts for your brand and secure yourself a checkmark. Here's a breakdown of how to do so on a few social media channels: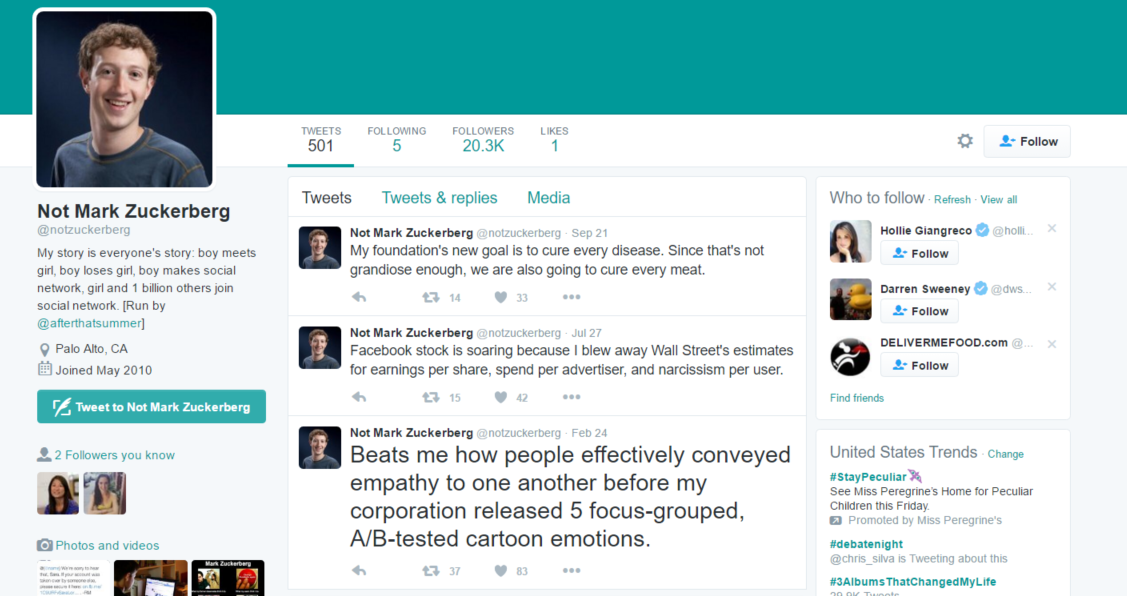 Facebook

So you know it's important to get the verification check mark by your account's name, but how do you even do that? First, the business page needs created and categorized under "Local Businesses" or "Companies & Organizations." Doing so makes the page eligible for the gray verification badge, according to Facebook's Help Center. Next, navigate to the settings tab at the top of the page. Select "General" from the drop-down menu and then click on "Page Verification." Third, click "Verify this Page," and then toggle to "Get Started." At this point, you'll need a publicly listed phone number, country and language for the brand to move to the next step. Last, click "Call Me Now," and Facebook will call the number listed with a verification code. These codes are four digits in length and need entered into the corresponding field to finalize the verification.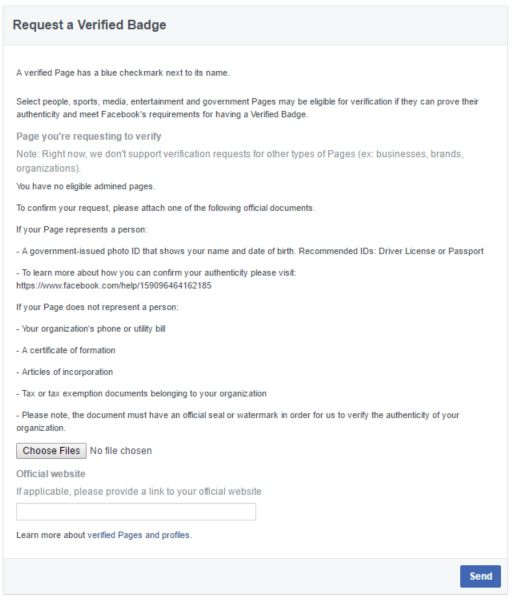 In some rare circumstances, the phone number entered may not trigger the authentication. If that happens there's an additional way to verify the page. Companies can submit a phone or utility bill, a certificate of formation, articles of incorporation, or tax exemption documents belonging to the company. Only one of these documents is necessary to submit to the Facebook team, but an official seal or watermark has to be present to verify the authenticity of the organization. Usually within a few days, the Facebook team will send the account's designated email a confirmation indicating the verification badge has been placed. At that point, you can celebrate your new found authenticity, woot-woot!
Instagram

Unlike Facebook, to verify an Instagram account you've got to be a VIP. According to Instagram's help page, a verified badge is "a check that appears next to an Instagram account's name in search and on the profile. It means that Instagram has confirmed that this is the authentic account for the public figure, celebrity or global brand it represents." One major downside to Instagram verification is that it's mainly for celebrities and well-known public figures. It's currently not possible for organizations to submit information to become verified. Instead, Instagram suggests that organizations interested in showing their authenticity link their official webpage, Facebook account and Twitter to their bio on Instagram. The company is hopeful that this will avoid confusion of fake accounts. For now, Instagram is a spotlight for celebrities.
YouTube
If Facebook's the "everyone can do it" friend and Instagram is the "exclusive people only" friend, then YouTube is definitely somewhere in the middle. While the YouTube doesn't accept just any request to receive channel verification, it does have a more approachable process. To start, your channel needs more than 100,000 subscribers, which may pose as troublesome for hyperlocal brands. Next, the YouTube channel requires a verified companion Google+ page or profile. For those with a mass following, YouTube automatically reviews and approves verification badges when the minimum amount of subscribers is met. One caveat to that, however, is that a name change triggers an automatic disappearance of your channels badge. Once again though, YouTube re-reviews the account. So what about the smaller brands? Well, the good news is that having a verification badge does not give an account any additional access to certain features nor does it affect the search results.
Twitter

Ah yes, the coveted blue check mark badge. Until pretty recently, getting your Twitter account verified was as likely as winning the lottery. Although Twitter has allowed accounts to be verified since 2009, verification was only granted to high-profile VIPs like politicians, celebs, certain journalists and major publications. Now that Twitter has opened up verification to just about everyone, authenticating your account is a simple process. First and foremost, make sure your profile information is updated including your email, phone number, Twitter bio, header image and profile picture. Second, make sure the link to your company website is accurate and verifiable. Third, set your profile to "public." Next, you can apply for verification by answering a few short questions and submitting the verification form. You must be logged in to your Twitter account to access the form (see image below). Basically, Twitter wants to know if your company/brand is interesting enough to Twitter users. Finally, you wait. Twitter will respond via direct message to either confirm or deny your verification request. But don't fret if you're not immediately approved for verification. You may reapply after a 30-day waiting period.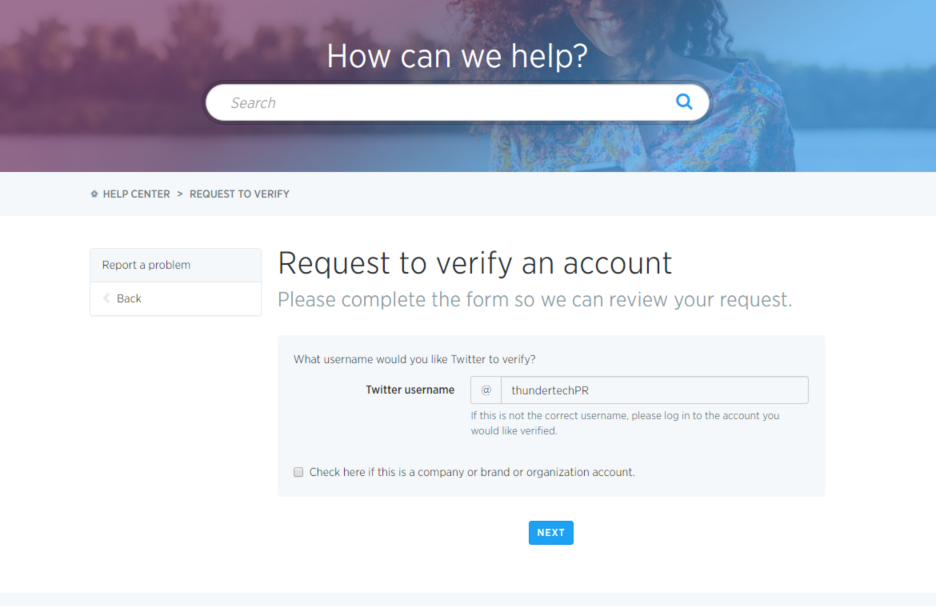 Pinterest

Unlike Facebook or Twitter, Pinterest doesn't require you to jump through any hoops in order to be verified. Account verification is as easy as 1, 2, 3! First, log in to your account and select the "Settings" option from the dropdown menu under your profile name. Next, scroll to the bottom of the Settings page to the website box, enter your company website and click the "Verify Website" button. A new page will appear prompting you to download your unique HTML verification file. Third, upload the HTML file to the server associated with the domain you're using on Pinterest. Finally, once the upload is complete, head back over to Pinterest and click the link that says "Click here to complete the process." And you're all done. If done correctly, you should see a red circle with a check mark in your settings page. No waiting and no hassle. Trust us, if your company is active on Pinterest, verifying your account is worth the five minutes it takes to get that designation. Pinterest verification means increased traffic and engagement and enhanced SEO and online visibility. It doesn't get much better than that!
But t::t social media team, does any of this mean I need to verify my pages ASAP?
Well, that depends on a number of factors. If your pages easily qualify for verification, then absolutely! On the other hand, if you're struggling to meet the requirements, then spend more time building your channel's following and improving the relationships you've already built.
Whatever the social media channel, verification badges differ across the board. While it may not matter if your brand's YouTube channel has a verification badge, having a Facebook badge may be more important and useful. Before starting the process, do some homework and make sure you're spending time on the right channels.
If you're not sure or need some help, contact us or follow us on our social media channels: