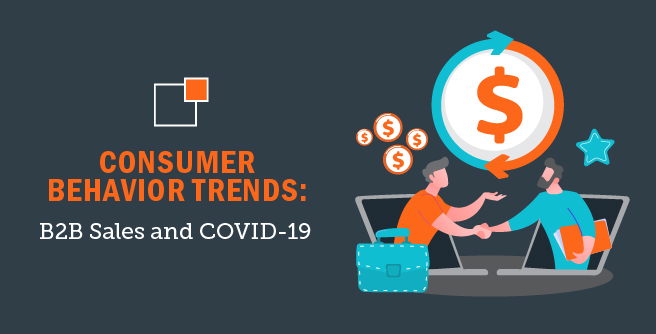 The impact of COVID-19 has led to strange times for marketers. We're seeing new paradigm shifts every day, and at thunder::tech, we are working hard to help you navigate its impact on your business. This content is one of many resources we are creating for marketing and management in the midst of the coronavirus.
As things continue to change, we're helping by providing marketing advice, fresh perspectives and strategic planning for companies during and after the pandemic. For a full list of our COVID-19 resources, click here.
This blog is one of several in our series on consumer behavior trends in various industries during the pandemic. We're exploring different developments and things marketers should watch as the coronavirus progresses.
Be sure to catch up on the other posts in this series:
The end of state-mandated shutdowns is now bringing about more constraints and changes to the business landscape, especially for business to business (B2B) sales teams. Prior to COVID-19, these sales teams just operated through the longest economic expansion in the history of the American economy. Let's face it, everything went up the past decade and sales people simply didn't have the pressure to evolve quickly or adapt to digital trends.
That's all changing right now.
Selling without the face-to-face meeting
According to
a study done by Business2Community.com
, 21.6% of B2B sales roles surveyed reported a jump in sales opportunities. This means that 73.9% said their sales opportunities had decreased since the coronavirus outbreak.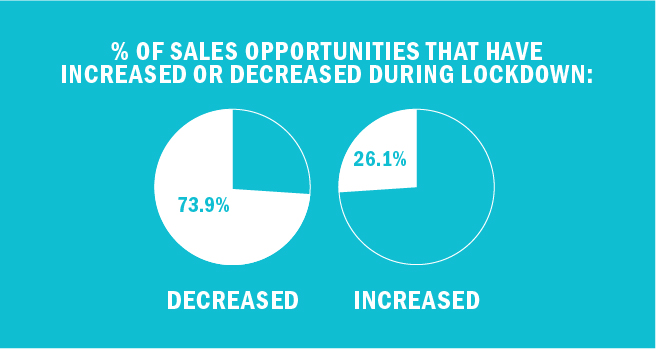 In general, non-essential or recession-prone industries will continue to encounter these difficulties in our constrained return to work. Some of the common issues sales teams are facing include:
It will be more difficult to have in-person sales appointments for months to come.
Trade shows, conferences and other large gatherings are unlikely to occur this year and potentially into 2021.
Entertainment options for salespeople to enjoy with clients and prospects will be limited at best.
Due to layoffs and furloughs, buyer contacts are changing for many teams.
Budgets have become more fluid and decisions are being vetted more thoroughly.
Consumer behavior changes on the rise
thunder::tech's research and insights team is tracking the following buying behavior changes in B2B sales due to COVID-19:
Small sales teams will evolve into inside sales groups
Road warriors that hunt for sales prospects are currently grounded as travel, events and conferences will continue to be restricted. In their absence, these sales teams need leads brought to them. B2B clients of thunder::tech are shifting budgets at a much faster rate than in the past to place more emphasis on expanding and capturing inbound leads through a variety of digital means.
The revolution will be streamed
A
McKinsey Consulting study in April 2020
showed that digital-enabled sales interactions are at least 2x more important now than they were pre-COVID. That's not a huge surprise given that sales teams haven't been able to be physically present with clients and potential clients for months.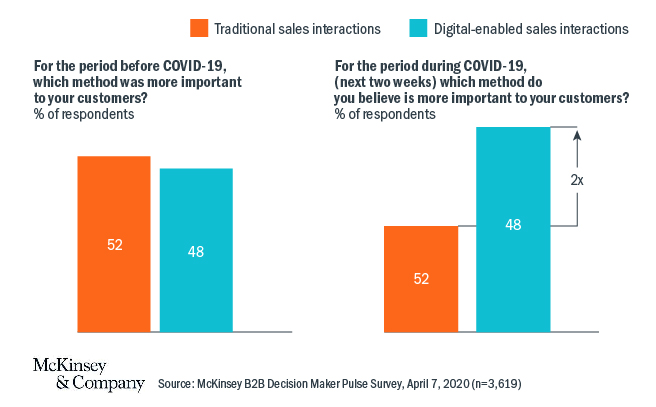 To put that importance in context in terms of usage, Zoom, one of the biggest winners of pandemic thus far, was tracking less than 10 million daily active participants in December 2019. Just a few months later in April 2020, they're
up to 300 million!
Other aspects of sales processes are also moving swiftly to video streaming, including product demonstrations, training, annual meetings and other events or meetings.
New ways of gathering information & connections
Expectations for on-demand information continue to rise through increased usage and installations of chat bots, online scheduling and self-service activities such as stock tracing and order tracking.
Consider this research from Chief Executive Magazine: In a recent survey of 10,000 Americans, the majority of respondents said "My Employer" was better prepared to manage this crisis than "My Country" by an entire 15 points, 45% to 30%. Communications coming from "My Employer" were more trusted (63%) than from Government (58%) or Media (51%).
Extrapolate this out to customers and your marketplace and it demonstrates that leaders need to be present during this time. Sales teams should be able to rely on company leadership to help them convince and convert during the pandemic.
Additionally, LinkedIn reported in April that they had seen a 55% increase in engagement between connections. If sales teams can't network at events and prospects aren't sitting at their desk to be called, LinkedIn may be the next best tool.
The acceleration of e-commerce
Amazon's growth in the B2B space is particularly notable. While stats aren't available yet for changes during the pandemic, anecdotally, most thunder::tech clients operating on Amazon have all seen sizable gains in sales in this space. To paint a picture of just this marketplace,
according to Thomasnet
, Amazon Business is believed to be on track to become the biggest industrial distributor in the U.S. by 2021. Their business marketplace lists 56 million products from 415,000 sellers, but there's more growth to be had.
RBC has since predicted
that Amazon Business' revenue will reach $31 billion by 2023. This means that Amazon Business is
growing at a faster rate
than their cloud business and its retail operations.
For those brands and sales teams that are ready, it's a great time to establish an omnichannel presence for exposure and availability on "all (necessary) channels". This means that your offering can be sold through multiple channels (traditional offline channels, direct, your website, Amazon and other marketplaces) and found and researched wherever the buyer is comfortable looking (search engines, YouTube, social media, etc.).
This omnichannel preference is part of the "consumerization" trend of B2B buyers. In their personal lives they already are comfortable using multiple channels to buy what they want and now expect that to translate to their professional duties. This is especially true in the current blended reality where more buyers are working from home.
Whether it's digital lead generation, streaming connections, online information or the growth of B2B e-commerce, the pandemic is accelerating the evolution of B2B sales. Based on early statistics and insights, COVID-19 will be the digital inflection point where B2B sales practices will substantially be forced to modernize for a connected world.