For savvy marketers, being a part of the online conversation is a no-brainer. The evolution of social media has kicked the door wide open for brands to develop a strong digital presence, provide valuable information about products and services, and engage in two-way conversations. But many brands have overlooked how social media influencers could be facilitating the conversation on their behalf.
What is influencer marketing?
Image Source: http://moneyinc.com/online-influencer-marketing/
We know what you're thinking, but we're not talking about celebrity, Kim Kardashian-esque product endorsements. We're talking about bloggers, vloggers and individuals or groups within a specific niche who have a dedicated online following. It's a proven fact that consumers are less inclined to trust advertising, but
71 percent
of consumers are more likely to make a purchase based on a social media reference. Influencer marketing is rooted in word-of-mouth marketing and drives consumer decision-making by seamlessly integrating brands into influential content.
But influencer marketing isn't a stand-alone tactic. An influencer marketing program should be an extension of your brand's integrated marketing efforts.
But how do marketers implement strategies for influencer marketing?
While the concept of influencer marketing is certainly nothing new, the way it has evolved over the last decade is something brands ought to get excited about. If you already have a strong social media following, adding an influencer marketing campaign can help you to cast a wider net to capture an audience already interested in your industry.

A successful influencer program can boost the impact of product launches or existing marketing campaigns, help maximize social media results to achieve brand goals and generate rich, new content for your brand.

To get started, you should follow a few essential steps:
Set Some Goals: A big mistake that many marketers make is kicking off an influencer program without clear goals in place. What do you want to accomplish and why? How does influencer marketing support your business and communication goals? Define your goals and shape your strategy around them, rather than activating a program and crossing your fingers that it hits the mark.
Know Your Audience: If you don't have a handle on who is buying your product or service, how can you effectively reach them through influencers? This step is not optional. Figure out your customer demographics, how they consume information and how and why they make purchasing decisions.
Choose the Right Influencers: Now that you've identified your audience, it's time to select and reach out to influencers who can reach them and be a source of credibility. I cannot stress this enough, but it's absolutely critical to partner with the right influencers who align with your brand. You wouldn't partner with someone who is lactose-intolerant to talk about your rich and creamy ice cream, right? Think of it like finding your perfect brand soulmate who can deliver your message to a targeted group of people in a way that you, as a brand, cannot.
Listen to Your Influencers: You chose them for a reason. If they are reviewing your product or service and sharing it with their network, then they probably have some thoughts and feedback that may lead to even better products. Be prepared to listen to their feedback and you may gain some valuable insights.
But as with any marketing approach, there are pros and cons to consider before diving head-first into the deep end of the influencer marketing pool.
The Pros
Extending your Brand's Reach: Connecting with social media influencers is a great way for brands to connect with consumers who fall outside the reach of traditional advertising. And influencer marketing can extend far beyond just that influencer's network. It can create a ripple-effect among each of their follower's networks to create positive effects for your brand.
Cost-Effective Marketing: While we would never encourage our clients to throw traditional tried-and-true forms of marketing out the window in favor of an influencer campaign, digital brand advocacy can be a budget-friendly extension of your existing marketing efforts. According to a study by Tomoson, influencer campaigns earn "$6.50 in earned media value for every $1.00 of paid media," making it a cost-effective customer acquisition channel.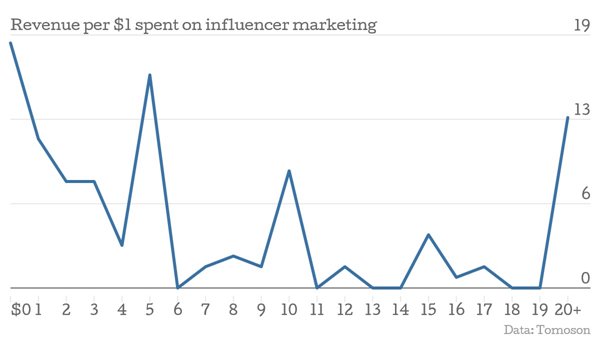 Image Source: http://blog.tomoson.com/influencer-marketing-study/
Improved SEO: External links back to your owned assets are gold when it comes to SEO, and influencer marketing can greatly contribute to this. Influencers can assist with site optimization by helping to increase traffic to your most important pages.
The Cons
Show Me the Receipts: Historically, measuring the ROI of your influencer marketing campaign and tying it back to sales has been more challenging than other forms of marketing. It can't be all about vanity metrics, but if you want to have a successful influencer marketing campaign, then you'd better be prepared to prove its value.
"I'm getting #paid for this!" #Sponsored #Ad: Sponsored content can come off as inauthentic. Consumers are super smart and can see through disingenuous, clickbaity content. Plus, the FTC is cracking down with new rules and regulations, and mandating that influencers be more transparent paid sponsorships and brand affiliations to protect consumers from deception. This can be slippery slope if not executed with care.
The Fix
But you know we couldn't give you the cons without addressing them. First, measurement is a HUGE deal. As marketers, we know how important it is to be able to quantify our efforts and prove the ROI.

Measurement starts from the very beginning by establishing goals and identifying what success means to you. Maybe you want to increase awareness or visibility for a new product, or you may be focused on increasing engagement among a certain segment of your audience. Perhaps you want to drive more traffic to your website, qualify them as leads and convert them into loyal customers. Influencer marketing can help with that.

We can measure if an influencer marketing campaign was effective by using a cost-per-click or cost-per-engagement model to tie influencer activities back to sales. By creating a landing page specifically for the campaign and providing influencer partners with trackable links, you can help to correlate influencer efforts to brand metrics. Affiliate links and promotional discount codes can also be used to track the success of your influencer marketing campaign.

When it comes to influencer marketing, transparency is critical. Ethically, it's up to the influencer to disclose a brand relationship with their audience, because as previously mentioned, they could get themselves into legal trouble if they don't. Failure to disclose the relationship not only hurts the influencer, but also the brand. As a brand, you can enforce full transparency by making it part of your partnership agreement. You might consider creating an influencer kit, which could not only include brand facts/messaging and shareable graphics, but also some best practices or a short legal policy or disclosure.

Another way to facilitate transparency is to build and nurture an authentic influencer network. Influencer marketing should not be a one-and-done tactic. The best influencer programs are built on long-term relationships with credible influencers who can serve as an advocates for your brand. Working with the same influencers over time and providing them with everything they need to communicate your message mitigates issues of insincerity.

Adding an influencer program to your marketing mix can introduce your brand to a new, wider audience already interested in your industry. If done correctly, influencer marketing can be a catalyst for you business's growth. We can help you to build a strategic influencer marketing initiative that yields results. Give us a
call
, to get started.
Read about the Meyer Products
HomePlow influencer marketing partnership
. Listen to our
corresponding podcast episode
to learn more about the pros and cons of influencer marketing, the importance of transparency and how brands of all sizes can leverage influencer marketing to increase awareness and engagement.
qq4qk6tg4r