If your organic traffic results aren't cutting it, there's quite literally no shame in paying for site traffic. Pay-per-click, or PPC, campaigns are an easy way to pay to drive traffic to your site (and your competitors are probably already using them). These campaigns can bring in new audiences and help you increase sales by marketing to a ready-to-buy audience.
One of our favorite tools for planning our best possible PPC campaign is
Google's Keyword Planner
. It's extremely useful, but the interface can be a bit daunting, so we're here to be your treasure map! After all, X marks the spot to a better strategy for increased conversions and higher return on investment, does it not?
Put on your adventure gear, because we're going in.
What is Google Keyword Planner?
Google Keyword Planner is a tool that helps you generate keyword ideas to target for organic and
paid search campaigns
. The planner shows you keyword suggestions based on your input of elements like your product, service or website.
While Google Keyword Planner can be used for organic search, it's specifically tailored to paid advertising because of the competitive data it provides. Metrics like cost per click focus on what keywords cost when you're bidding against the competition, rather than how difficult it is to rank for the keyword organically.
Its main purpose is to put some strategy behind your paid campaigns by determining ad groups for current and future campaigns. Along the way, you gain insight into average cost per click (CPC), suggested bids and competition for the keywords you generate.
To access Google Keyword Planner, login to your Google AdWords account. Then click "Tools and Settings" in the upper right corner. Navigate to Planning, then Keyword Planner. Boom! You're there.

Getting started with Google Keyword Planner
For the purposes of these instructions, we're assuming you're starting your campaign from scratch with keyword discovery for a new campaign.
To build a successful PPC keyword plan, the best place to start is with your audience. Determine who your target audience is and do some research into their interests, behavior and demographics. Who are you trying to bring to your site?
Then ask yourself which stage of the buyer's journey your target audience is in. Is it awareness, consideration or decision? Are you reaching a new audience who has never heard of your business or consumers who are already in the market to buy what you're selling? This will help you select appropriate keywords. Remember, wherever the audience is in their journey as a consumer, your keywords must align.
Using Google Keyword Planner in 2020
Much like an artist, the keyword planner needs a little inspiration before it can get to work! There are two ways to give it a push over the starting line. You can input a specific web page or enter a seed keyword.
When you show the planner a specific webpage, it will pull a full list of keywords related to that page and domain. This can be good for gathering competitive research. For example, pulling a URL from a competitor's site will give you a good idea of the keywords Google is suggesting your competitor use so you can target them as well. We will be focusing on the second way to provide Google with inspiration: seed keywords.
Seed keywords are broad search terms describing your product, service or industry. Take what you know about your audience and generate a list of these keywords. For example, as a marketing agency we would enter broad terms like SEO, paid advertising, content marketing, etc. These terms should be based on what you know about your audience and where they are in the buyer's journey.
The Keyword Planner takes these broad terms and generates a list of suggested keyword ideas for your campaign based on your seed keywords.
Filtering your keywords
Now that you have a giant list of generated keywords in front of you, it's time to narrow down the ones that are best for your campaign. There are a few key things you should know about this process.
First, Google Keyword Planner has the option to remove or include branded names in your generated list. Including branded keywords can help you identify your competitors. You can also adopt a PPC strategy based on your competitors. If you bid high enough, your website can come up before your competition, even if the user searched for the competitor.
However, we recommend unchecking the "branded keywords" option, which leaves you with only the keywords related to your product or industry. This gives you a better idea of keywords directly related to your competition.
Next, double check your location, language and search network, located at the top of the Plan Overview page.

Location-based search is incredibly important from a paid and organic perspective, but it can also play a factor on average CPCs and average monthly searches. If you're looking to receive national coverage that targets the entire U.S., you'll need a higher budget to power your campaign. If your campaign is limited by budget, reduce your geotargeting for best results.
How do I know what keywords to choose for PPC campaigns?
The biggest rookie mistake you can possibly make when selecting keywords to target for your PPC campaign is to automatically gravitate to the terms with the highest search volume. High search volume or reaching a larger audience does not mean automatic success.
High search volume means there's a large amount of competition for these keywords as they're highly searched. A larger budget is required for each of these keywords consistently throughout the day. If your business has a smaller budget, your ads might stop showing before noon or before the evening, causing you to miss out on a large number of potential clicks.

Focusing on more long-tail search terms or a less or competitive list of keywords will mean your ads can appear more often. This gives you a higher possibility of conversions and high visibility/impression share.
National coverage also plays a role in targeting high volume keywords. Search keywords that are high in volume have large national reach in most cases. This means that larger brands from around the U.S. are most likely targeting these keywords on a level you may not be able to compete with.
Instead, if you're in an industry with higher search volume keywords, start by selecting keywords that range from 50-2,000 average searches per month. If you're in a more niche market, start with 0-250 searches per month. Later down the line you can determine which keywords are providing leads and high return on investment and build your strategy from there.
For now, choose keywords that fit your business, audience and budget and be sure to take into account the competitive data provided by Google Keyword Planner. (Yes, this may mean you won't be able to target all things at all times, but it's about performance and results!)
When choosing appropriate keywords, keep these three factors in mind.
Business
Remember, as smart as Google can seem, it's still a robot. If your company sells luxury cages for storing your long-legged bird collection and you enter a term like "crane storage," there's a high probability that many of your keyword results will be related to storage for large construction equipment instead.
Be sure to weed out the keywords that aren't actually relevant. Just because Google spit them out doesn't mean they're correct. You do have the option to add these terms to a
blacklist of negative keywords
for your campaign.
Audience
It's important to know your target audience and their stage in the buyer's journey, but you should also align your suggested keywords to
search intent
. There are several types of search-intent-focused keywords:
Informational: Often linked to the awareness stage of the buyer's journey, these keywords focus on education and answering audience questions. They are usually non-branded and long-tail.
Navigational: Associated with the lower half of the funnel, navigational keywords occur when the audience is searching for a specific brand or website.
Transactional: These keywords are also associated with the lower half of the funnel and imply high purchase intent or decision-based interest. These keywords are highly competitive because they often lead to conversions
Commercial Investigation: The newest classification of search intent keywords, these terms are based in the decision stage of the funnel and show clear purchase intent (i.e. "What mattress is best?").
Budget
As discussed above, high volume searches tend to have higher CPCs. It's also important to note that the industry itself has an impact on keyword CPC averages. While "mens leather boots" has over 18,000 searches per month and costs $2 on average, "email automation" has only 1,900 average monthly searches but costs $25 on average per click.
While you shouldn't automatically choose terms with the lowest CPC, be aware of the CPC for different industries and location targeting and how they fit into your advertising budget.
The last thing to remember when selecting your keywords is to pull data from Google Trends. Understanding trends can help you determine seasonality and time-specific popularity with keywords. This intel helps you bid on keywords when people are most likely to be searching for them.
Creating a keyword list in Google Keyword Planner
If you know which keywords you want to use in your PPC campaign, it's time to create a keyword list.
First, check one or more keywords that you want to target and click "New ad group." You will be prompted to name your new ad group, or list. Give it a name that properly reflects your campaign so you can keep things organized and better plan future Google Ads campaign structures in the future.
Go forth and select all the keywords you would like added to your list. Then hit "Add keywords" to make them part of your ad group. Generally, we recommend 10 keywords per list/ad group. Whatever you do, keep your campaign simple and don't add more than 20. This can negatively impact your ad's quality score and leave you with messy ads that don't speak directly to your target audience.
Plan review and forecasting
Put on your lab goggles (safety first!) and we can start experimenting. Under the "Plan Overview" section of Google Keyword Planner, you can see estimated metrics for your campaign based on your selected budget and max CPC.
The average CPC in the keyword planner should act as the suggested bid for a new campaign or for future forecasting. The keyword planner allows you to test this bid in the forecasting tool which allows you to see how a higher bid impacts performance vs a lower bid.
Entering different budget numbers will change the outcome of your campaign, including clicks, conversions and other important results. You can set different CPCs to determine the impact of your campaigns.
Aside from conversion metrics, you can also view forecasted device performance, locations according to cost, etc. These elements can play a role in your campaign structure. For example, if California takes up 20% of your budget, it may require its own campaign in the future to better control costs.
Take a minute to play around with the numbers and check on things like your geotargeting strategy. If your costs are coming out too high with low results, consider changing your location targeting to a smaller area. Run a few different forecasts until you receive optimal results for your budget, business and audience. Once completed, you can either create your campaign directly from the planner into your account or you can
download/save for a future time.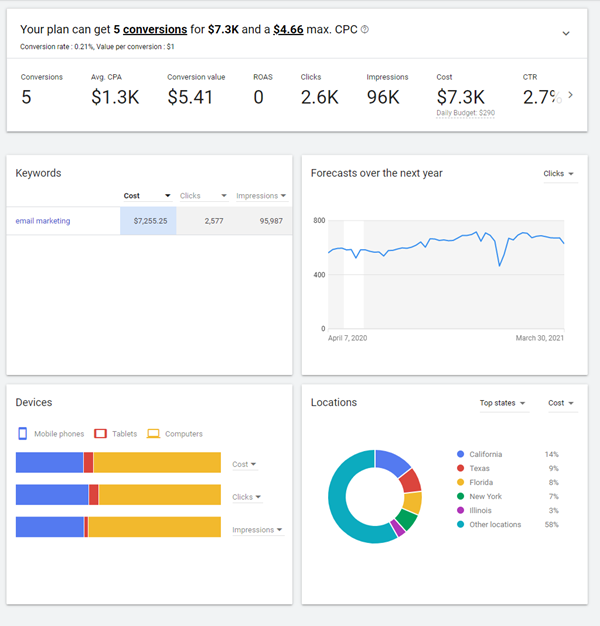 At this point, you can take a look at your AdWords plan holistically under the "Overview" tab, which is exceptionally helpful for veteran users. This tab shows your plan broken out by ad groups (lists), individual keywords and locations you've selected previously. Double check these to make sure you aren't repeating unsuccessful keywords or location target strategies.
Google's Keyword Planning tool makes it very easy to create your best possible PPC campaign. Use it to determine keywords that see results and drive traffic to your site.
Remember, as with any new skill, practice makes perfect! The more campaigns you run, the easier it gets.

But hey, if you're looking to fold the map in half and take a shortcut, we won't tell! Get in touch and our paid ads team can help make your first campaign a success.