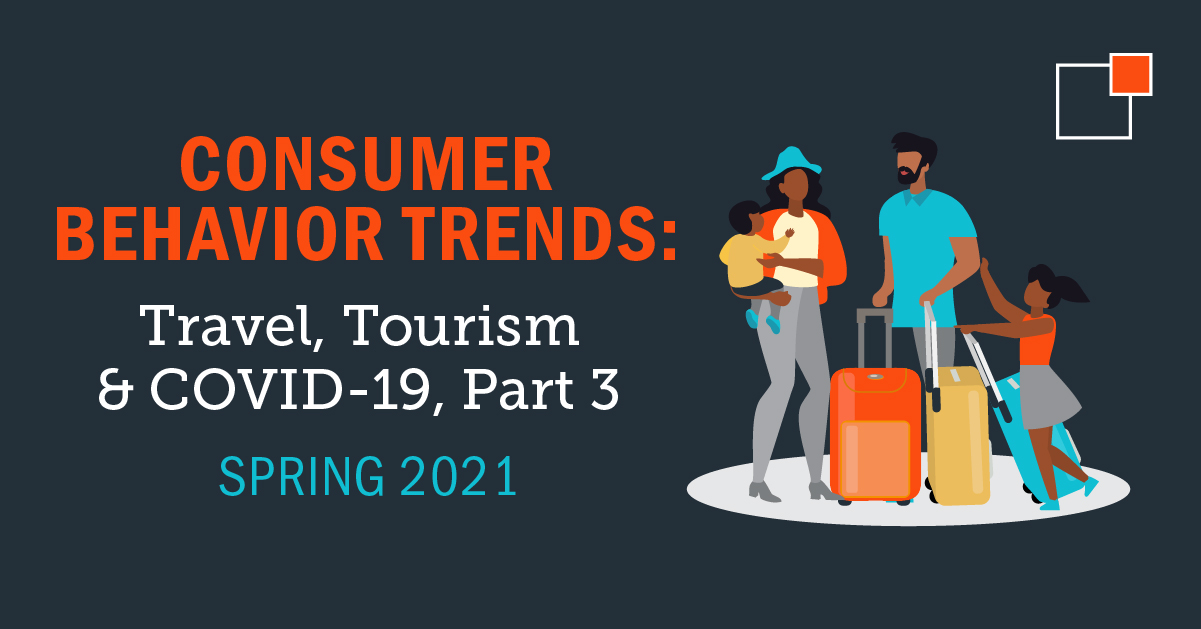 The impact of COVID-19 has led to strange times for marketers. As we adapt to what is hopefully the tail end of the pandemic, we continue to work hard to help you navigate a fast-paced industry with constantly changing consumer behaviors. This content is one of many resources we are creating for marketing and management in the midst of the coronavirus.
As things continue to change, we're helping by providing marketing advice, fresh perspectives and strategic planning for companies during and after the pandemic. You can view our extensive library of COVID-19 content, resources and research here.
Spring is here, and consumers are ready to start traveling again post-COVID. Weather changes, vaccination rollouts and more optimistic COVID-19 statistics have consumers preparing for more travel in 2021.
The
Longwoods International tracking study of American travelers
reported that 87% now have travel plans in the next six months, the highest level since early March 2020. This study has held steady at 80% or higher since February 2021 after falling to a low of 57% in December, showing the pent-up demand is ready to be released. Consumers are sending a clear signal about intent to travel, but brands cannot expect a return to 2019 behaviors. The pandemic changed consumer behaviors towards travel and tourism and 2021 is still showing several emerging trends.
Safety still matters
As vaccinations increase, travelers will be ready to throw off the shackles of the pandemic completely, while others will venture out cautiously. For either group, trust in a brand's health and safety measures will continue to matter. Expect "visible hygiene" to stick around for a long time with the continued appearance of signage, hand sanitizer stations and masked employees. This is not the time for brands to relax on the health and hygiene front.
Touchless service
Consumers became comfortable with more technology than ever during COVID-19. Touchless ordering, home delivery, ecommerce for anything and the explosion in QR code usage has trained us in new ways of being served. Consumers will expect their travel, tourism and hospitality brands to continue to let them choose how to be served.
Circles will widen
Travel to see family and friends after over a year apart will boom. Mini family reunions offer the chance for destination brands to cater to small groups by serving the grandchild to the grandparent. This will also impact driving trips. There is an increased willingness to drive farther this year as consumers might be hesitant to be in crowded terminals. This is an excellent opportunity for local attractions to widen their geographic reach into more distant drive markets.
WFA
Work from home (WFH) has morphed to work from anywhere (WFA) for many organizations. The hype will likely not completely match reality as offices are re-opening and professional expectations will evolve. However, as these work expectations progress, there will be a larger consumer segment that can work from afar more freely, notably impacting longer stay accommodations.
Bucket Lists
Consumers' dream travel may not be put off any longer after living through the COVID-19 pandemic. While foreign travel will be throttled, expect to see a rise in longer domestic trips, some coupled with WFA reality. Also, expect travelers to want to get more out of these once-in-a-lifetime trips through unique experiences. Destinations can take advantage of this by developing new offerings and "off menu" types of experiences. After all, the pandemic has taught us that life is short and worth enjoying.
The spring and summer seasons will be critical to understand this period of change and how the pandemic will alter consumer behavior of the American traveler. These next few months will be an opportunity for destination brands to stay nimble, try new approaches and learn what consumers will expect post-pandemic.
Prepare and plan for increased travel with content made specifically marketers navigating the pandemic landscape. Take a look at our COVID-19 Resources Page here.