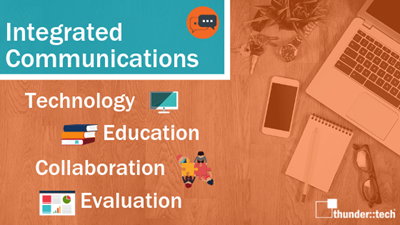 Traditional public relations and digital marketing professionals have started to bridge the gap between their two industries, forming the "integrated communications" label seen in the mission of many agencies around the world. PR practitioners, brand managers and marketing professionals are leading the charge in reputation management, brand management and paid advertising. This collaboration is forming a new type of communications professional with redefined goals and best practices.
PR and marketing pros wear many hats wherever they go - In-house, agency and even higher education. Communications pros are being forced to adapt to the changing communications environment, often working in the same department and on the same clients. (That's how we do it at thunder::tech!) Coexisting and adapting can be hard, but we are
communications professionals
, we can't say no to a challenge!
Luckily, we have some tips on how you can seamlessly merge public relations and digital marketing to become the complete integrated communications professional.
Hey, have you heard of this platform?
We have all heard the comparison; traditional public relations is like the grandma who can't figure out how to work her new smartphone. We think that's a little outlandish, but we do admit, PR pros are often slow to adopt enabling technology. As our industry changes, merges and overall becomes more fluid, it is essential for public relations and marketing professionals to share their favorite applications and utilize technology as a cohesive unit. Doing so will increase the success of future campaigns and help prove ROI.
From social listening and media relations to SEO and PPC, web-based tools can change the game for public relations and marketing professionals. Utilizing software such as Meltwater, Brandwatch, Hubspot, Hootsuite, Sprout Social, Cision, SEMrush, Buzzsumo, Talkwalker and many more can help streamline your processes and inform your next big integrated campaign. Take Hubspot's
Topic Cluster strategy
for example. The content strategy model puts a heavy focus on creative content but does not shy away from an integrated approach utilizing SEO. This strategy provides an optimization benefit through linking your subtopic content to the pillar content which signals a search engine that the pillar page is the authoritative resource on the primary topic. This process allows your brand to produce insightful content that your target audiences are searching for and will designate your content as
the
authority on the topic subject with search engines
—
benefiting your PR, marketing and optimization teams.
Utilizing technology is no longer considered going above and beyond the call of duty, it is the expectation for our industry. Trendkite, a leader in enabling digital PR technology, said in a
2018 article
that there is no reason why PR and marketing professionals cannot utilize each other's technology stacks. Lacey Miller, the author of the article, makes the case that communications professionals should utilize marketing automation, social listening, SEO, measurement and PR tools throughout all campaigns.
"PR will always be about brand reputation and storytelling but that does not mean the technical aspects of the practice can be ignored," says Miller.
PRO TIP:: The next time you come across a beneficial platform, make sure you share it with your communications counterparts!
Time for some good old R&D
Every great campaign, whether its focus is on brand reputation or lead generation starts with elaborate research and development. Communications professionals are lifelong learners
—
it is part of our nature. However, expanding upon our area of expertise is the deciding factor in merging the gap between PR and digital marketing.
Take a step outside of your comfort zone and consume content that informs on all areas of communications. SEO, SEM, PPC, PR, design and development publications will provide you with a wealth of diverse knowledge. Bring all of this R&D together to guide your future strategies and produce creative content like never before. Consuming diverse content not only informs your campaigns but also helps drive industry change. Implementing diverse ideas into integrated communications strategies will expand the realm of the known for the communications industry and, in turn, improve the quality of work delivered by professionals in the field.
In a
2015 Forbes article
William Craig presents a new take on thought leadership. Craig mentioned that to be the best in our industry it takes being informed on all topics. Through continued education, you will benefit your clients in the long-run. Craig points out that instead of blindly researching and reading every industry blog you can find, consider setting up keyword searches through Google Alerts on your areas of interest. While Google Alerts can be extremely beneficial, the thunder::tech team recommends creating a personalized digest of diverse publications that you check every morning/week.
PRO TIP:: Share what you read with your co-workers. Everyone appreciates some "insider" knowledge.
Keep your friends close and your communications counterparts closer
Public relations and marketing professionals have been "frenemies" for a long time. Public relations pros owning a company's reputation and marketers owning the brand. But why haven't we blended the lines as an industry sooner?
In the past, marketing and PR have been placed in separate departments, separate agencies and have had separate conferences and educational material. To foster integrated communications operations both marketers and public relations professionals need to be housed under the same roof and work together toward the common goal
—
attracting new leads and moving them through the funnel while keeping a brand's reputation intact.
Start with a collaborative flow of communication. Incorporate marketing and PR professionals in strategy meetings, weekly regroups and project scoping. Place everyone under the same roof, or even in the same department to foster collaborative conversations.
Look at what Ocean Spray did with their "
Let's Make Life Better Sweet
" campaign. They were able to utilize an integrated approach to maximize the reach of their campaign. Starting with an expansive round of R&D the team at Ocean Spray accounted for both marketing and PR variables to inform their campaign. They targeted untraditional trailblazers, people with a need for adventure and trendsetting. The campaign used this profile to craft exciting PR stories and engaging advertising. The campaign utilized social media ads, programmatic display ads, podcasts, long-form articles, music streaming ads, organic social media, live events, e-commerce initiatives and influencer campaigns. Ocean Spray took integration to the next level with this campaign utilizing every tool in their toolbox.
Combining KPIs means more potential for proving ROI
Communications professionals have come a long way when it comes to data measurement. However, it is time for public relations and marketing professionals to define a collaborative set of key performance indicators that will aid in supporting the ROI of their campaigns.
PR professionals have traditionally focused on the organic reach, potential reach, share of voice, engagement, media outreach and other KPIs with their campaigns. Marketing, on the other hand, is focused on metrics like unique website visitors, paid traffic, session duration, conversion path, bounce rate, backlinks and many more. To have fully informed integrated campaigns, communications professionals will need to define their KPIs on a case-by-case basis and utilize each others' indicators to report accurately.
Based on their history of content-based KPIs, PR professionals are primarily concerned with the reach and engagement level of the stories they are telling. However, to aid in the age-old battle of proving PR and social media ROI, PR pros should be considering how their content can be used to affect marketing qualified leads (MQLs) and sales qualified leads (SQLs). PR content, while an essential part of a brand's reputation management, is equally significant in brand journalism and general brand awareness. Tracking and formulating content to gain knowledge for your sales and marketing teams can prove the ROI for PR and social media campaigns. Vise versa for marketing KPIs to inform PR professionals. Marketing is focused on one thing, gathering leads through impressions. Marketing professionals can benefit from their PR counterparts by looking at the level of engagement from media and influencer campaigns along with the feel-good stories associated with PR. Consumers are craving transparent and genuine ads with a focus on how a brand is bettering their community. Using content that public relations professionals create and monitor will provide insight for marketers on where they should be targeting their ads and what messages they should be elevating through paid efforts.
What's your take on integrated communications?
We are living in an integrated world. PR, marketing, communications, design and technology are all living under the safe roof and it is our job to ensure we are utilizing everything in our toolbox to foster successful collaboration.
What is your take on making integrated collaboration work? Leave a comment below or tag us on social media to hop in the conversation!
thunder::tech was built on an integrated marketing communications process, if you need help in a variety of different services, leave us a note.