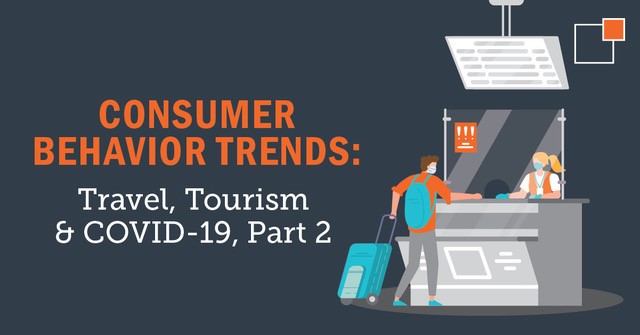 The impact of COVID-19 has led to strange times for marketers. We're seeing new paradigm shifts every day, and at thunder::tech, we are working hard to help you navigate its impact on your business. This content is one of many resources we are creating for marketing and management in the midst of the coronavirus.
As things continue to change, we're helping by providing marketing advice, fresh perspectives and strategic planning for companies during and after the pandemic. For a full list of our COVID-19 resources, click here.
You can read part one of our travel and tourism consumer behavior trends here.
As we are months into the global pandemic, one of the biggest questions that still remains is how will the Travel & Tourism industry rebound? Especially considering that this industry has been one of the hardest hit, with more than 8 million travel-supported U.S. jobs lost.
The U.S. is on track to lose more than half a billion dollars in travel and tourism spending in 2020 due to COVID-19, which economists estimate will produce an economic impact ten times worse than that of the 9/11 attacks.
How is the travel and tourism industry responding?
Here are a couple initiatives in the works to help answer that billion-dollar question. In addition to STEP (Sustaining Tourism Enterprises During the COVID-19 Pandemic) Act, currently being reviewed by Congress, the U.S. Travel Association is working alongside the "
Let's Go There Coalition
," which is a collection of businesses in the industry working together to forge a plan to reignite American's sense of travel by inspiring them to do so.
As stated in the article,
Let's Go There Coalition
, the goal is simple: "when plans are made and eagerly anticipated, spirits are lifted and recovery will begin. It is the coalition's belief that with the right messaging, demand for travel will resume and the travel industry will emerge from its deep economic depression."
So far, the travel and tourism industry has learned that is ok to encourage Americans to:
Spend money on responsible entertainment and travel
Plan their next trip
Do what is exciting, safe and productive
The Coalition is doing this through a mesh of media channels and has created a
Let's Go There Toolkit
where all resources will be available beginning the week of August 24th. Business are encouraged to use on all of their channels and help spread the word any way they can. The official campaign launch is Tuesday, September 8th.
Are Americans ready to travel?
The Coalition will have their work cut out for them since, according to
Destination Analysts
, American travelers are also more polarized in their travel readiness state of mind, being ready to travel versus not. While 48.5% report having leisure trip plans during one or more months in the remainder of the year, sadly, 51.5% do not currently have any leisure trip plans in 2020.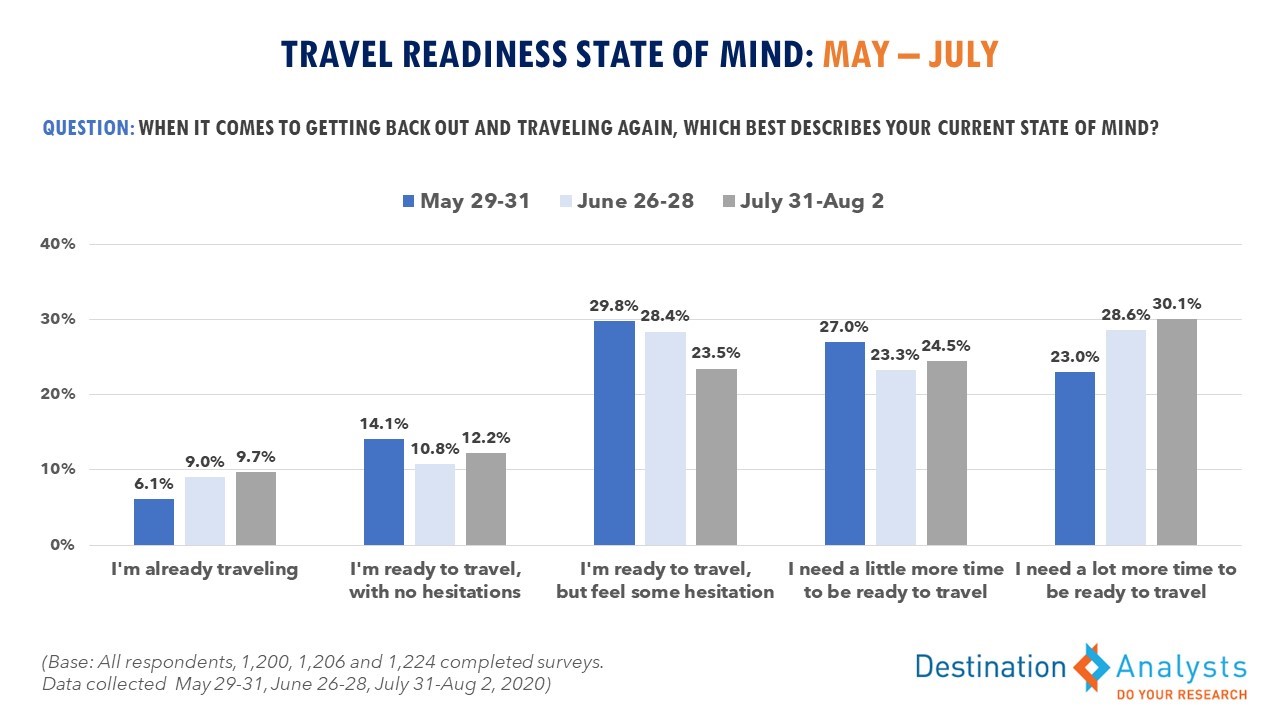 Source: Destination Analysts
However, things seem to be looking up regarding holiday travel. As Americans look out to upcoming holidays, there is a gradually increasing expectation to travel for these occasions: Labor Day (12.6%), Thanksgiving (15.8%) and Christmas (20.0%).

How has the travel and tourism industry changed?
We are seeing that now more than ever, consumer emotions are just as important in Tourism Marketing.

Destination Analyst's
weekly survey
shows that younger travelers are increasingly prioritizing emotional needs more than ever before. Although Americans of all ages continue to say staying safe from infection is their top priority in the next six months, all generations say finding joy, emotional well-being, and relaxation are also priorities right now.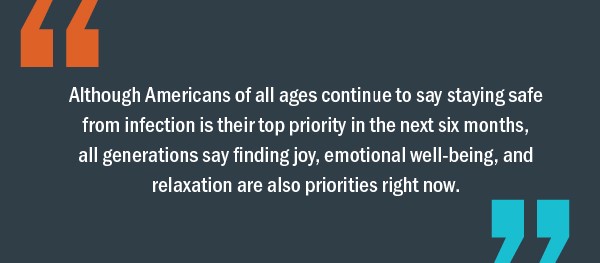 Fifty-seven percent (57%) of Americans surveyed also said that planning a vacation in the next six months would bring them happiness.

If you haven't already, start sharing how your experience can bring happiness and relaxation to consumers.

When adjusting your marketing for your travel or tourism business, keep in mind, a key new competitive advantage is protecting, not just promoting destinations. Residents and tourists need to feel safe and be made aware of what a destination is doing to protect them.

Don't be afraid to let people know all the precautions your organization is taking to make travel safe. Back-of-the-house functions like cleaning and sanitization now need to be brought out into the light to reassure customers.

Another thing to think about it that, although this is a down time for the industry, business need to change their mindset and view this as a time from "transformation." Americans need to start understanding that the "new normal" might not be a bad thing. Stop and think: What can we learn from this and how can we come back even stronger? How is this going to make your business smarter and therefore grow into its best version of itself?

Transformations are usually something that "attracts" people to learn more or get them intrigued in your business, so why not go for it? The silver lining behind this pandemic for destination brands is that since there is not a lot left to lose, there may never be a better time to transform and reinvent how you take care of your customer.

THIS BLOG IS ONE OF SEVERAL IN OUR SERIES ON CONSUMER BEHAVIOR TRENDS IN VARIOUS INDUSTRIES DURING THE PANDEMIC. WE'RE EXPLORING DIFFERENT DEVELOPMENTS AND THINGS MARKETERS SHOULD WATCH AS THE CORONAVIRUS PROGRESSES.
BE SURE TO CATCH UP ON THE OTHER POSTS IN THIS SERIES: