In June
we published our approach
to how thunder::tech was reopening our Cleveland, Ohio marketing agency headquarters. We were blown away by the interest in that post and, since we are now two months into the process, we wanted to share an update.
A recap
Back in June, we started allowing voluntary access to our marketing firm's headquarters. This option was for team members who wanted to come back into the office on their own for a variety of reasons. Essentially, it came down to personal choice and comfort.
By this point, our Operations Department had written new policies, thought through dozens of scenarios and prepared the physical space for a new socially distanced reality. We had also created a Re-emergence Committee to get more input and allow team members from any department to learn and weigh in on the process.
Starting in July we staggered teams back into the studio just one day per week to allow them to get used to the adjusted environment and to catch up more informally with colleagues. Our goal was to reacquaint local Cleveland team members with the office (and each other!) after being at home for a few months. We also wanted to test a hybrid model of some in-office work with continued work from home options.
We're an iterative organization and needed to find the best balance of living out our human-friendly culture as well as effectively running our business and serving clients.
The reopening process
To recap, here's a graphic explaining our original reopening timeline from March through July.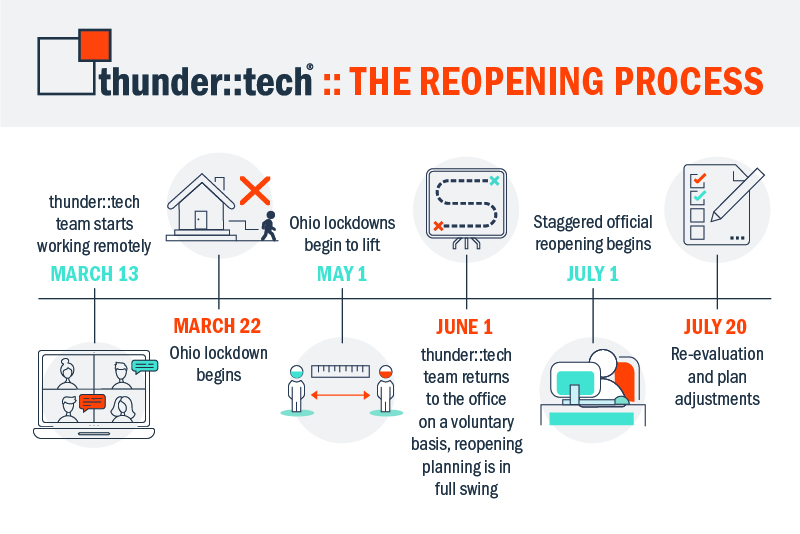 As of writing, we are now into uncharted territory beyond this graphic. We've made several plan adjustments and changes to our overall policies.
Workplace flexibility
After a few weeks of this in-and-out-of-the-office mix, we are now evolving into the next step of thunder::tech's workplace flexibility. Now that everyone became comfortable with the new guidelines and socially distanced setup of the space, our Cleveland headquarters is open whenever our teammates need it.
This flexibility has a lot of benefits but will require more decision making and accountability at an individual, team and account level. It will be done in consultation with managers and based on the changing needs of accounts and project assignments. We have heard from some team members that want to come in on some form of a regular schedule and foresee others who will not be back until it's necessary, or perhaps ever. It's a flexible situation to do what's best based on their personal situation and for the work they have at hand.
Work from anywhere & recruiting
Finally, this flexible approach is also ushering in more remote future teammates. For
all jobs that we are currently hiring for
, we have been casting a wider net to bring in talent, regardless of location. This will bring change to our agency, and we applaud our hiring team and the various managers with current openings for running toward this opportunity.
A flexible approach for thunder::tech is what is best for our marketing agency and the service of our clients with safety and health first and foremost on our list. We'll continue to iterate on our approach in this blended world where we are all working to figure it out together.
Stay tuned for more information on our reopening process and our contained agency experiment. We've come very far since our original shutdown in March, but we foresee changes in the future that will be met with the same enthusiasm, teamwork and accountability we've shown so far.
While we're in and out of the office, we've been working hard to provide marketers with resources to help stay strong during the coronavirus pandemic. Click here for a full list of our COVID-19 resources for marketers.