As the demands for digital experiences grow, so do the competing platforms and the depth at which they perform and provide value-added features and interfaces.
Each new platform is bringing a new feature or innovation to the market that draws attention and interest, driven typically by an unmet customer demand. In our recent work with USA Track & Field, we helped them leverage a headless CMS to address their higher than normal traffic in preparation for the then upcoming Tokyo games.
What is a Headless CMS?
With no attached front end (or "head"), a headless CMS makes content accessible on any device via API. Put simply, it enables marketers to curate content in a centralized and organized fashion.
Headless is not just a content management approach either. CRMs, Analytics, ERPs as well as Ecommerce platforms, such as Shopify, are now affording headless features and extensions.
The interest and the business value in headless architecture is strong, based on the core of how and why Amazon and other well-run companies have grown in the last few decades. It isn't a secret that the demand for rapid innovation, change and evolution by a company and it's digital experiences is incredible.
For example, this
letter to shareholders by Amazon
illustrates the drive for that service-based architecture back in 2010. They provide their gameplan right there for all to see.
Today, as marketers look to engage in new best-of-breed integrations, services and features, they don't need to rely on the huge monolithic platforms of the past that will boast huge feature sets, but typically fall down in the majority of them.
As users become more savvy, the marketer must become more worldly in terms of the headless options and services available to them.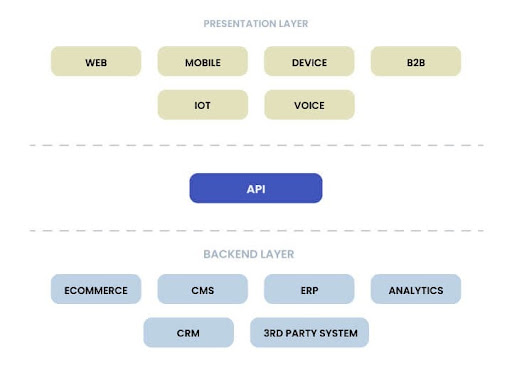 A Responsive Media Room for USA Track & Field
A recent example of a headless approach for a specific purpose came together when thunder::tech's partners, USA Track and Field, requested a digital experience tailored to the many media members that interact with their major events and athletes during those events.
The ability to manage multiple 'digital' rooms or links to ZOOM meetings where athletes and media members could stay connected.
To allow media members an exclusive and secure way to access these rooms.
To limit accessto the main CMS (Kentico Experience) to the managers of the media rooms.
To keep it all within the main usatf.org domain name
From this set up, the media needs to log in one time and the athletes and respective rooms would update automatically within their opened browser.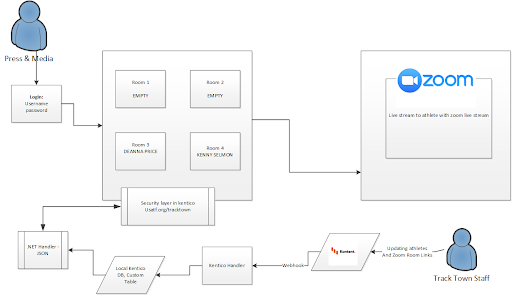 The Results
For USA Track and Field, thunder::tech leveraged Kentico's Kontent, a cloud-based content management platform that streamlines content production and delivery while offering developers all the benefits of a headless CMS.
The feedback from USA Track and Field teams and the media has been overwhelmingly positive. After proven success during the Trials, the team integrated the experience for the Tokyo Games' media needs.
The headless architecture also puts little-to-no strain on an already optimized server and application set up. It afforded thunder::tech the ability to create new, independent workflows and content types for the administrators while delivering a seamless and consistent experience for their end-user audience.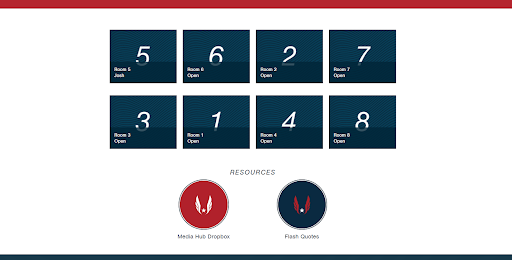 If you would like to hear more about when we have gone headless, whether in content or commerce, we would love to share our experiences with you.
Contact us today.