The world of search engine optimization is in for a significant overhaul, as Google recently announced a new update to its algorithm called the helpful content update. According to Google, this update aims to boost the importance of "original, helpful content written by people, for people" and devalue content written purely for search engines.

As is typically the case whenever Google rolls out a change to their algorithm, there is a swirl of confusion around what the helpful content update will mean for marketers, their content, and their search rankings.




What Exactly Is Google's Helpful Content Update?
Google understands that a user may often visit a web page expecting one thing and being shown another, especially regarding the types of information & insights a page delivers related to the user's search intent. Additionally, pages ranking at the top of the search engine results page may seem like they aren't created for an actual person or even by an actual person. Often, this kind of "low-quality" content is designed to attract clicks rather than inform users.

Google's helpful content update aims to mitigate the prevalence of these results on the search engine results page. The new algorithm also makes it easier for users to find content that "feels authentic and useful."
What Type Of Content Will Be Affected By This Update?
In defining what might be considered "unhelpful" content, Google uses an example where a user searches for information about a new movie; in the past, pages that simply aggregate reviews from other websites without adding any new or additional information might have appeared at the top of search results. Still, with this update, Google promises that "[users] will see more results with unique, authentic information."

Google has also stated that this update will improve search results related to online education, arts and entertainment, shopping, and tech-related content. When asked on Twitter regarding what specifically "online education" meant in the context of this update, Google's Danny Sullivan had the following response:

"Generally tutorial, things meant to teach something, not formal courses. But again, it's not focused on any particular area. That's one example where we see notable improvement, but there are others, and any query about anything might benefit."




People-First Content vs. Search Engine Content
With the introduction of the helpful content update, Google wants content creators to focus on creating "people-first content," or content that provides a satisfying experience and fully meets a visitor's expectations.

Per Google's Search Central Blog, content written with a "people-first" approach should be directed at a specific audience that would find the content useful. The content should demonstrate first-hand expertise, a depth of knowledge, a primary purpose, and help the user achieve their end goal (AKA their search intent).

In addition to the new criteria from the helpful content update, "people-first content" should also adhere to Google's previously established "high-quality" guidelines. These guidelines state that content should convey expertise, trustworthiness, and authority (also referred to as E-A-T), not be duplicate or redundant, cover topics driven by genuine user interest, and provide "original content or information, original reporting, original research, or original analysis."

Additionally, "people-first content" should provide "substantial value when compared to other pages in search results," cover both sides of a particular story, provide comprehensive and in-depth coverage of a topic, and contain insightful analysis.

While marketers eager to increase their organic search performance may be tempted to create content specifically for SEO, Google has stated that this content is "strongly correlated with content that searchers find unsatisfying." To avoid writing "search engine first" content, Google has provided new guidance with this helpful content update.
How To Avoid Writing Content For Search Engines
If you want to rank well on Google following the helpful content update, your content should be written to help humans achieve a specific goal rather than simply attracting users from search engines. Content should provide value to the user instead of merely summarizing what other people have already written on other websites.

Successful ranking can be accomplished by bringing a unique perspective to the topic you're covering and offering original insights not found anywhere else. For example, if you are writing content on a widely covered topic like "performance marketing," you would want to include first-party insights on your experience with performance marketing successes, such as case studies or data from campaigns you've managed.

Your content should be as comprehensive and informative as possible and cover all potential questions a user may have regarding a topic. Including on-page elements like a Frequently Asked Question section or a table of contents will help ensure that your content fully satisfies user intent. Your content shouldn't leave users feeling like they need to search again to find additional information.

Finally, to avoid having your content designated as "search engine content," you should only be writing about relevant and helpful topics for your existing audience, not simply because the topic is trending. On top of that, if you're writing about topic areas without any expertise on the subject simply because you thought it might get search traffic, Google will likely devalue your content moving forward.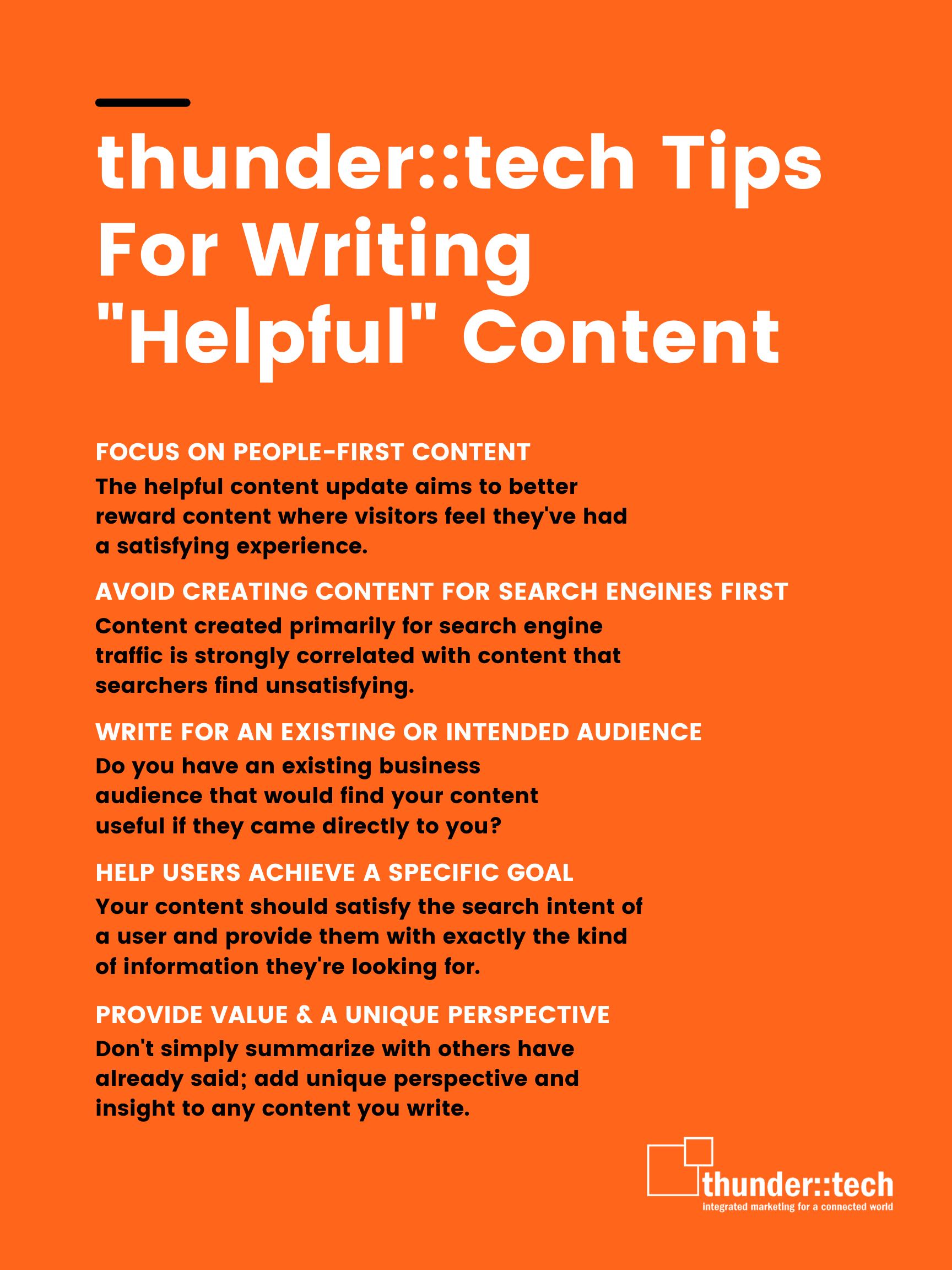 How Will Google's Helpful Content Update Affect My Rankings?
Google's helpful content update will introduce a new site-wide signal to assess and award search result rankings. This machine-learning algorithm will automatically identify what Google deems as content "with little value" or content that is "not particularly helpful to those doing searches."

As this update will assess entire sites vs. individual pieces of content, having unhelpful content anywhere on your website will, unfortunately, cause good content to perform worse in search results. Because of this, Google advises removing any unhelpful content from your site.

If you've followed Google's best practices for content creation, you may not have cause for worry. However, if you've relied on churning out repetitive, low-quality search engine content, this update will likely significantly negatively impact your rankings. Unfortunately, Google has advised that sites affected by this update could take months to recover.

To mitigate the potential effects of this update on their websites, marketers will want to perform a comprehensive content audit of their website, carefully considering any content that might be deemed low-value in the eyes of Google. Since this update will roll out over the coming months, marketers will want to assess and remove poor content from their websites as soon as possible.




Helpful Content Update: The Road Ahead
Google's helpful content update will significantly affect the search engine optimization landscape, and marketers should expect a major shakeup on the search results page over the next few weeks.

Those concerned about how their websites may be impacted should be proactive as possible. Steps to take should include keeping a close eye on analytics, benchmarking performance before the full algorithm rollout and auditing all published content.

Marketers should ensure that all content they create ultimately provides the best possible value to users, not search engines. By following this simple guideline, your content will inevitably find its way to the top of Google.