Chances are, you've at least heard the name Pinterest in the last couple of weeks, but you may not know what it is or why so many people have been talking about it recently. This post is an elementary guide to what the craze is about and whether or not you should consider creating an account for your brand.
What is Pinterest?
This is the definition of the social networking platform according to the
Pinterest website
:
Pinterest lets you organize and share all the beautiful things you find on the web. People use pinboards to plan their weddings, decorate their homes, and organize their favorite recipes.

Best of all, you can browse pinboards created by other people. Browsing pinboards is a fun way to discover new things and get inspiration from people who share your interests. To get started, request an invite.
Okay, but what is a pinboard and why should I care? Great questions.
What is a pinboard?
When a user finds something they like on the Web, they can share it with their friends and other users by "pinning" it to a pinboard. For example, I created a pinboard called "Social Media News" where I "pin" articles that are interesting to me and I think others will find beneficial as well. The "pin" is shown via an image or thumbnail taken from the website. My followers can see that image and decide to "like," "comment," or "repin" it to their own board.
This is what my Social Media News Board looks like: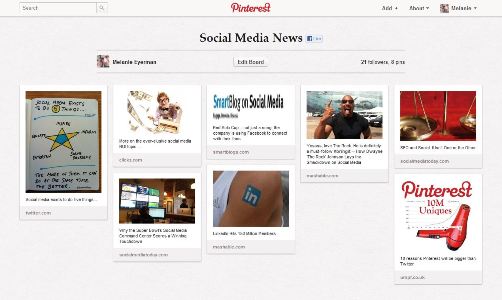 Yes, it is as simple as that. You can find a more detailed explanation by
clicking here
.
Why should I care?
What many people don't realize is that Pinterest has actually been around since March 2010. Pinterest is not the new kid on the block that it seems to be. They have taken the time to test the process and make tweaks as necessary for an easy and enjoyable user experience.
What no one really predicted was how much of an impact Pinterest would have on Web traffic. As of January 2012,
Pinterest drives more referral traffic than Google Plus, YouTube and LinkedIn combined
. This
infographic from mashable.com
also helps visualize how this social media tool has become a top traffic driver for retailers.
Why is this important? Pinterest added 7.51 million unique visitors in December 2011 alone. If used correctly, Pinterest can be a valuable tool to drive more customers to your website.
Should my company create a Pinterest account?
Before jumping on the Pinterest bandwagon, your company needs to consider whether or not it makes sense for your brand to interact in this space. Here are some facts you should know before asking for that Pinterest email invite.
No fewer than 83 percent of Americans using Pinterest are female
Majority of Pinterest users are between the ages of 25 and 44
Only three percent of American Pinterest users make more than $100,000 annually
Sixty-two percent of users have had at least some college
The most popular interests include crafts, interior design, fashion, blogging, special events and gifts
Now that you're armed with that knowledge, ask yourself if your company caters to this type of demographic. If the answer is no, then we recommend you wait it out a bit to see how this site evolves. If the answer is yes, here are a few other questions to consider before creating a brand page:
What do I want to get from this new social media platform and how can I measure it?
How do successful users make this social media platform effective and how can I utilize it?
How does this new platform fit within my current marketing strategy and objectives?
Can we devote the needed resources to engage in it properly?
If you can't answer these questions, then it may be a good idea to refrain from creating a Pinterest brand page, but that doesn't mean your company can't use Pinterest in other ways. There are other creative uses for Pinterest that don't involve creating a company page, but can still help drive traffic to your website. Feel free to
contact us
if you want to bounce some ideas around.