Nearly 52% of business to business (B2B) buyers say they expect to conduct half of their purchases online within three years.
Let that sink in if you are a B2B company.
It doesn't matter if you sell services, products or a mix of both. Customers are going to come to you with the expectation and your company's growth will likely be on the line. There are certainly advantages and pitfalls to being an early adopter, but regardless of how you view the cost-to-benefit ratio, it's imperative to understand the dynamics and concepts of e-commerce and how those relate to your business.
E-commerce executions can be accomplished today by any company with any budget thanks to a number of available platforms and technology options. Middle market companies especially have a wide array of options available due to accessible budgets and internal resources that can see projects through and maintain e-commerce initiatives.
Who Should Consider B2B E-commerce?
Every B2B company should at least consider how it can leverage e-commerce to meet these evolving expectations. More and more B2B buyers want a B2C experience. For example, Jet, Walmart and Amazon are helping to make buyers more comfortable with making decisions and purchases online. These purchases often happen with little to no human interaction.
According to Internet Retailer, nearly 70% of B2B buyers prefer instant online payment instead of purchase orders and invoices, especially as online payment forms, like PayPal, become more common in B2B e-commerce.
The ease of buying online and the cost savings for sellers is driving up activity on B2B e-commerce sites, where total sales in the United States are expected to hit $855 million in 2016 and $1.132 trillion by 2020, a trend that shows no signs of slowing down.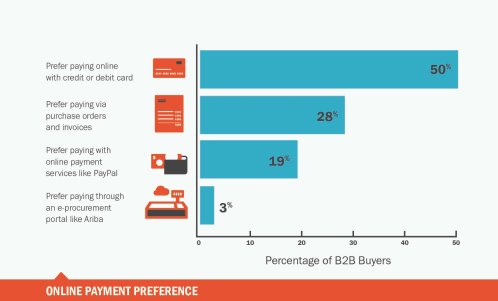 When Should You Consider E-commerce?
Today. Now. At the very least, it should be in the budget for 2017. E-commerce is a trend that we are in the midst of and, as shown by the data above, it's not going anywhere. It's only going to get bigger and more customized.
What are Your Options?
For a company to establish e-commerce, it doesn't need a full catalog of services or products available online for ordering. We recommend targeting some low-hanging fruit in offerings and putting those online. They can be parts, optional accessories or supporting services that are low-touch and perhaps high volume purchases. Test, review and learn from this initial step to then better gauge how customers will adopt it.
In many cases a product or service may require a higher degree of configuration, engineering and/or interviewing before a purchase can be made. For those cases, there are many new techniques and technologies that can be leveraged to enable this online. Purchase decisions will need to be anticipated at all levels of the process as well as varying prices and quotes. Finally, some type of assistance will need to be provided for the purchaser, whether that's contact info or a live chat option if a purchase goes awry.
What are B2B E-Commerce Buyers Looking for?
Sometimes it's the seemingly simple things that are the most valuable. The inventory availability online is an illustration of just that. B2B buyers increasingly expect to find business-to-consumer e-commerce site features on their suppliers' websites. According to Forrester Consulting, 49% say they prefer to use consumer-type e-commerce for making work-related online purchases. Seventy-seven percent say it's important to have real-time information on suppliers' e-commerce sites related to inventory availability.
As more customers and accounts become comfortable with purchasing online, the more it will require companies to evolve and fine tune their distribution and fulfillment models. We recommend pilot programs which allow you to select a group of clients and customers prior to releasing e-commerce to the entire lot.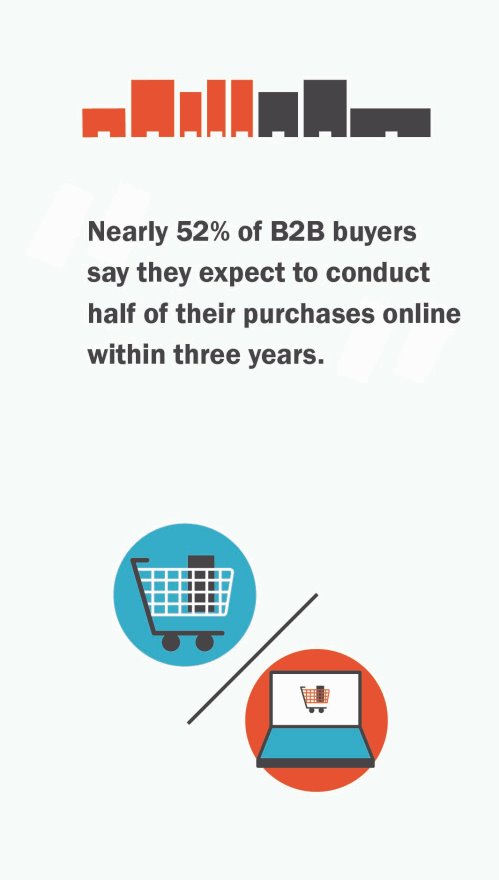 What About Your Account Relations and Sales Teams?
In typical B2B sales, there is an intentional and critical connection with individual account executives and teams that maintain the relationship. When implemented correctly, any online experience really should not outright replace such connections, but strengthen them and offer scaling opportunities. The lower value activities like information exchange, quick status updates, account standing and à la carte education will begin to be offloaded to e-commerce enabled portals, leaving more time for sales and account teams to handle high-value activities such as in-person meetings, consultative relationships and complex sales opportunities.
As more B2B buyers choose to do much of their purchasing online, the number of sales reps in the U.S. will decline rapidly over the next several years. According to Forrester Research, by 2020, the number will drop by one million, a decrease of 22% between 2012 and 2020. Sales reps who offer extra services to assist the purchasing of complex products for big companies will fare better.
Why Should You Buy-In?
Due to the demand for B2B companies to have e-commerce capabilities, software giants and many upstarts have filled the gaps and created platforms that accommodate many product catalogs and offerings and connect new e-commerce experiences with traditional Enterprise Resource Planning (ERP) suites that were built for B2B. There are also many niche players that can offer anything from subscription-based products to contract sales frameworks.
We have had great case studies in the past few years and continue to architect solutions for CRM and ERP systems integrations to meet clients' e-commerce needs. No single solution is the same from client to client. There are always different legacy technologies and infrastructures that demand varying, tailored and careful approaches.
What's in It for You?
So what can the potential ROI be for taking on B2B e-commerce? Typical e-commerce Key Performance Indicators (KPIs) can be measured in B2B just as they are measured for B2C. But, you can also use the website as a first-market indicator on how products and services might sell offline or to different targets. Try out new products and pricing models or new supporting marketing tactics online first before you take them offline.
Seize the Opportunity
Raise your company's overall digital competence from top to bottom by making a decisive move to e-commerce. From customer service to engineering, everyone will need to understand the concepts that e-commerce carries with it. Fear the competitor in the market that has a workforce with a high digital competency.
E-commerce ready buyers in the B2B industry are already here and their numbers are growing. A great number of B2B leaders are already thinking through the implementation of e-commerce and you don't want to fall behind. We are continuously working with our B2B clients to architect and create effective, remarkable online experiences that facilitate e-commerce transactions and customer activated events.
Take these numbers, have conversations and consider how you can incorporate e-commerce in ways that make sense for your company and buyers.