As the need for content marketing strategy and data-driven decision making has grown for businesses the last five years, so has the demand for better sophistication, structure and flexibility of systems and workflows. Plus, the competition for search rankings, customer attention and digital sales-supporting content is intense. Digital marketing pros have become very familiar with the need for flexible content management systems.
Many marketers now understand that some content types and structures need, or could greatly benefit from, workflows. These workflows need to incorporate not just non-marketing subject matter experts but also a distributed architecture. This allows the free sharing of synchronized and reliable content from a central source.
Many brands are managing different digital experiences that require curated marketing content to some degree. On top of that, most companies are now embracing a digital transformation philosophy that emphasizes moving any or all customer-facing touch points online.
Here are some examples of some of the assets that make up a business' marketing toolbox today that often operate separately:
Product launch microsites
Business line websites (enterprise)
Brand-specific websites (enterprise)
Pay-per-click
Landing pages
Client or customer portals
E-commerce websites
Employee intranets
Digital signage/displays
Native mobile apps
Voice experiences (e.g. Alexa, Google)
Social media channels
IoT devices and scenarios
Enter the headless CMS—a back-end-only content management system (CMS). With no attached front end (or "head"), a headless CMS makes content accessible on any device via API. Simply, it enables marketers to curate content in a centralized and organized fashion tailored to their unique publishing requirements and distribute that content across the digital map.
What Does This Look Like?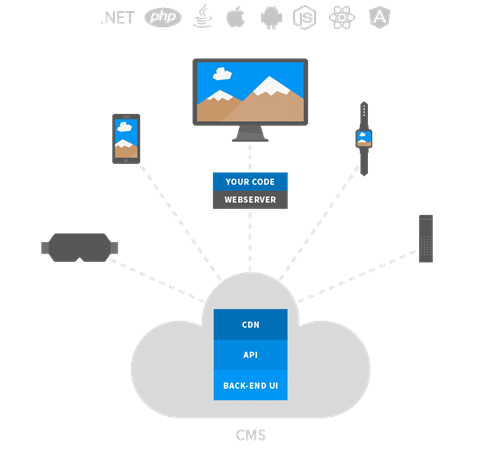 With any digital need today, there are a number of options afforded to you. Kentico Cloud is an example of a robust and flexible headless CMS that can help simplify and govern your digital life.
As an example, this system boasts some of these impactful features and benefits:
Serves as one place for all your content
Imports content from any source, such as existing CMS, DAM, PIM, ERP, databases or files
Exports the content to other systems or delivers it directly to your website and mobile applications through the content delivery API
Allows the creation and management of any content type structures and workflows

Blog posts, articles, product specifications—no matter what your content looks like, you can easily define your own content types with custom fields

Language management tools

Flexible fallback rules to choose which language variant should be displayed if the required one isn't available
Simply make your comments directly in the text and discuss it with others
Stats and personalization
Platform Discovery Scenarios
At thunder::tech, we will often have to decide on a platform and technical architecture based on client needs, requirements and roadmaps. As a quick cheat sheet, we list out below some of the scenarios that you may want to consider in this discovery process.
Scenario 1: Global, evergreen content
If your organization has a library of content that does not change often but needs changes that are made to cascade across all digital properties in a timely and accurate manner, then you may want to consider a headless CMS.
Scenario 2: Small, yet critical, digital experience
Critical here means there is a high expectation of customer interaction and action and/or transactions. This could be a product launch website that defines features and benefits along with a call to action form or conversion point.
Some platforms can add an element of personalization and control to the content based on repeat or sharing activity of targeted accounts and/or different pay-per-click funnels you may have directing leads. Greater personalization often results in better conversions.
Scenario 3: Multisite, branded experience
If your company supports multiple brands with distinct but possibly complementary products through a centralized marketing team, then having a platform that can curate and display content accurately and in real time is a necessity. Teams are tasked to do more and more with less and less.
Do you have questions about establishing a headless CMS? Shoot us a note!