It's that time of year again, folks!
The next-day nachos are stale, 17.5 million Americans probably called off for Super Monday and boxes of pre-made "49ers Super Bowl LIV Champs" T-shirts have been quietly packed away forever.
But for marketers, the week is just beginning! Every year brings another multimillion dollar ad lineup begging to be scrutinized and judged, and this year's 47 Super Bowl ads are no exception. We laughed, we cried, we stared in horror as Jason Momoa removed his arms and now we're ready to talk about it.
Here's what we learned from this year's between-game entertainment. And while you're at it, don't forget to check out this week's thunder::cast, where three of our team members give some excellent insight on the ads most worth talking about.
Listen to it here.

Get the right star power.
Certain celebrities are so brand-friendly, it hurts. You know the ones we're talking about - the Ellen DeGenereses, Bill Murrays and John Cenas of this world. If you're betting on celebrity appearances in a Super Bowl ad, these big-name players will always be at the top of the list. And the only thing more attractive to advertisers than a brand-friendly celeb is a brand-friendly celebrity
power couple
.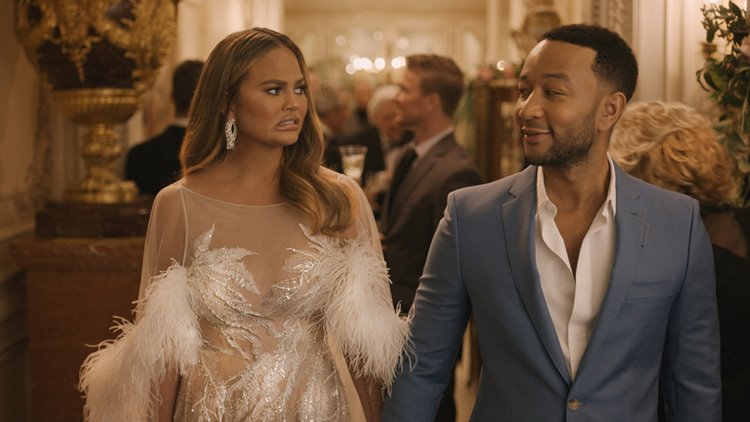 Chrissy Teigen and John Legend are certified Grade-A brand friendly, having done their fair share of commercials in the past. They've appeared in ads together for everything from McDonalds to Google Home and Pampers. The common theme among these ads is that they're affordable, easy-buy products with messaging targeting younger generations.
With this in mind, you can imagine how risky it might be for Hyundai's higher-end brand, Genesis, whose featured G80V model starts around $42,000, to tap Legend and Teigen as its stars. The vehicle blurs the line between a "nicer," mainstream car and luxury vehicle, making it more affordable for younger generations, but the couple have seen massive success selling cheap home goods and fast food. Are they the perfect spokespeople for cars that cost more than an entry level salary, or were they just the most popular celebrities Hyundai could grab for the best shot at reaching its target audience?
We'll give you this: The ad was funny, it was well put together and it struck the right notes to be just above the rest of the mediocre pack of this year's ad performers. But at the end of the day, the celebrities you pick to advertise your products should be strategic. Legend and Teigen's personal brand is down-to-earth, home-y and "Celebrities! They're just like you!" Great for selling McDonalds, maybe not so great for selling a luxury car brand.
Another miss? Avocados from Mexico, which for some reason hired 80s sweetheart Molly Ringwald to star in its Home Shopping Network parody. Why Molly Ringwald? There was no connection to her past work, no obvious tie-in to avocados and they even had to mention her by name to make sure people knew who she was.
And finally, Sabra Hummus failed to deliver on good spokespeople, too, with a 30-second commercial starring no less than 19 C and D-list celebrities. We spent more time trying to figure out who was who than we did going back for seconds on the veggie and hummus platter in the kitchen.
Freshen up your ad concepts.
We're looking at you, Tide.
In 2018, Tide delighted the nation with an integrated storytelling concept using rising celebrity David Harbour. Harbour, through a montage of ad concepts, told us that every ad without stains was a Tide ad and asked the infamous question: "Does this make every Super Bowl ad a Tide ad?"
Harbour popped up in different surprise ads all throughout the game, and you never saw it coming. The Tide ad concept was seamlessly integrated, beautifully done and did a great job catching and keeping the audience's attention.
This year? After a year-long Super Bowl ad hiatus, Tide did the… exact… same…thing.
It's hard to follow up a work of art like the #TideAd 2018 ad concept, but yikes. This year's ad featured Charlie Day being told he could wash the stain off his shirt "later." He then proceeded to wonder when "later" would be, and popped up throughout the game to ask if it was "later" yet. He showed up during a promo for The Masked Singer and a Bud Light commercial before the ad came full circle, ending with a brand new stain for laughs.
Both ads had:
A lower-tier celebrity funnyman
The element of surprise placements
A long-game story
Integration with the game and other ads throughout the evening
This was about on par with simply bringing David Harbour back for round two. It's hard to top yourself when you come up with such a great ad concept, but you have to try a little harder than that. Your advertising doesn't stop once you've peaked, so let your creative side run wild and push limits. If you try something completely different and it doesn't work out, that's still better than a repeat of last year.
Grab your audience's attention, but tie it back to your brand.
Super Bowl ads in general are rooted in wacky, out-of-the-box concepts designed to clear through the clutter and leave a lasting impression on the audience. This year's crop of generally mediocre ads did a great job grabbing that attention and then throwing the ball out of the stadium and into the parking lot instead of running it in for a touchdown.
Take for example, the Rocket Mortgage Jason Momoa ad where he physically REMOVED HIS MUSCLES AND HAIR after coming home. It was horrifying, it was attention grabbing and it was about as clear as mud what we were supposed to learn about the product. We were so distracted by Jason Momoa's combover that we didn't walk away with anything but a little extra brand awareness and a vague notion that you can use Rocket Mortgage from home (or something?).
Same with Mountain Dew. The execution in their The Shining parody with Tracee Ellis Ross and Bryan Cranston was gorgeous. The wave of Mountain Dew out of the elevators was showstopping. But there's a weak connection between the ad's concept and its messaging. What are we supposed to learn about Mountain Dew zero sugar from this ad besides that it exists? As our podcasters pointed out, The Shining is 40 years old and this parody risks going right over the heads of Mountain Dew's younger audiences, even if they did see Doctor Sleep last year. The brand is wacky, sure, but the theatrics of the parody overshadow the message.
Finally, TurboTax missed the clear messaging mark, too. If you went back and listened to the song that was being sung throughout the commercial, you got a great idea of TurboTax's features and benefits. But if you watched the ad just once during the big game, you were probably wildly distracted by the 60 straight seconds of strange leg dancing and the vague slogan "All people are tax people."
If you're hitting the emotional appeal, do it right.
There were two big emotional appeal ads during the game, and both of them were beautifully executed. The New York Life ad talked about "love in action," showing different ways people protect themselves and their families every day. But we're here to talk about THAT GOOGLE AD.
As Danyelle puts it in this week's thunder::cast, "I was in the room with 15 others and everyone sort of stopped talking and listened to this one. At the end you could hear one of the girls sniffling in the back and you could tell it had grabbed the emotion it was going for."
The best part? The ad was based on a true story of a Google employee's 85-year-old grandfather. The voice in the ad is actually his grandfather talking about his grandmother... and hold on, we need tissues because we're crying again.
This ad hit all the necessary points for good execution on emotional appeal. First, it referenced a true story showcasing human connection that felt genuine. And second, it wonderfully integrated the product in a way that did not feel exploitative. Letting the man tell his own story was a great touch, turning the ad from a case study into a beautiful 60-second story that left the audience in tears.
Of course, for every Google Ad, you have to have an Olay ad to balance things out. The Olay ad was a mishmosh of thrown-together slapstick comedy and girl power, featuring an array of somewhat-known female celebrities going to space to… make space for women. Olay pledged to donate $1 to Girls Who Code for every tweet they got using their hashtag, but the fine print let you know they were only willing to donate up to $500,000.
In the world of emotional appeal ads, be a New York Life at the least and a Google at best, but please don't ever be an Olay.
Old-fashioned ad script tricks and special touches still work.
It is our firm belief that while Hyundai's luxury brand ad for Genesis may have fallen a bit flat, their Smaht Pahk ad knocked it out of the pahk.
The ad, featuring Chris Evans, Rachel Dratch and John Krasinski, succeeded for a few reasons. The first is that, as discussed on thunder::cast, it used back-to-basics, old-school advertising tricks. The script employed repetition, using the words "smart park" over and over again, but the Boston accent made it part of the joke. Instead of being annoying, hearing "smaht pahk" 15-plus times was catchy and memorable.
It also did a great job of using a good old-fashion features-and-benefits list. The ad demonstrated how the product worked and problems it could solve for the user. It was a well-executed, modern take on classic ad tactics that bolstered its own reputation with genuine humor and a little star power.
And lest we forget, there were a number of great special touches put in that you might not have even noticed. As JP points out in our thunder::cast, the subtitles on the YouTube version of the ad are written in a Boston accent. "Hey Johnny! How are you?" becomes "Hey, Jahhhny! Howayah?" Another nice touch? All three featured celebs actually hail from Boston.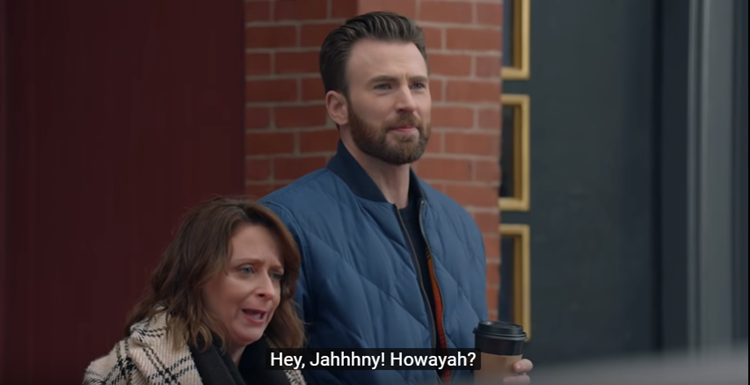 Now that's what we call a wicked smaht Super Bowl ad!
This year's ads played it fairly safe, but when ad spots run you $5.6 million and brands are going all out to compete for your attention, there will always be something marketers can learn. This year, take it from the big brands - once you have your audience's attention, you have to remember to actually let them learn something about what you're selling!
With that, we'll leave you with a screengrab of Bill Murray for Jeep holding a stolen CGI groundhog in a tiny blue papoose. See you for Super Bowl LV!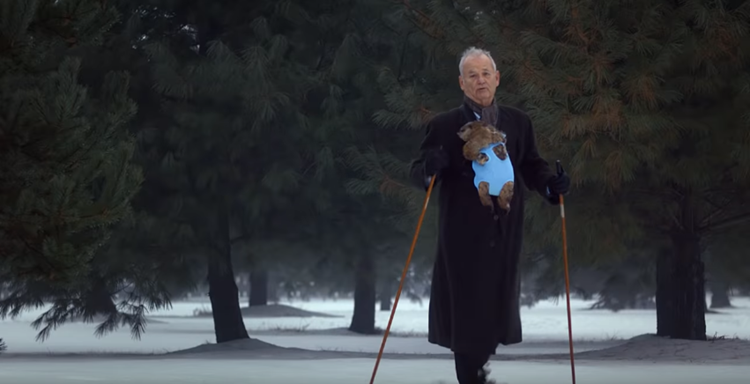 What were your thoughts on this year's Super Bowl ads? Did you laugh? Cry? Or fall asleep? Let us know in the comments!