Manufacturers – if you haven't joined in on content marketing yet, you are missing out on all the fun! The variety of content opportunities that are available and waiting for you to add to your marketing strategy is growing every day, and if you are in the manufacturing industry, now's the time to do so.
Now we aren't talking about sales pieces; we're taking educational, valuable and engaging content coming from your own subject-matter experts that establish your brand as a leader in the industry and increase brand awareness.
What is Content Marketing?
In short, content marketing is strategically creating and distributing valuable content that is relevant and useful to your audience to attract and drive customer action. The goal is to help your audience solve their problems first and foremost.
When the vast majority of your content has been focused on sales materials, switching to relevant and valuable content can be challenging, but you're not alone. 51% of manufacturing marketers struggle to overcome the traditional sales mindset and create useful content.
But that is the key to great content marketing; taking yourself out of the equation to share quality content that benefits the consumer. When done right, content marketing will increase sales, reduce costs and lead to loyal customers.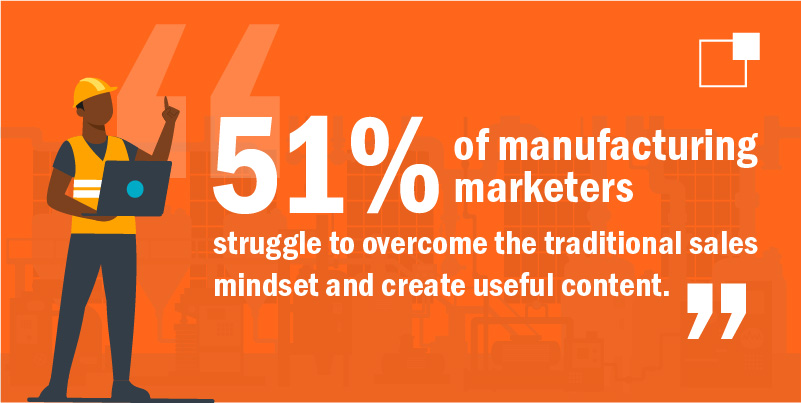 How to Get Started
Alright, are you ready to get writing?? Glad we've got your enthusiasm, but there are a couple few things you need to establish first so that your planning and writing process down the line will be top-notch and efficient.
Set actionable goals
If you are about to pour time, energy and money into a content plan, you must set goals for what you hope to accomplish. Do you want to rank higher in Google? Then you should focus on improving your SEO results (not keyword stuffing). We even have a whole list of tips to help you out with this!
What about improving your conversion rates or increasing audience engagement? These are all great goals with metrics you can track and analyze to help plan your strategy.
Identify your target audience
Having a solid understanding of the people who will read your message is one of the most important pieces to the content puzzle. If you manufacture a highly specialized product, your audience will likely be very niche and taking the time to find and understand your audience will be a massive help down the line.
Gather as much information about your market as possible. What type of questions are they asking? What is their end goal? Are the ones doing the research also the decision-makers? What platforms do they inhabit?
Content isn't one-size-fits-all. It's essential to break down your audience into different segments to go back to whenever you create a new piece of content. Your work should always target one of these segments but seldom all of them.
Conduct a content audit
Unless you're starting from scratch, you need to look at what content your organization has already put out and how it is performing. It's important to take the time to analyze and assess your current content, identifying what is working in your current strategy and some of the weaknesses to address.
This part is time-consuming but a vital step. You need to catalog every single piece of content on your site and list the content type, format, when it was published or last updated, number of words and what stage of the buyer's journey it is targeting. After all this information is collected, it's time to dive in and determine what pieces to keep, update or delete. This will give you a clearer outline of your next steps to accomplish your goals.
Make it helpful and informative
The entire purpose of content marketing is to provide valuable and relevant resources to attract and retain your targeted audience. This is where we see most people go wrong; they turn an educational topic into a piece about how their organization does X process. The biggest mistake you could make is turning the content into a story about you. Why? Because you are leaving out the information the user came looking for and making it about yourself. If you've ever clicked on an article to answer your question and found nothing relevant to your search, you likely were frustrated. It's a bad look.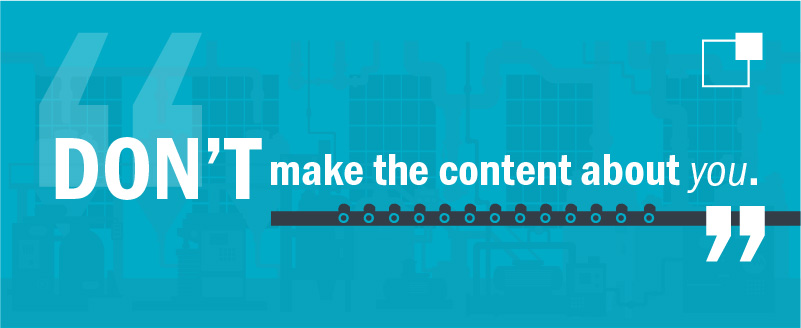 Instead, show off your knowledge! Manufacturing companies typically work with more complex processes; people will need someone like you to help them understand. You're the expert in your industry, and this is your opportunity to share it. You may not have every single answer to all questions, but you have access to them within your company.
Your audience looks to you as a leader and is ready to listen to your thoughts and expertise. Set up a time to speak with an expert within your company and ask questions about the topic or turn it into an interview (another excellent form of content!). Cram your content full of relevant, valuable information, and you will be on the path to success.
Don't forget to promote it!
The last thing you want to do is to pour your blood, sweat and tears into a piece of content and then have it sit somewhere on your site untouched. Please share it with the world! You must promote your content through different channels, sharing with employees and posting on social media. Paid ads could be another avenue for getting your content out there and in front of your audience.
A Few Content Ideas
Woohoo! You've done a ton of prep to get to the best part: content creation! There are endless possibilities for content formats and topic ideas, but here are some of the best content marketing ideas for the manufacturing industries.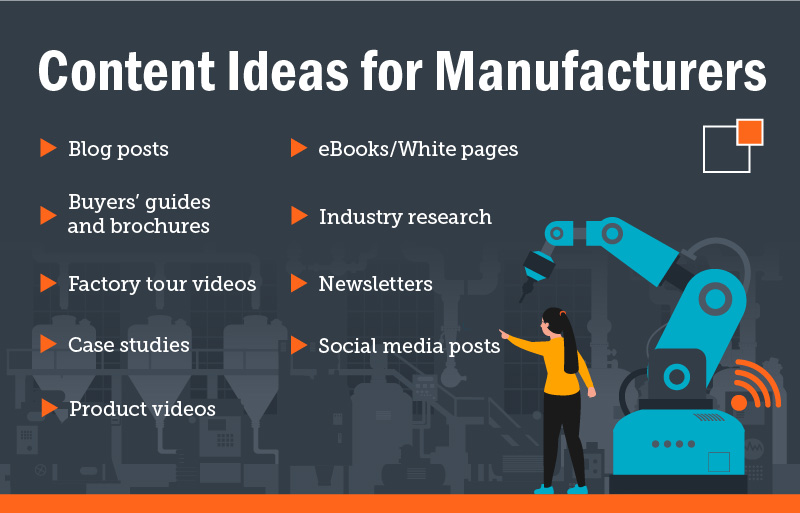 Blog posts
These are the most common forms of content creation, and for a good reason. They are great for targeting the top of your funnel with educational pieces. This is your time to hone in on your expert insight as an industry leader, sharing the answers to common questions people are asking. For example, if you're a chemical packaging company, great topics to cover could be "Choosing the right type of container" or "how to transport hazardous chemicals."
Case studies
We're big fans of a good case study because they prove your work with previous or current customers. Show potential customers what you can do for them by highlighting the impacts you've already made with existing customers. Plus, you've already done the work; share what you've accomplished.
Buyers' guides and brochures
If your company is manufacturing a plethora of different products, it can become confusing for your customers to keep track of them all and sort through them to find exactly what they need. Make the process easy for them by creating a buyer's guide organized so prospective buyers can easily find what they need.
Brochures are a traditional sales tool, but they have stuck around because they add value to your toolbox. They can get down to more specific details not included in higher-level content pieces.
eBooks/ White pages
White pages are blog posts on steroids, taking a topic a step deeper to cover all those little details you didn't cover in a blog. In fact, taking an existing blog and expanding on it is a great way to repurpose content and give yourself a jump start. Or combine a series of blogs into one eBook! If the information is valuable enough, you could use this as an opportunity to collect readers' information. Ex. A visitor would enter their email to download the content.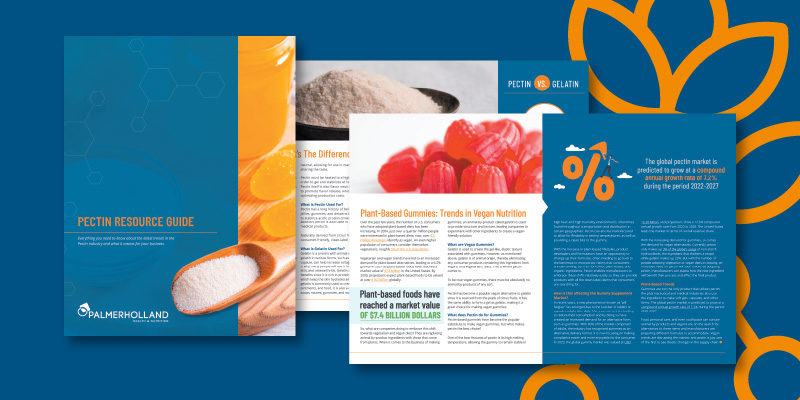 Here is an example of a white paper our team created with Palmer Holland, a speciality chemical and ingredient distributor.
Industry research
Conducting industry research is a two-for-one. You gather valuable information that will benefit your company while creating another form of shareable content.
We recently released Volume 13 of our Marketing Trends series, where we collected valuable insights into consumer behaviors and were able to share them with our clients to help as they plan for budgeting in 2023.
But again, remember to avoid blatant self-promotions; this is about providing useful resources.
Social media posts
Often manufacturers overlook the power of social media for their industry, but we're here to tell you, "Do it!" Social media is where your buyers are, so you need to be so that you can make that connection and send that traffic to your website.
These should be a combination of informative and entertaining posts while remaining consistent with your brand. Take clips from your manufacturing process and create "How it's made" posts. People also love "satisfying videos," which are often just repetitive actions with the exact same result. Making thousands of springs a day? It would surprise you how many people will watch that video on repeat.
Factory tour videos
Boy, do we love video. It's captivating and really engages your audience. In manufacturing, the focus can often shift to heavy machinery and advanced technology, losing sight of the people running the equipment. Video brings your audience behind the scenes for an inside look at how your factory runs and adds back the human element.
Videos are also one of the best forms of COPE-ing: Create Once, Publish Everywhere. Once you've made a video, you can take snippets to add to landing pages on your site or post on social media; there could even be a blog post to accompany it!
Newsletters
As we've mentioned, you are the expert, and your audience is looking to you for your insights and industry updates. You've already got a library full of excellent blogs; send them directly to your audience through a newsletter.
Product videos
Product videos target current customers, walking through the set-up of your product or how-tos. These instructional videos will help customers answer questions they might be calling customer service for.
Create Content
Now, these are just a few of the infinite amount of content ideas. Still, this list should be a fantastic starting point in creating valuable, relevant and entertaining content that highlights your manufacturing area and educates your audience. The manufacturing industry and B2B businesses get a bad rep for being "boring" or "dry" topics, but we think with this list we can prove just how interesting it can be.
Ready to jump on board and make exciting content but lacking the bandwidth to create and share content consistently?
That's where we jump in, joining forces to build a top-notch content strategy. Send a message our way today!