We're always on the move here at thunder::tech, whether on Perkins Ave or at home with a cat on our lap, our gaze is always forward. With our unrelenting innovations and drive to deliver next-level work to our clients, our agency continues to grow and evolve, leading to the exciting addition of new talent to our team!

As new team members join our company and other's roles advance, we want to share the people that make our agency and their accomplishments.

So that's exactly what we are going to do! Get ready for a little Q&A with a brilliant new initiate to the t::t world who we had the honor of meeting this past fall. Plus, we dive a bit deeper with an old friend who is unstoppable as he always finds new ways to impress.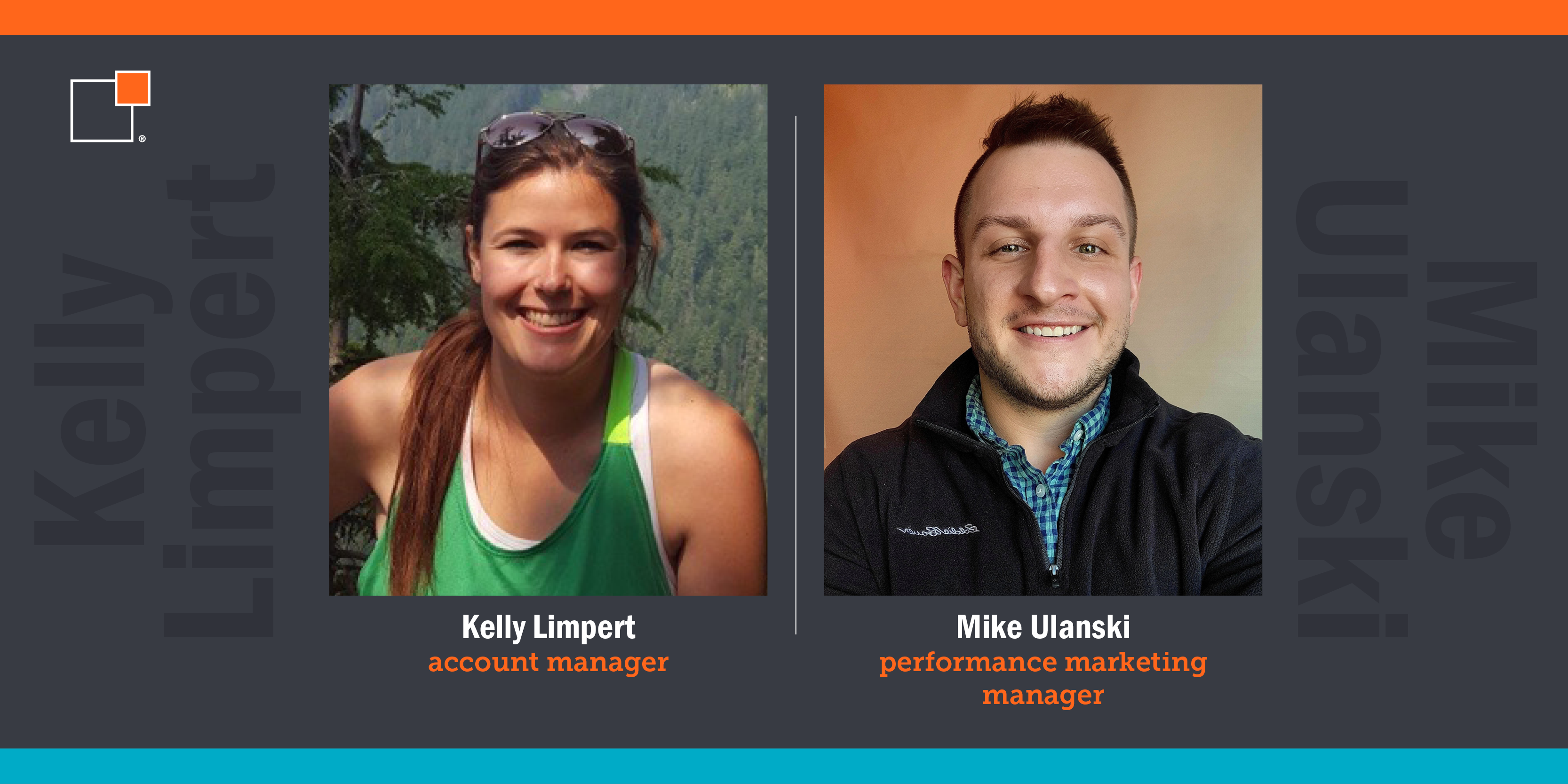 First up, we've got the brilliant Kelly Limpert, our newest Account Manager!

Kelly Limpert:: Account Manager
Kelly – tell us about yourself! What are you doing here at thunder::tech?
Well, I am an Ohio University Bobcat which I am very proud of, I've got to start there. But following graduation I took a unique trajectory to land here at thunder::tech. I started off in B2B publishing, soon transitioning into the mystical side of content marketing and even did a stint marketing for a non-profit. Now, as an Account Manager, I make sure everything is humming along, client deadlines are met and act as the open door to thunder::tech for clients to explore new opportunities.

What are you looking forward to as the latest thunder::tech team member?
Working as a marketing team of one for some time, I'm really excited for the collaboration among team members and having people to bounce ideas off of. We all speak the same marketing language and I love that everyone can come together to discuss the crazy new ideas.

Outside of work ~stuff~, what will you be bringing to the t::team?
My sparkling personality!

What was your first job?
I worked at a local rec center at the ice rink, but the problem was that I actually can't ice skate. Fortunately, I only had to go out on the ice a few times but boy was that a disaster when I did.

What wakes you up in the morning? Coffee, tea, other?
Coffee, coffee and coffee!

What is your learning style?
My style has always been hands-on, I need to actually do the action in order to learn it or otherwise write it down.

What is your favorite mid-afternoon snack?
I'm a big popcorn fiend whether its freshly popped or SkinnyPop.

Do you have a go-to work playlist or do you prefer the quiet?
If I am troubleshooting or need to be extremely focused, I need silence. Otherwise, I shuffle my "liked" songs.

What's your best dad joke?
I'm currently in the midst of wedding planning so have been enjoying this joke:
The wedding was so emotional, even the cake was in tiers!

Do you have any pets? If so, please share everything about them!
Gus is our delightful boxer shepherd mix dog who we rescued. He is probably around two years old and the absolute sunshine of my life.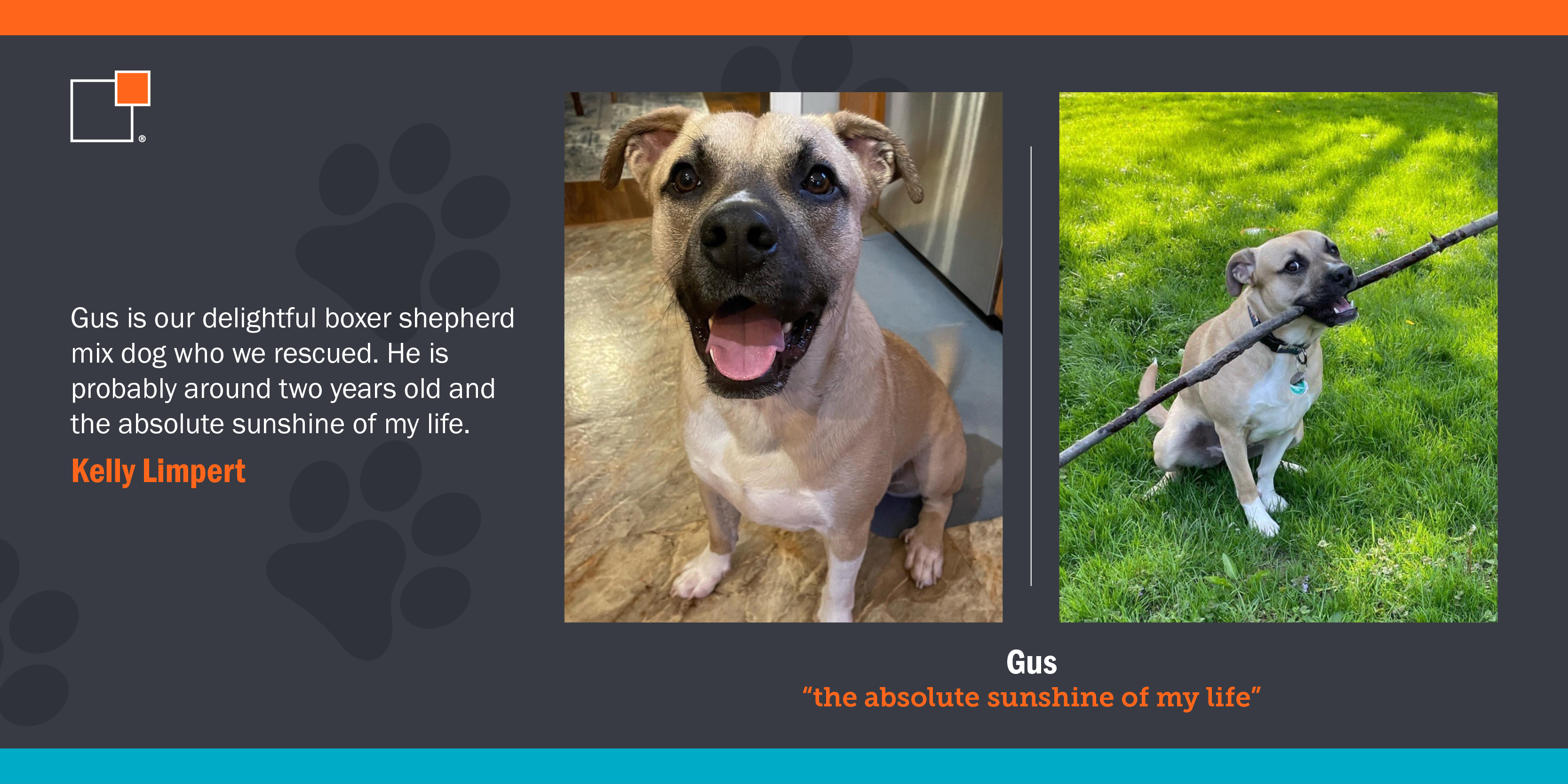 So far, what has been your favorite t::t moment?
Attending our annual Pumpkin Carving Competition has been my favorite t::t moment so far! It was really nice to meet people in real life and try to "out creative" the many creative people here.


Thank you, Kelly, for sharing a bit about yourself, we are thrilled to continue to learn more about you through your time here at thunder::tech! Next up we have a familiar face – Mike Ulanski!

Mike Ulanski:: Performance Marketing Manager
What have you been up to here at thunder::tech and what do you have instore for us?
I've been with thunder::tech for just over two years now, starting off as a Digital Marketing Strategist but was recently promoted from Performance Marketing Lead to Performance Marketing Manager. In this new role, I'll be responsible for all things digital marketing, including paid search and display, search engine optimization (SEO), programmatic advertising, digital content strategy, website support and analytics & data visualization. In addition to these disciplines at a high-level, I'll be responsible for leading & growing the Performance Marketing department, as well as managing day-to-day interactions with clients to ensure that the entire operation is running as smoothly as possible.

What are you looking forward to accomplishing in your new role?
I'm really looking forward to growing the Performance Marketing department as much as possible and helping our clients achieve their business objectives through digital marketing. There's a lot of great opportunities in this space, and the team and myself are locked and loaded to take on 2023 in stride.

What was your first job?
My first job was as a dishwasher at a now-defunct local restaurant called Coco's, a frequent breakfast spot for my dad and me. However, I only worked there for a month on weekends, so I didn't actually spend much time there. My real first job was as a sandwich artist at Subway, a place where I worked on and off throughout college. In fact, I have probably 4-5 years of sandwich-making experience at various Subways throughout Northeast Ohio.

What wakes you up in the morning? Coffee, tea, other?
Coffee, hands down. For the longest time, I would get Dunkin Donuts (a large, black, iced coffee) and that was my lifeblood. However, that got a little too expensive (and annoying to get out of bed and get to in the winter), so I've recently started making coffee at home. Not as good, but it gets the job done.

What is your learning style?
I've learned over my career that I am very much a hands-on learner, and that's especially true given the nature of digital marketing. The various disciples I'm involved with are typically iterative processes, and I learn best by doing, analyzing results and then applying that information moving forward.

What is your favorite mid-afternoon snack?
I gave up snacking a long time ago, so my mid-afternoon snack is typically another cup of coffee or tea.

Do you have a go-to work playlist or do you prefer the quiet?
Not only do I have a go-to work playlist, I have multiple depending on the time of day and the task at hand. If I'm planning on having a relaxed morning filled with various low-impact administrative tasks, I'll listen to a softer playlist consisting of bands like Steely Dan, the Grateful Dead or Khraungbin. If I need to power through a big task requiring a high-level focus, I break out the metalcore. I probably have a playlist for whatever mood you're feeling, so hit me up, and I'd be happy to share!

Do you have any pets? If so, please share everything about them!
My partner and I have two pets, a dog named Waffles and a cat named Aegon, both of whom are around 5 years old. Waffles is an absolutely perfect dog who can never do wrong, while Aegon is a little rascal who is the bane of my entire existence.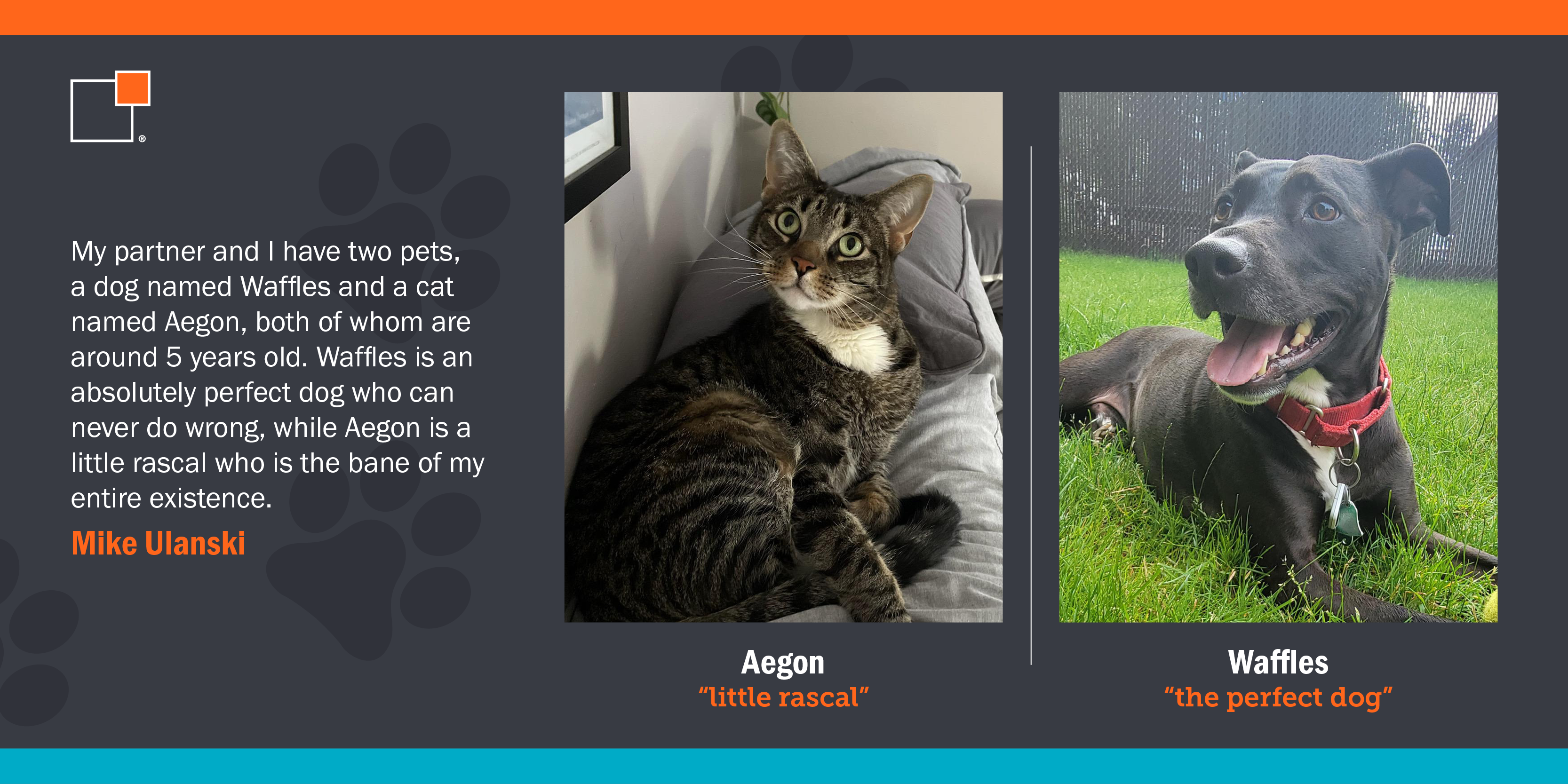 What's your best dad joke?
I think dad jokes and beer jokes go hand-in-hand, so how about this: An ancient Roman walks into a bar. He holds up two fingers and says, "Give me five beers."

What are some of your talents? Work and unrelated?
I've always considered myself a jack-of-all trades, master of none: I like to golf, play bass and cook - but please don't sign me up for a golf tournament, a battle of the bands or a cooking show. Oh, and I can also whistle really, really well.

So far, what has been your favorite t::t moment?
This may sound like a cop-out answer, but honestly, my favorite moment at thunder::tech has been the entire experience so far. The experience & perspective I've gained from working with so many different people and personalities is one of the best parts of my job, and it's great to work for an organization that values its employees' well-being and personal growth.



Wow, we're so lucky to have such fabulous team members and things will only continue to become more fun as thunder::tech expands! Developing relationships with our clients and co-workers is essential to the success of our organization and we're always thrilled to learn more about each other. Keep an eye out for the next issue of "Movers & Shakers" to stay in the loop of everything happening here at thunder::tech!


Like what you see? Want marketing insights, strategies and news updates sent right to your mailbox? Subscribe to Marketing Momentum, our biweekly newsletter!