If you've been in or around the advertising/marketing industry for any length of time, you've witnessed the demand for spec work—that is, speculative creative work that is done for free by an agency in hopes of gaining the business of a new client.
The typical process involves a company approaching an ad agency with a "Request for Proposal" (RFP) that outlines the opportunity to do business together IF the agency can impress them with their creative chops first. That's where spec work comes in.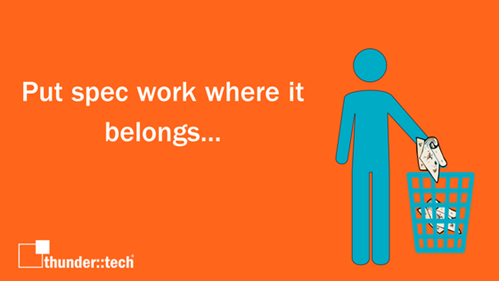 If it sounds backwards that a company would demand that a potential partner do a bunch of free work without any guarantees that they'll ever receive compensation for it—well, we agree. This practice doesn't exist in any other industry that I can think of. To fully appreciate how ridiculous this is in action, Canadian agency Zulu Alpha Kilo approached other service providers and asked for free work:
That video is good for a laugh, but the issue it exposes is very real. No one wants to give away free work, that's just bad business. But the issue isn't just that it negatively impacts the agency—it hurts the client, too.
Spec Expectations vs. Reality
When brands issue RFPs with spec work requests, they may think they're getting a preview of how well the agency knows the industry, how creative the agency really is and what the client-agency relationship will be like. But, in fact, what they really receive is a far cry from any of that.
Industry knowledge
Unless the brand has included an agency in the RFP specifically because they already have demonstrated experience in your industry, it's unlikely that the chosen agency will suddenly become experts while creating spec work. The secret of a great agency is not that they already know everything about a client or their client's industry—it's that they can quickly and efficiently ramp up to that knowledge base.
Also worth noting is that when it comes to marketing, the challenges a brand faces often transcend the industry. The fine details may change from industry to industry, but the bulk of the work is probably very similar across brands, industries and audiences.
Agency creativity
Spec work is generally created without a creative brief (or a very truncated one) so the agency has to fill in informational gaps and/or guess at client desires and expectations. Agencies also want to make sure they're showing off their creative muscles and tend to go over the top with concept(s). This results in unfettered creativity that's big, bold and probably not practical to execute or touching on the true pain points.
The best creative addresses real brand needs that can only be identified through active collaboration between agency and client.
Agency/Client Relationship
Finally, a brand may consider spec work as an "audition" to see what it's like to work with an agency. However, the circumstances of creating spec work are usually very different from actual client work—the creative assigned to the task may be a dedicated pitch team that the client will never see again if the business is signed (thunder::tech doesn't do pitch teams, FWIW) or the creative maybe handed off to junior creatives as the more senior folks are busy with current client work. Without fail the ask will be open-ended and the timeline painfully short.
However it goes down, the result is an artificial situation that isn't reflective of the actual cooperative working arrangement that exists between client and agency.
Why Does Spec Work Endure?
With all the negatives outlined above, why is spec work such an enduring part of the industry? I believe that the most compelling reason is that brands have just always done it this way. For better or worse the expectation has been set that the best way to evaluate a marketing agency is to ask them to do some free work.
Regrettably, many agencies still do it, either out of hopes that it will help their agency stand out from the crowd or out of fear that they'll miss out on an opportunity if they don't.
At thunder::tech we have a policy against spec work, preferring to point potential clients to our curated portfolio pages or to just have a conversation about the solutions we've developed for other clients over the years.
We believe this is a much better way to approach a relationship, instead of establishing a false impression of our capabilities and what the ultimate relationship will look like.
Join us in saying no to spec, and saying yes to the conversations, collaboration and cooperation that makes for great work and great relationships.