The impact of COVID-19 has led to strange times for marketers. We're seeing new paradigm shifts every day, and at thunder::tech, we are working hard to help you navigate its impact on your business. This content is one of many resources we are creating for marketing and management in the midst of the coronavirus.
As things continue to change, we're helping by providing marketing advice, fresh perspectives and strategic planning for companies during and after the pandemic. For a full list of our COVID-19 resources, click here.
This blog is one of several in our series on consumer behavior trends in various industries during the pandemic. We're exploring different developments and things marketers should watch as the coronavirus progresses.
Be sure to catch up on the other posts in this series: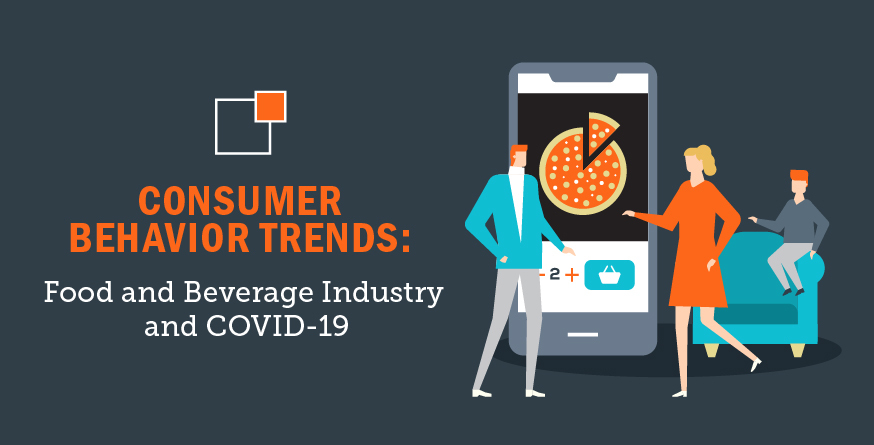 When the coronavirus pandemic hit the United States, the food and beverage industry came to a crashing halt. With mandatory closures of dine-in restaurants, uncertainty and unemployment began to rise. Restaurants and general food service businesses were forced to mostly shut down overnight, while grocery and food delivery services exploded in the aftermath.
While the food and beverage industry saw the most drastic shifts at the beginning of the pandemic, things are still ever-changing. Which of these changes are here to stay? What trends will be a thing of the past in years to come?
Changes in food purchasing behavior during COVID-19
In response to restaurant closures, consumers flocked to the grocery stores to stock up and panic buy, leaving the shelves at many stores picked over and bare.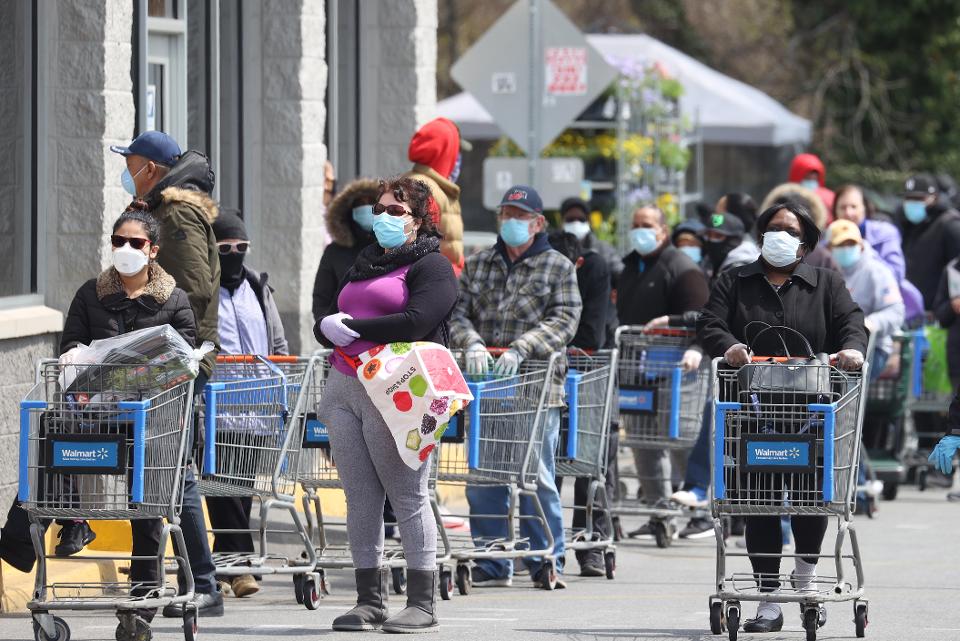 Source:
Forbes
Some of the drastic changes in purchasing behavior include:
Buying in bulk
Increased frozen food purchases
Increased non-perishable food purchases
Buying versatile food staples
The current theory is that as we shifted to mostly at-home meal prep, consumers reached for any ingredient that was available, easy and versatile. For example, according to food distributor SpartanNash, egg demand rose as much as 500% in some areas in April.

Consumer behavior shifts in the food and beverage industry
State-mandated lockdowns forced other interesting changes and consumer habit shifts to the food and beverage category. Some of the most notable trends include:
Breakfast consumption saw a resurgence as many professionals worked from home and consumers had more time at their disposal.
Pancake mix and syrup purchases saw a 6 week increase of 245%
Hot cereal purchasing was up 177% over 6 weeks
Breakfast meat purchases saw over 100% increases in the same period
Indulgent purchases showed that consumers always seek comfort during a crisis
Alcoholic beverages saw sizable shifts from March through April. According to IRI data, spirit sales were up 47%, wine 37% and beer 33% during a five-week period.
Comfort food categories also saw sales increases as baking and other indulgent foods were snapped up by consumers.
Heathly eating habits weren't completely thrown out the window as Natural Food sales were up 39% year over year.
While the restaurant industry expects to lose up to $240 billion by the end of 2020 (National Restaurant Association), 33% of consumers say they're getting more takeout than before the pandemic (Restaurant Business)
Accelerated digital adoption in the food and beverage industry
As the pandemic has done in every other category,
digital adoption has been accelerated during this time aided by changes in consumer habits
. Whether it was a food delivery app, online grocery delivery or BOPIS (buy online pick up in store), consumers downloaded and logged on. While many consumers flocked to the stores, others skipped the stores in general and went straight to delivery service apps for daily needs from groceries to dinner to prescriptions.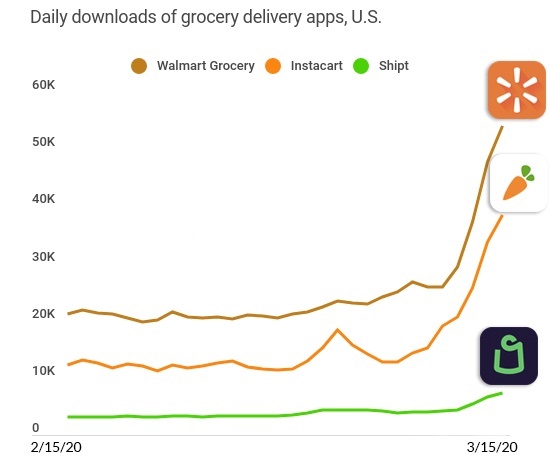 Source:
TechCrunch
Some trends that we've seen on the digital side include:
During this health crisis, grocery delivery apps have been in demand more than ever. Daily downloads surge by up to 218% for stores like Instacart, Walmart Grocery and Shipt have been observed. (Techcrunch)
1010data says more consumers are ordering alcohol to be delivered than ever before. In March and April, online beer sales were up over 100%.
A recent survey conducted by Business Insider Intelligence found that 42% of those surveyed that bought groceries online or for pickup in the past few weeks had never done so before. It's estimated that by the end of June, 43% of US consumers will have purchased groceries online at least once.
At the beginning of the pandemic due to restaurant closures, consumers shifted food and beverage budgets away from dining out to grocery purchases and cooking at home. Contactless food delivery came about and curbside takeout was accepted as burnout from cooking occurred. With restaurants now re-opening in most states, consumer food and beverage behavior will start shifting but it won't go back to the 50/50 split of out-of-home / in-home purchase parity any time soon.

Marketers for food and beverage brands have a lot of opportunity and decisions in front of them on how to capitalize on changing consumer behavior. Now is the time to adapt to these changes.