After three long months at home, thunder::tech's headquarters in Cleveland, Ohio is officially reopening its doors! Beginning in July, we will start staggering teams back into the office with extra precautions to keep everyone safe and healthy.
The following is a letter from thunder::tech president Jason Therrien detailing the months leading up to reopening, our reopening plan and the importance of keeping a physical office space.

For more information, tips and tricks on marketing in the era of the coronavirus, check out our library of resources here.
On March 13th we announced to the team that we were going to move to 100% remote work as we saw the COVID-19 virus moving into a pandemic and starting to hit close to home. We told our agency team that for the greater good, we would work from home because we could.The whole team was able to move remote with few disruptions. This decision was soon followed by state-mandated lockdowns and the strangest three months in our 21-year history.
The reopening process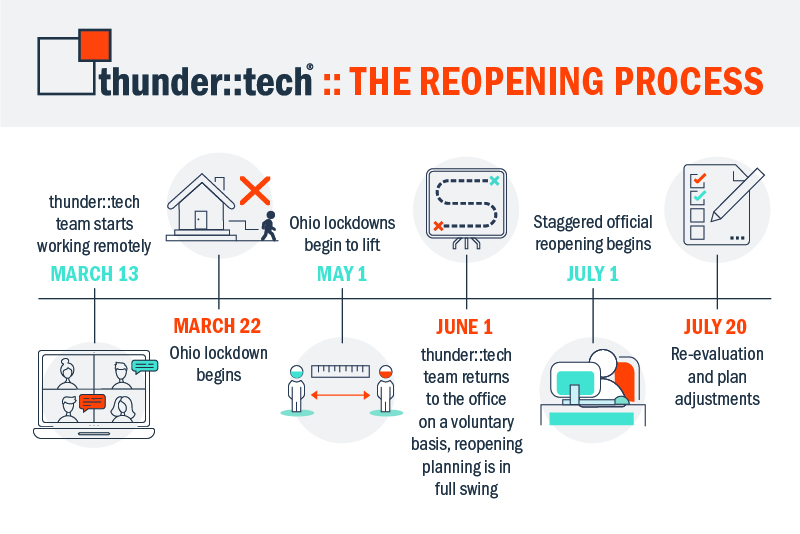 In June, we started slowly and cautiously allowing voluntary access to our marketing agency's Cleveland headquarters. This option was for team members who wanted to come back into the office on their own for a variety of reasons.
At this point, our Operations Department had written new policies, thought through dozens of scenarios and prepared the physical space for a new reality. We had also created a re-emergence committee to get more input and allow team members from any department to learn and weigh in on the process.
Starting in July we plan to stagger teams back into the office just one day per week, and then reassessing after two weeks. Ideally, we'll increase the number of days the team is in the office, but will be watching and making weekly adjustments. Our goal is to make decisions in the best interest of living out our human-friendly culture as well as effectively running our business and serving clients.
We have many new and unfamiliar developments in the office, but with a new handbook and clear communication to the team, we anticipate minimal hiccups as we reopen our doors.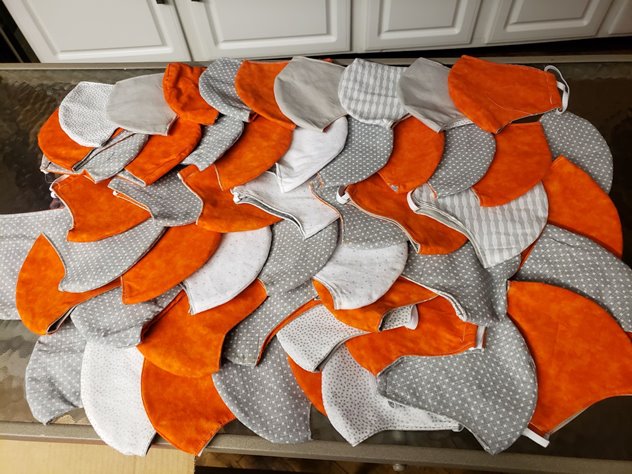 Masks ready to go for the t::team! We will also sport new desk cleaning and stations located around the office that feature branded signage.
Physical office space is still important
I believe "the death of the office" argument created during this pandemic has been overblown. While I don't see nor want us to return to the old practices, an office has not become irrelevant for every business. The arguments online seemed to have become an either/or proposition, which I disagree with. The best approach like many things in life is somewhere in the middle.
However, the purpose of office space will evolve, and that's the mindset with which we're approaching life after working from home. We believe that our office will be a physical place to enhance our collaboration in the future. For some team members, it will be a place to collaborate while heads-down work is done from home. For others, it will be a place to collaborate and work as a way to separate from their home life. Either way, it will become a very flexible space to use that's best for the individual, the accounts they work on, their team and the agency as a whole.
Why do you need space to collaborate? The thunder::tech culture and success is very tied to our ability to develop creative solutions, effectively communicate and create camaraderie between people and teams that builds trust to do great work together. These attributes are vastly improved by working physically near each other. Trust is more easily and deeply developed with proximity, which is so important to the integrated and transformational work thunder::tech provides.
Can we live without these? Sure. But, do they make us more effective and add to the value of belonging to our team? Yes, I believe so. The energy that is created when smart people are innovating and iterating in real time together without video chat lags or technical issues is very tough to replicate. And, the humanity of working as teammates towards common goals, caring for each other and developing bonds that add to our quality of life should not be downplayed.
Moving forward
For many, the office, whether used sparingly or regularly in the future, will allow for boundaries between home and work. My team has logged huge hours the past 3 months partially because of client demands as we all navigate a new normal, but also partially because we were always plugged in and in the office.
The high grade talent that we attract does not need nor is required to be constantly on. Some that choose to work more remotely will have to figure this work-life balance out while others will have the office and a commute to use as separation. It's all up to the individual to figure what is best for their way of life. And while they're in the office, we'll do absolutely everything we can to keep them safe.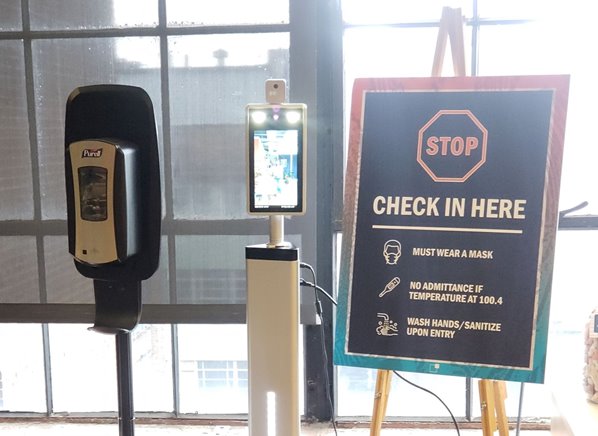 New check-in stations for employees, featuring a hand sanitizing station and temperature check.
A flexible workplace for thunder::tech is what is best for our team and the service of our clients with safety and health first and foremost on our list. We'll continue to iterate on our approach in this blended world we are all working to figure out together.
What do you think? Is your team staying remote for the foreseeable future and beyond? What does your office space mean to you? Let us know your thoughts in the comments.