In today's digital age, a robust online presence is crucial for any business looking to stand out from the competition. We've been working with
National Interstate Insurance (NII)
, a leading provider of insurance solutions for commercial transportation and related sectors, and a subsidiary of Great American Insurance Group, to accomplish just that. We updated their branding and rebuilt their website to help reinforce them as an industry leader, enhance their visibility and generate more qualified leads.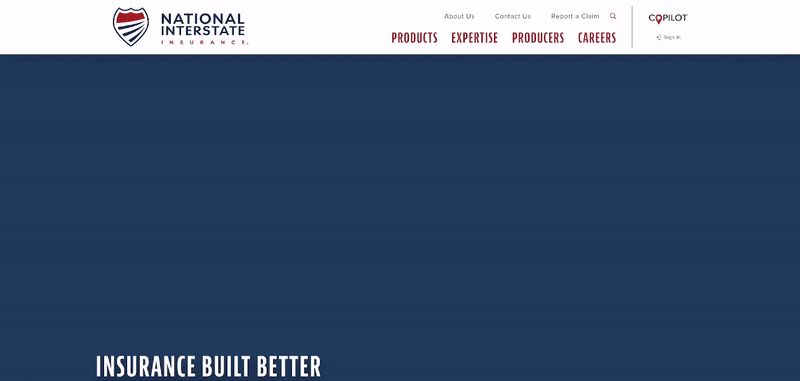 New Website and Branding
Before we redesigned NII's website and got started on their rebranding, our branding experts sat down with key stakeholders at NII to gain a deep understanding of the company at its very core. We discussed their experience working at NII, what it means to be a part of their team and the meaning behind everyone's actions. A survey of employees cemented the true mission, vision and values that create the NII brand and set the foundation for all branding efforts moving forward. This information was key in helping redesign their branding as well as their logo.

One of the primary objectives of the website redesign was to ensure a seamless and user-friendly experience for the diverse audiences visiting the site. By employing intuitive navigation and a well-organized layout, we crafted an interface that catered to the needs of producers, customers and other industry stakeholders. The redesigned website provides an effortless browsing experience, enabling visitors to easily access the information they need to make informed decisions.

NII aimed to not only provide a user-friendly experience but also showcase their innovative approach to offering creative insurance solutions. To accomplish this task, our
creative team
incorporated animation and motion elements throughout the site to capture clients' attention and demonstrate NII's creative problem-solving abilities. These captivating visual features engage visitors and help convey NII's commitment to providing dynamic and forward-thinking insurance solutions.

Generating Qualified Leads from the Start
Within the first week of the new website's launch, NII immediately began receiving qualified leads. This early success validated the effectiveness of the revamped website and showcased its ability to attract potential clients. NII was thrilled to witness tangible results so quickly, and it reaffirmed their decision to invest in revitalizing their online presence.
Ultimately, the primary goal of the redesigned website was to position NII as the go-to authority in commercial transportation insurance. Through re-establishing their web presence and updating their branding, NII is successfully cementing their reputation as experts in the field of commercial transportation insurance, further enhancing their brand credibility.
Are you looking to revamp your web presence? Our talented
Development Team
can help. Whether you have an established website and just need a refresher, starting from scratch or somewhere in between, our team of experts is ready to help.
Contact us
today!