Saturday, March 7 is National Cereal Day, so we're celebrating by analyzing the marketing strategies behind the sugary cereal brands we grew up loving. Follow us on Facebook, Twitter and Instagram as we celebrate our new favorite holiday, #CerealDay!
Tony the Tiger, Cap'n Crunch, Toucan Sam and that one leprechaun with the marshmallows. Those were my Saturday morning companions for all of my childhood. But, like a lot of childhood friends, I haven't kept in touch with them. Sure, I'll occasionally bump into one of them at the grocery store, engage in some small pleasantries, swap stories of those wonderful Saturday mornings… then we go our separate ways.
As I've grown into the mature, responsible adult that I am today, I've moved on from the sugary morning routine into the more evolved ritual of chugging multiple cups of coffee to hold me over until lunch. Cereal has become a forgotten part of my life. How could I forget about an essential part of my daily routine growing up?
Easy. I'm not the target market audience.
Picture the cereal aisle at your local grocers. Rows and rows of colorful boxes with cartoon characters smiling over a bowl of delicious happiness. Turn on Cartoon Network on Saturday morning and you see countless commercials of cereal adventures pulling you into magical lands with chocolate milk rivers and marshmallow clouds. It doesn't take much to realize that these are marketed directly to kids.
Researchers at Cornell University's Food and Brand Lab have done studies on cereal marketing techniques and how they are directed at children. Techniques such as placing children's cereals on the middle and lower shelves, while adult cereal is placed on the top shelf to match the eye level of the target buyer.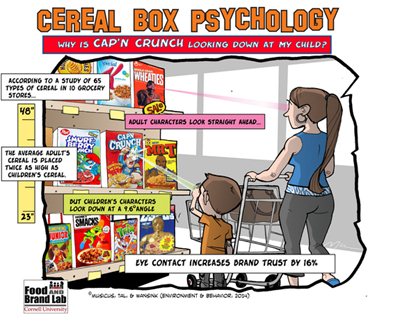 (Image Credit: http://foodpsychology.cornell.edu/op/cerealeyes)
As Toucan Sam would say, "Follow your nose!" or in this case, "Follow your eyes!" Researchers looked at the eye line of various cereal mascots, the theory being that mascots are positioned in such a way to engage with young shoppers. Of the 86 cereals boxes they reviewed, 57 of the characters had a downward gaze designed to make eye contact with a child—the accepted psychological concept that eye contact increases trust. Trust in Tony, young child.
In a second study on eye contact, Cornell researchers showed individuals two versions of the Trix cereal box, one with the Trix Rabbit looking down and away, the other making direct eye contact with the viewer. Results showed that making eye contact increased the positive feeling of the brand. It still remains unknown if making constant eye contact with the Trix Rabbit while eating his cereal improves taste.
In response to the Cornell research, Tom Forsythe, Vice President of Global Communications for General Mills, wrote a response claiming that Cornell's research had turned soggy (read here). Forsythe argued that the Trix Rabbit has shown multiple eye positions over the years, including looking upward to Cereal Heaven (RIP Oreo O's).
But before Cornell's research turned into sour milk, the data hounds at FiveThirtyEight.com provided some nourishment on the subject. Looking a bit closer at the photo of Trix Rabbit looking up, it shows the box of cereal placed on the bottom shelf; which means the Rabbit would be looking UP to make eye contact with the child. FiveThirtyEight also goes on to break down other insights that Forsythe dismissed from Cornell's research. Silly Tom, your marketing trix ARE for kids.
So where does that leave me with my long lost breakfast buddies?
As a twenty-something with no kids, I'm missing the invitations to hang with Tony and the gang. They roll with a younger crowd. Maybe I'll connect with some new friends; ones with no prizes in the box and a full dose of daily fiber/reality. GRRRREAT!