Six years ago during the cool month of September, Snapchat was birthed into the world of social media networking and the lion's den of competitors grew quiet. Facebook watched from its giant perch fresh from the Twitter battle. Analysts speculated the vanishing photo and video messaging platform would tank shortly after its release.
Boy were analysts wrong.
With Snap Inc. opening shares to the public at the start of this year, Snapchat continues to captivate the millennial and teen population nationwide. In an effort to counter the new craze, Facebook released
Facebook Poke
, the ultimate fail for Zuckerberg & Co. If you're scratching your head wondering whether or not we're referring to those annoying notifications you get on your newsfeed from that one
"friend"
you used to have in high school—we're not. (Who seriously does that anymore, anyway?)
Facebook Poke was made to show up Snapchat's developers. According to an
article in The Guardian
, Zuckerberg was boasting about creating the app in just 12 days. If anyone was looking to determine who shot first, we'd like to argue it was Facebook.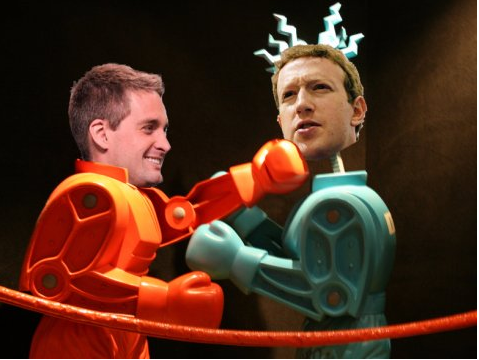 [Photo credit: Business Insider Bruce Turner/Flickr]
Just look at the retaliation
timeline
:
2012 – Facebook releases the Poke app just a year after Snapchat unveils its user-friendly app.
2013 – Let's call this the real tipping point, Facebook makes a $3 billion offer to purchase Snapchat and is turned down.
Spring 2014 – Facebook tries to play copycat again with its release of Slingshot. While it may have been better than Poke, it still failed.
Fall 2015 – Snapchat adds photo editing tools that are sort of average, and of course Facebook adds this to its photo options as well. Facebook also adds temporary messages on its messaging app.
Spring 2016 – Snapchat makes its app even more interactive by adding face recognition software that generates animated filters. Because who doesn't want to look like a bee or puppy? Facebook also adds an eerily similar feature called Messenger codes that allow users to connect through a series of dots and lines (think QR code-like system). Wait… What about Snapcodes? Anyone?
2017 – Facebook adds Messenger Day and Facebook Stories. Both are very clear parallels to Snapchat's "My Story" feature where users can post photos or videos for a limited amount of time.
Let's also not forget that while this was happening, Facebook added another toy to its collection, Instagram, when it purchased the channel outright in 2012. Facebook at least achieved that feat; however, it might have been more strategic than we thought. Just last fall, Facebook unleashed its first weapon in the form of Instagram Stories. Then, this past month, Facebook released
Messenger Day
and
Facebook Stories
. Both serve as a vanishing video hub for Facebook friends to view on the Messenger app and on their newsfeed.
Still not convinced these two teenager-like companies aren't feuding and fueling off one another?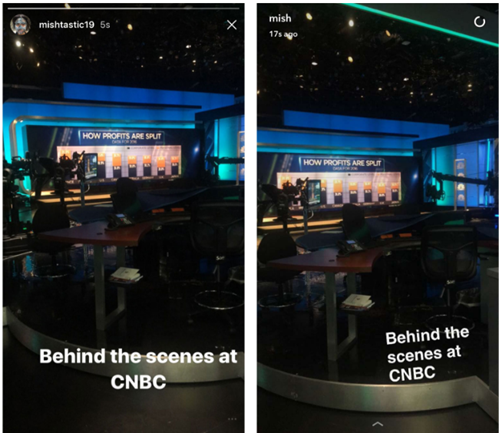 [Photo credit:
CNBC
]
Right.
We're just going to leave this here.
Impacts of the Teenage Angst
By now you should probably be smirking to yourself about the back and forth volleyball match that's happening between the two big wigs. Once you're done having a good laugh, you might wonder what this means for marketers. Is one necessarily better than the other? Well technically the main contender here against Snapchat is Instagram, but it's owned by Facebook so tomato, potato.
Here's our breakdown:
Instagram
(For sake of consistency, we'll compare Instagram in its entirety, rather than just Instagram Stories.)
| | |
| --- | --- |
| Pros | Cons |
| 400 million active users daily | People aren't exactly happy about the "Stories" rip off |
| Ability to include hashtags and website links in Stories and posts | Lacks post chronology in feed |
| Ability to communicate both publicly and privately with consumers | Difficult to sell services from, better for retail brands |
| Variety of filters and photo editing options | Ad space is quickly becoming limited |
Snapchat
(Again, we're comapring Snapchat in its entirety, rather than just Snapchat Stories.)
| | |
| --- | --- |
| Pros | Cons |
| 158 million active users daily | Still a limited audience compared to other channels |
| Ad space isn't crowded yet | Once a post goes away, so will your brand's impact |
| Great for quick, digestible content | Difficult to review analytics |
| Fun animated filters | More one-on-one communication between users |
From the Social Media Team's standpoint, when it comes to marketing for middle market clients, Instagram offers a lot more benefits. First and probably most important, Instagram offers analytics for both Stories and regular posts. Snapchat is sort of a mystery in this department. While Snapchat does offer analytics of "views," Instagram gives marketers a more thorough look at impressions, reach, engagement, likes and comments. All of this information is helpful to determine which content performs best for any given brand. Rather than just noting which of your Snapchat followers viewed your Story, opened your individual Snapchat, and completed viewing the story in its entirety, marketers get a more comprehensive view of what's going on with their content.
While we don't discourage the use of Snapchat, it does require constant dedication and sourcing for real-time content. Whereas for Instagram, photos taken from a few days ago can still be relevant to the audience. Both have perks and drawbacks, so in all reality, it's really up to the brand to determine which medium hosts its target audience and which medium won't cause more stress than necessary for brands. For some brands, posting content in real-time is a cakewalk. For example, if your marketing team has a dedicated individual who can be on site snagging captivating photos, then Snapchat will be your best friend. On the other hand, if your resources are stretched enough as is, Instagram might be the better option.
But Why is Facebook Doing this Anyway?
Before we even get into the facts, figures and guesses, let's point out that the feud between Facebook and Snapchat is not one over content.
No, it's really about attention.
Facebook was the first born, and like the oldest child, prefers to not have the attention drawn away from it. So because Snapchat has a
reported
158 million daily active users and 10 billion daily video views, Facebook's throwing a very large toy-store aisle temper tantrum. Compare those numbers to Facebook's
reported
total of 8 billion daily video views and a respectable 1.23 billion daily active users. Even though Facebook takes the prize on daily active users, Snapchat's winning the video view game, which is probably worse for Facebook's creators.
We've said it before, video is the new black of social media marketing. We almost can't blame Facebook for jumping on the copycat train as Snapchat continues to outperform the channel on dynamic content. Whether or not people are using the app 24-hours a day is irrelevant. Instead, both channels are trying to be the go-to place for people to consume video. And it's with that battle that we think Snapchat's going to outdo Facebook.
One saving grace for Facebook, Instagram and Zuckerberg & Co. is that Snapchat lacks one very fundamental marketing tool—room for ads. It's no surprise that within the last year Snapchat has looked to find ways to throw ads into the mix, but it's still nothing near the options marketers or brands have on Facebook or Instagram. So while Snap Inc. continues to develop an advertising platform that's user-friendly (and is entertaining the idea with
sponsored geofilters
), Facebook walks out victorious, with a knockout punch.
For now.
At the end of the day though, the feud gives us marketers something to keep our eyes open for as the two channels push one another to new, greater heights. While we're keeping tabs on the developments, we'd love to hear what you think of the #FacebookFaceOff. So either
drop us a note
, or tweet us with what you think about all of it. Until then, carry on snapping, gramming and posting, friends.