Hello! Helloooo! HELLO?? Interacting with a brand on their social channels shouldn't feel like you're screaming into the endless void, never to be heard again. Social media enables brands to engage with consumers on a large scale and in real-time. It's not just an opportunity for companies to sell products and services, but an opportunity for them to earn the loyalty of their audiences. So, if you're constantly leaving your audience on "read," that opportunity is going straight down the drain. Plus, you might be left with some frustrated users who feel ignored.
It's not enough to monitor comments anymore. Social media users have come to expect brands to respond in real-time when they have complaints or questions—and they want a response that is tailored to their needs. That's where community management comes in.
What is community management?
Social media community management is how a brand interacts with its audience through platform engagement, including comments, messages, mentions and reviews. It's how a brand approaches its social media channels as a form of direct communication and can include product feedback, announcements, conversations about trending topics or even general questions.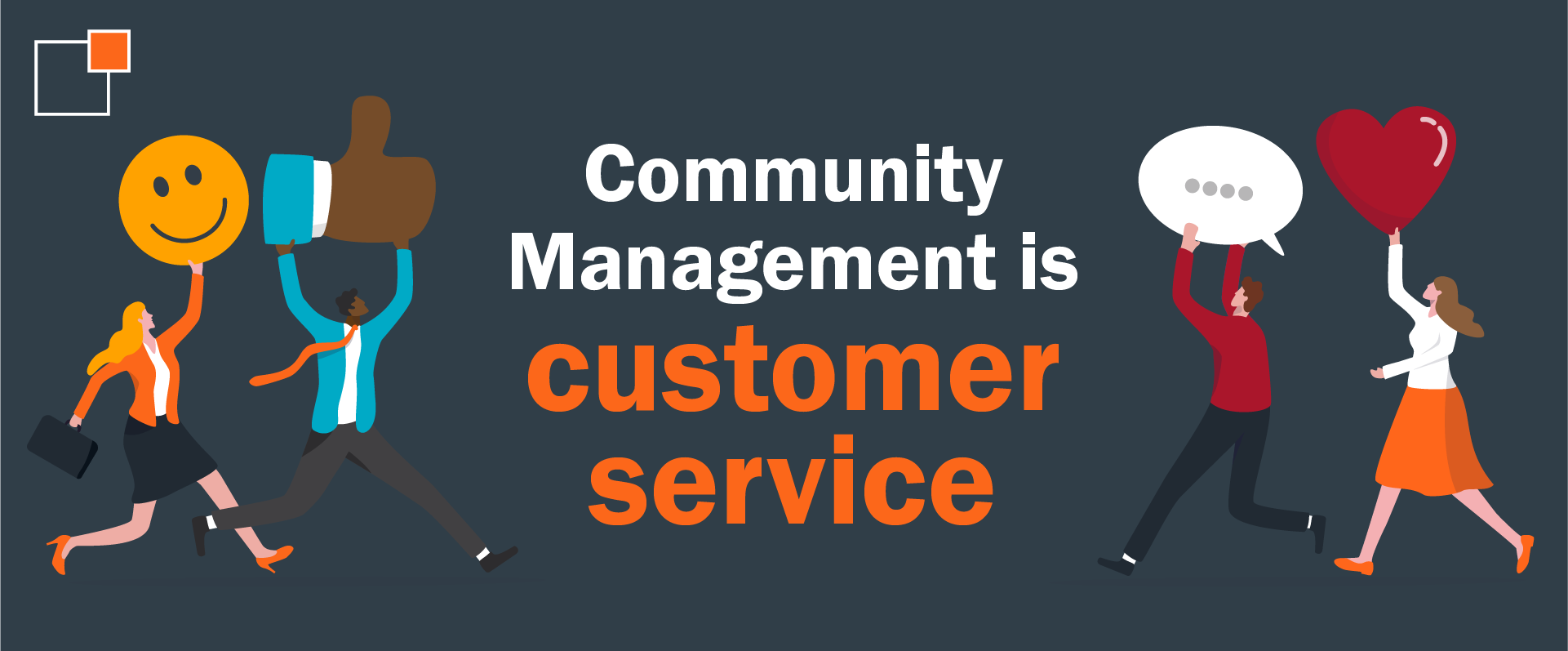 "Community" isn't just an online thing. It's a real-life concept that indicates what a brand does for the people who are interested in it—interacting with them one-on-one, personally, and making them feel like they're part of something bigger than themselves.
To be successful you must listen to feedback and use this information to improve how you interact with your audience.
How does community management relate to your business?
Community management doesn't only mean that you're posting engaging content, responding to comments and engaging in conversations. It goes beyond the social media aspect of your business. It's about making connections and building relationships with your customers, which is a huge part of customer service.
Community management brings your brand to life on social media — it showcases the real personality behind the account. Then, when your audience sees your brand responds to inquiries and feedback via social media, they're more likely to engage with content in the future! Knowing a brand is listening and engaging with audiences facilitates increased trust and builds brand loyalty.
People are now turning towards social media to ask businesses questions that previously would have been directed to "customer service." Plus, responding to comments or DMs is way quicker than answering a phone call or responding to an email. Additionally, community management can prevent crises. By getting ahead of complaints on social media, brands can "read the room" and avoid bigger PR issues down the road.
What is a community manager's role?
The community manager is a behind-the-scenes role that's vital to the success of a company. As the first line of communication between the brand and its audiences, this person ensures that responses are timely, relevant and accurate. Community managers are also responsible for ensuring audiences receive information about products, events and promotions as well as answering questions and spreading brand awareness through social media engagement.
How to successfully manage your community
Determine where your audience is and what they are interested in.
Everyone has different needs. Some people might want to learn about your brand's latest news while others may need help solving a problem. Perhaps they are searching for a place to converse with their peers and bond over their shared interests. The best way to figure out where your audience is and what they want is by listening to them, observing what they do and don't respond to and taking an active role in the conversation.
Monitor conversations involving your business.
"Good" community management looks like a conversation between friends. And while it's important to respond to any negativity or complaints on social media quickly and effectively, sometimes the best thing you can do is just listen. There are multiple platforms that allow you to set up alerts when there is mention of your company across the web.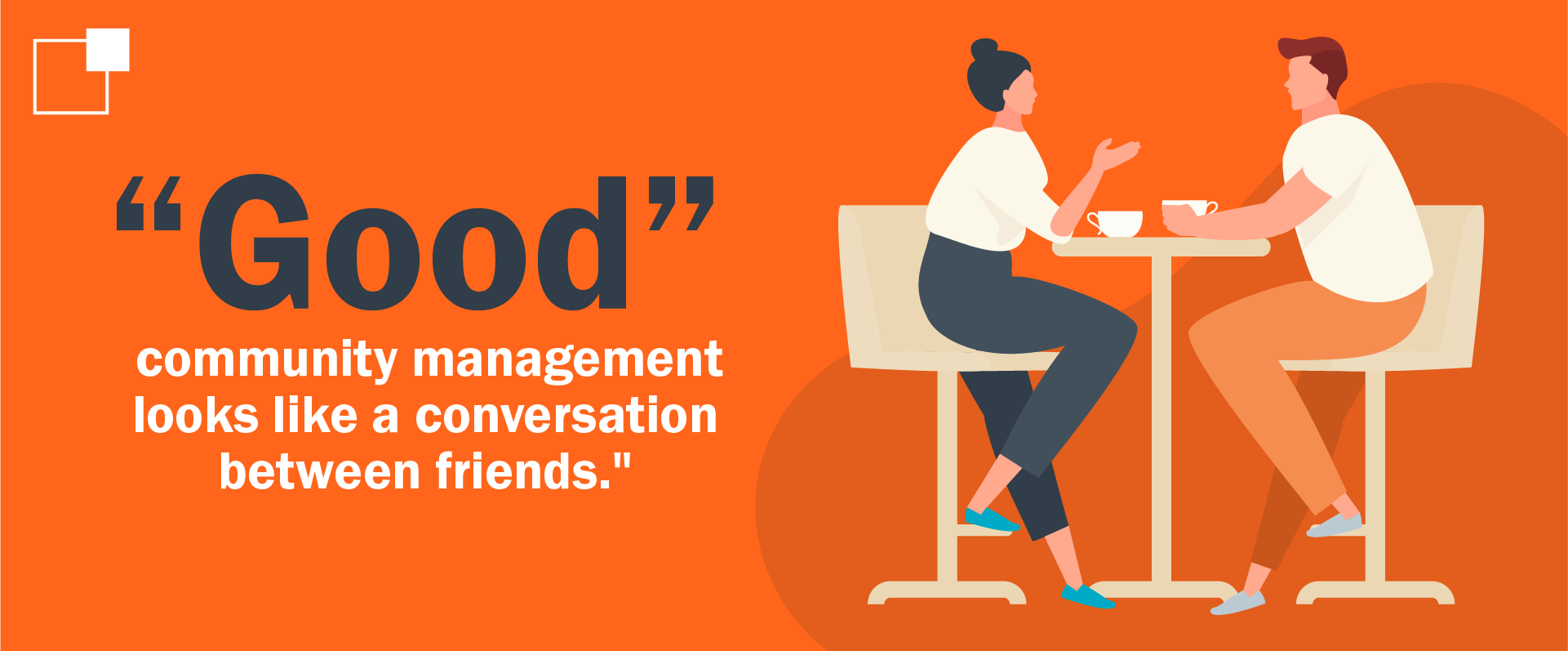 By listening to your customers and prospects, you can understand what they're saying about your brand. This information can help inform product development, marketing campaigns, customer service efforts and more.
Beware of trolls/bots
Unfortunately, you are more than likely to run into a troll or bot trying to get attention. Trolls try to provoke a reaction from other users by posting inflammatory or off-topic messages in an online community. They may also be bots, which are automated programs that post on social media sites in order to drive up engagement metrics for advertisers.
There are degrees to trolls, so if they are trying to stir up something, you can take control of the narrative by addressing them and ending the conversation by having the last word. If the comments mention profanity or anything offensive or obscene, immediately hide or delete the comment, and if the troll is doing this repeatedly, ban them from your page. Also, to avoid this happening and triaging a lot of troll comments, brands can implement a list of banned words in their Facebook settings!
Engage with your audience
Audiences are more likely to engage with content from brands they feel have a two-way dialogue with them, which makes social media platforms—with their direct-to-consumer communication capabilities—a valuable place for brands to nurture those relationships. There are many ways to start conversation threads with your audience; you can ask questions, hold contests and post polls or surveys for people to fill out. Hosting discussions is a great way to get feedback from your customers about how well your products are doing, what they'd like to see in the future and build a community.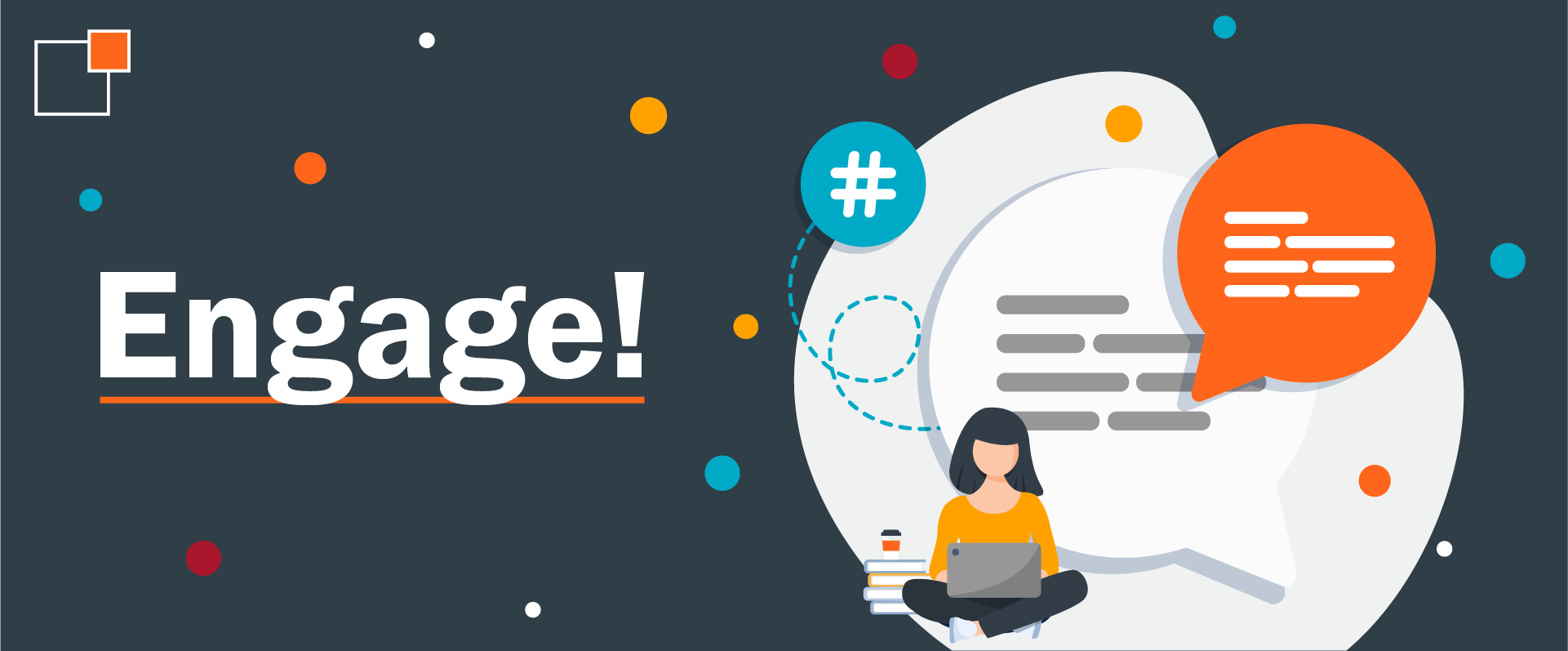 Have a plan for different situations
Good community managers are proactive with their audience by fostering meaningful relationships with them and responding as soon as possible when they have questions, concerns or a problem arises. It's good practice to have a plan in place for different situations and be prepared to deal with them professionally and effectively. For example, if you notice that someone has posted something negative about your brand or product, you should have an outlined process on how to address it immediately so that the issue can be resolved before it turns into an even bigger problem. You should know how you will handle negative customer feedback and what steps you will take when there's a problem with products or services.
What we do for community management
At thunder::tech, when a client signs on for community management, the social team utilizes the "Engage" feature in
Brandwatch
. The tool allows us to create feeds to gather all unread DMs, mentions, comments and more on a client's platform(s). We've set up daily tasks for the team to tend to all unread items within the Engage feature on top of reoccurring check-ins for the morning, afternoon and evening, depending on the level of engagement the client receives. Each task includes responding to DMs and engaging with appropriate comments while hiding or deleting inappropriate interactions. After learning the client's social media audience, we work with the client to create saved templated responses to FAQs to keep consistent and accurate brand messaging for all audiences.
Challenges:
Our main challenge is if something receives lots of traction overnight or during a weekend. If a post has lots of negative engagement and gains momentum when we aren't there to monitor and take control of the situation, it presents quite a challenge. However, we've worked hard to implement plans to ensure the client and brand come out on top.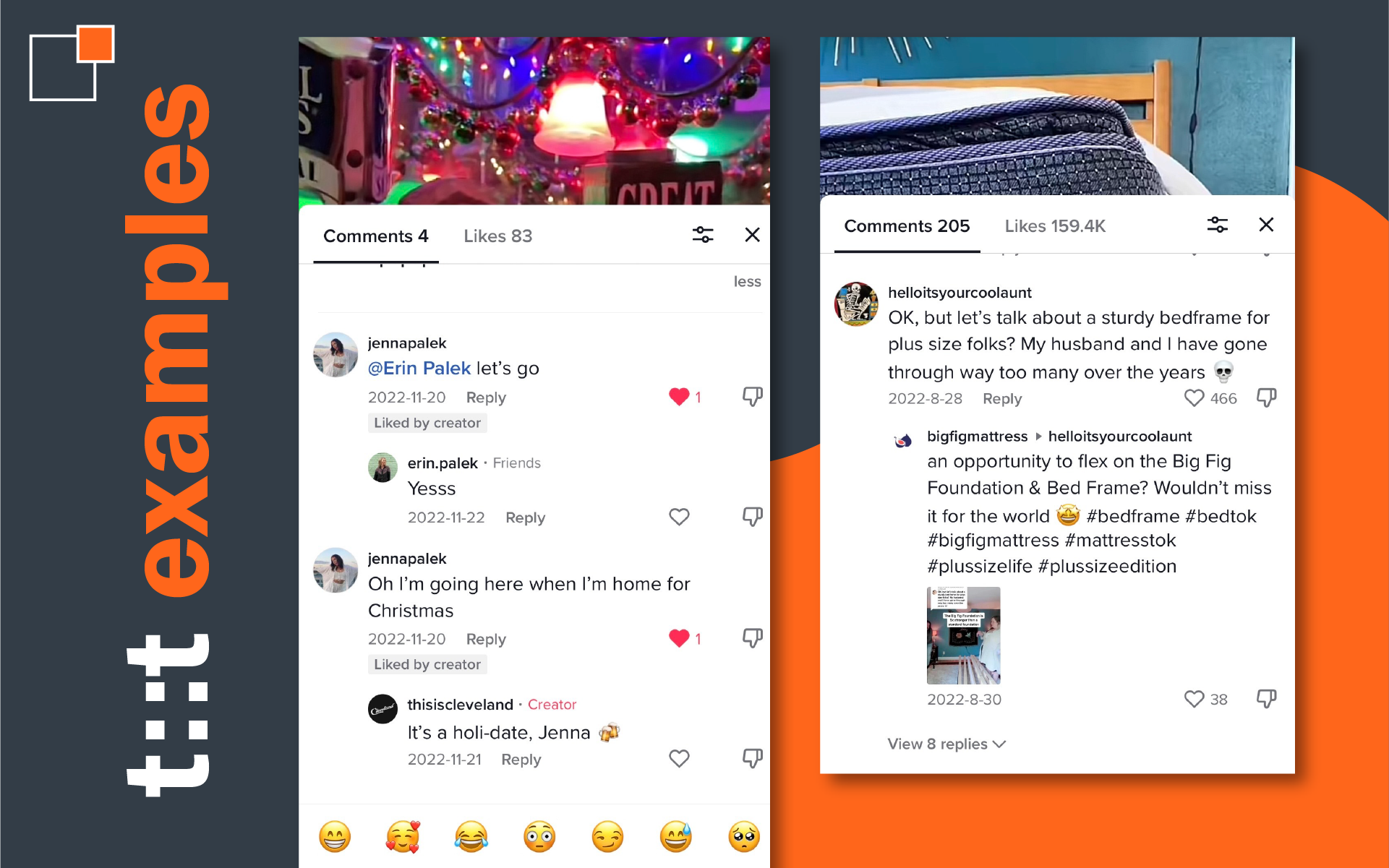 Why our approach works:
Our success comes from our consistent, proactive and effective approach. There is no better way to learn what an audience wants to see and is interested in than consistently checking in and interacting with them. We have extensive experience handling commenters all over the map, so we can quickly and effectively take control of a situation before it escalates. Plus, we can proactively get ahead of engagement storms before they arise.
Best practices
Before we send you on your way, we've put together community management best practices that will be your guiding light for all your audience interactions.
Set community rules and guidelines
Check on your community regularly
Be authentic & genuine
Be consistent with communication
Listen to your community
Show appreciation to your followers
Maintain your brand voice at all times
Explore new ways to engage your community
Acknowledge customer
Don't lie!
Give yourself a break and take a step back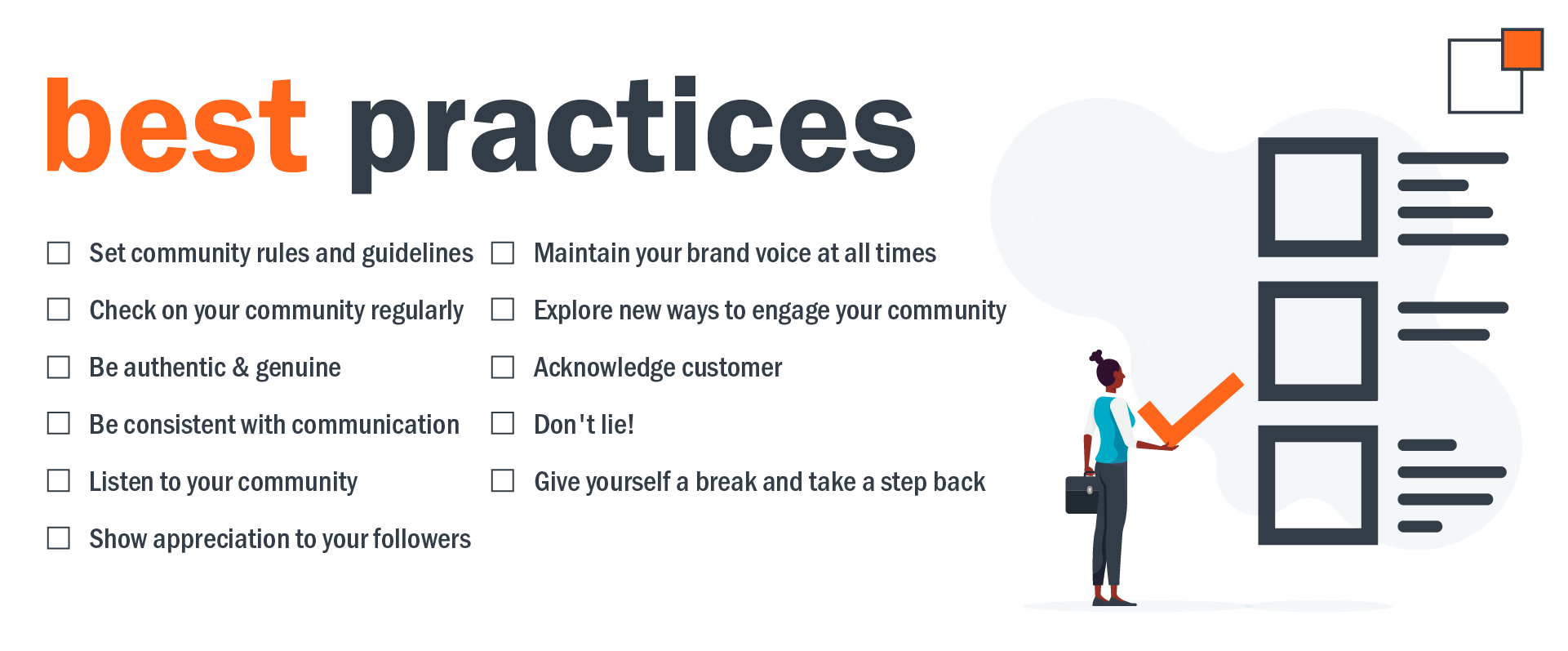 Remember that good community management isn't just about replying to your audience. It's about engaging with your audience, making sure they feel heard and working with them to develop a productive dialog around your brand. It's handling complaints in a proactive way and attempting to understand the underlying reason behind their frustration to cultivate long-term loyalty.
Go out and thank a community manager today, they're working hard behind the screen.
Are comments and DMs flooding in? Do you need help monitoring the conversations happening on your social channels? You're in the right place. Our social team are seasoned experts in community management and are at the ready to help your brand. Contact us today!