In the last year, our team has covered the ins and outs of iterative design. From the basic meaning to the fully developed concept, we've traced through countless of client projects that really exemplify what iterative design can do for a brand. In its most basic meaning, iterative design is the process of building, testing, evaluating and refining brand assets. The concept has been used in manufacturing for centuries, think back to how they created a mousetrap.
In marketing, iterative design means making small changes, or at least not radical changes– over time. A massive change over a short period of time threatens to alienate your core customer base. In other words, this process involves an evolution, not a full revolution.
One easy example of this is seen in logo evolutions. Starbucks evolved their iconic coffee logo in 1992 when they became a publically-traded company. As the brand expanded, the original logo did not best represent the growing company. Then, in a more recent iteration, the brand began to recreate a newer, cleaner logo for its 40th anniversary.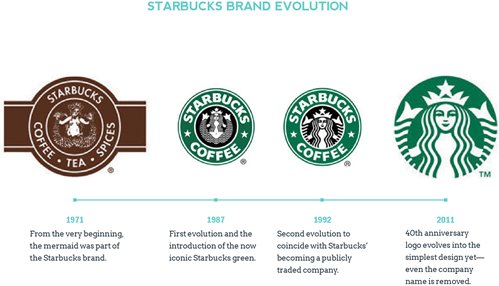 Now, iterative design doesn't always mean changing from more complex to less complex. Unlike Starbucks and its simplified logo, Quaker Oats made a change that wasn't expected. The Quaker oats guy was always fairly realistic in appearance, until the brand made a major logo change in the '70s. But within the decade the brand returned to the original styling. So, iterative design isn't always a straight line, and it's not important that it is because there should always be room for flexibility.
As intuitive as a process that this may seem, it has only recently been really embraced in the digital world. You might think this is obvious, as it's easy to change a website compared to a business card or graphics on a fleet of trucks. But, previously, companies would build a website, stock it with the functionality they needed and then walk away. Even if the content was refreshed periodically, the functionality and the design would be left to become undated.
Once the brand becomes unbearable, then the process to completely blow it up and replace it would begin. This would undoubtedly be a long, painful and expensive process because of the sheer amount of work required. And this is why we have seen a trend of companies of all sizes embracing iterative design for websites rather than a complete overhaul.
At thunder::tech, we take our own advice. For years we had done the typical build or bust website design. We redesigned our site two years ago as part of a larger brand refresh. At that time we tweaked our brand colors, added a secondary color system, an icon system and developed a new style of photography.
We built the site as a series of modules that we knew we could tweak, move, etc. without a huge amount of labor.
We built the site atop a content management system that was powerful and flexible enough that we could use it for years to come.
All of this involved UX, app dev and visual design all working together to build the strongest foundation we could.
In the weeks and months that followed, we carefully watched the traffic coming to the site by looking at how long people stayed on the page and the site, what links and buttons were clicked most often and we noted what feedback was received.
We determined a couple of trends and then needed to evolve the site to accommodate what our goals were.
We changed the big cinematic hero image which looked great, but limited our ability to push out new content to people visiting the site.
We added some fun animations to make the experience more engaging as soon as a visitor landed.
We added a call-out area where we could talk about new and exciting things happening on the site in real time.
We also juggled around the modules by bringing our service offerings up, while pushing our portfolio page one layer deeper into the site.
Since we had planned on iterating on the functionality and design of the site, we were prepared to make these data-driven changes. And when the data indicated that something needed to change, we could do it quickly and easily.
So what does this mean to you?
Well, when you're considering the future of your website, take iterative design into mind. You wouldn't buy an expensive piece of equipment for your manufacturing facility and never do any preventative maintenance on it, right? Treat your website the same way. In many ways, the site is even more important than that machinery, since it's often your customers' and potential customers' first interaction with your company and brand.
Iterative design allows your website to work better, provides a better experience to visitors, and is expensive in both time and money, to upgrade and maintain. Think you want to try the process?
Give our team a call
to find out how we can get your brand restarted with an evolution.