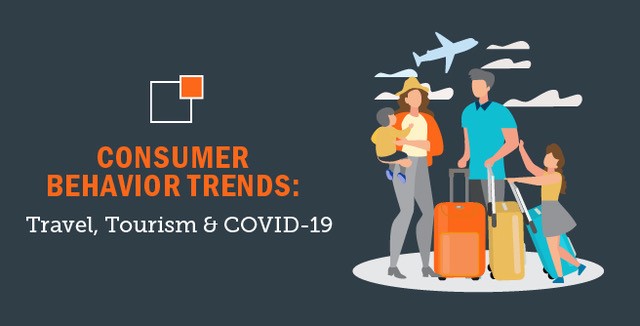 The impact of COVID-19 has led to strange times for marketers. We're seeing new paradigm shifts every day, and at thunder::tech, we are working hard to help you navigate its impact on your business. This content is one of many resources we are creating for marketing and management in the midst of the coronavirus.
As things continue to change, we're helping by providing marketing advice, fresh perspectives and strategic planning for companies during and after the pandemic. For a full list of our COVID-19 resources, click here.
This blog is one of several in our series on consumer behavior trends in various industries during the pandemic. We're exploring different developments and things marketers should watch as the coronavirus progresses.

Be sure to catch up on the other posts in this series:
As we dive deeper into the impact COVID-19 has had in all industries, let's take a deeper look into the trends we're seeing in the travel & tourism industry as things move forward.

Travel and Tourism Trends
There's no way to sugar coat it. By every measure, the coronavirus pandemic has decimated the travel industry. The images of the world's shutdown numbers are staggering. Approximately
100 million travel sector jobs
have been or are set to be eliminated. U.S. airlines are down 95% compared to last year and international passenger revenues are set to decrease by over $300 billion. U.S. hotel occupancy rates remain around 25 percent.
Travel plans are being disrupted and canceled left and right. The latest
Traveler Sentiment Study
by Longwoods International shows the intent to travel among American travelers. Highlights of the survey include:
21% of American travelers are shifting travel plans from fly-in to drive destinations (which should benefit the Midwest with many short-drive regions).
Concerns about COVID-19 are impacting decisions to travel in the next six months. This indicates there will be a pent-up demand when it is safe to travel again.
This lack of immediate travel plans means Ohio (the state we're headquartered in) traveler spending is down 86%, a $524 million dollar loss. As a result, state and local tax returns from travel businesses to-date are down. Forecasters are predicting the revival of the economy will take anywhere from 6-12 months to rebound.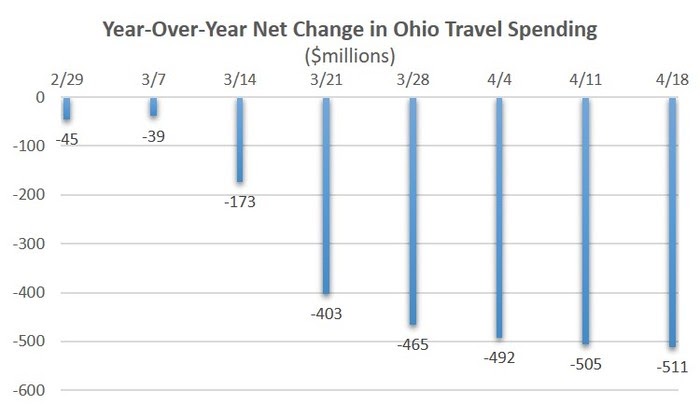 What will adjusting look like?
A
recent CivicScience study
showed that Americans feel different levels of comfort with the idea of going back to travel and tourism-related activities, including events, vacations and gatherings outside the immediate family.
A little less than half of survey respondents said they would be ready to attend small gatherings with family and friends within one month of lockdowns ending. But for larger gatherings, most people said they would wait six months or more.


But the unease of a pandemic and the fear of large gatherings does not mean the desire to travel will go away entirely. In a
recent survey by Skift Research
, the research arm of the travel trade publication, one-third of Americans said they hope to travel within three months after restrictions are lifted.
Research by
H2R Market Research
gives further insight into the general public's thought process when it comes to traveling again.
Most (71%) said that they would need an "all clear" message or indication from the government before going on vacation.
Almost half said they would check and avoid any intended destination that has new COVID-19 cases.
And 38% said they would need to see other travelers venturing out again before they go anywhere.
Another survey found that
over half of Americans will avoid crowded public spaces on their next vacation, implying that national parks and historic sites will be the first to see revenue growth.
This aligns with the H2R survey, which asked where people were most likely to visit first. The results showed:
Historic landmarks/places (30%)
National/state parks (27%)
Natural wonders (25%)
History museums (20%)
Brewery/winery tours (19%)
Theaters (18%)
Zoos/animal attractions (18%)
Botanical gardens (17%)
Science centers (17%)
Family entertainment centers (17%)
The resurgence of the road trip and other trends
With some states loosening travel restrictions, "people want to get out — just within their own control," said Tori Barnes, the executive vice president for public affairs and policy for the U.S. Travel Association.

Road trips
You can expect to see a surge in road trips, which will be a huge opportunity for people to move around and help jump start the economy. Road trips have always been a great alternative to flight travel and are traditionally very price-conscious, which is nothing new for the American public.

According to the
Family Travel Association
, parents consistently rank price as the largest challenge they face when traveling with children. Road trips also mean that family vacations after COVID-19 are likely to become shorter so that they cost less and allow less chance for families to be exposed to germs. To keep families spending money on shorter trips, many travel industry suppliers will offer special rates and discounts.
Wellness experiences
After staying inside for the better part of 2020, many tourists may choose wellness or outdoor experiences that involve getting active and healthy. This includes cycling and trekking tours as well as mindfulness and yoga retreats.

Vacation spots that are able to offer outdoor experiences already have an advantage in rebounding after COVID-19. Organizing well-executed, valuable vacation options for tourists will be key. Experiences that feel thrown together or cheap will be extra disappointing for tourists after lockdowns are lifted.

Staycations
Along the lines of road trips comes staycations. People are not going to be running to planes or trains, but instead taking their automobiles to the nearest drivable retreat to get away but not super far from home. Many cities and organizations may launch "stay local" campaigns to attract visitors.

Smaller gatherings
Large gatherings of people may also be a thing in the past as we have seen the push for weddings, showers, birthday parties getting smaller. From here on out the new marketing message could be "go smaller" and all of the reasons why you should include health, safety and economic benefits.

According to the
same CivicScience study
, large-scale events like concerts and sporting events most likely will not reappear until 2021 unless a vaccine is made available. Smaller venues and concerts clubs may open first with limited crowds, but there's a very slim chance that anything resembling previous crowds will occur in 2020.
This is underscored by the study's finding that 38% of adults would wait six months or more after lifted lockdowns to attend events with big crowds.

Interestingly enough, younger consumers are more eager to return to events with large crowds. Most respondents who said they would return to large crowds within a month of lifted lockdowns were ages 18-34. Women are more likely to be wary of returning too soon.
One day at a time
Coming out of quarantine will not happen all at once, but in phases. Americans have varying priorities when it comes to travel and social gatherings after lockdown, with the majority focused on seeing family and friends in small groups first.

Looking beyond smaller social engagements, it's hard to determine the public's timetable. After months of lockdown and clear concerns about mingling again, it's hard to imagine something like an international vacation, sporting event or concert happening any time soon.

But "we are all in this together," and as long as employees and consumers are feeling safe and believe in your message for the future, all we can do is take it day by day and we will make it through.