Ah, the mystical art of landing pages—a secret weapon in the realm of performance marketing! These captivating portals hold the key to transforming mere visitors into devoted customers. Landing pages have often been overlooked, with a staggering
44% of clicks
leading visitors to generic homepages without any clear next steps. Surprisingly, even among businesses that do employ landing pages, a whopping
62% have
fewer than six of these conversion-boosting gems in their arsenal. It's time to change the game and tap into the untapped potential of landing pages to maximize your success.
Landing pages have many benefits, from serving as the ultimate tool for lead generation, to providing a dedicated space for your marketing offers to thrive, offering valuable insights into consumer behaviors and more. Landing pages can help you capture valuable data while converting visitors into actual customers.
So, where's the disconnect? Since landing pages offer so many benefits, why do so few marketers deploy them? Well, even for experienced marketers, landing pages can be confusing, time-consuming projects. But don't worry; we're here to demystify everything, give you tips to maximize conversions and send your ROI soaring.
What is a Landing Page?
Imagine a web page designed with a single purpose: to guide visitors toward taking a specific action. That's what a landing page is all about. It's a persuasive page that works its magic to transform casual browsers into loyal customers. Unlike a homepage which largely holds information about the company and acts as a gateway to other pages on the site, an effective landing page has clear steps for a visitor to take and focuses on driving conversions. They can hold newsletter signups, distribute marketing materials such as ebooks or white papers, register visitors for events or whatever action you want them to accomplish.
Typically, visitors arrive at a landing page through other marketing powerhouses like pay-per-click advertising, email and social media campaigns. It's all about synergy and leveraging the combined strength of different channels to achieve exceptional results. By incorporating landing pages into your marketing strategy, you can harness their full potential and maximize the impact of your entire marketing ecosystem.
So what are the benefits?
There are numerous benefits to adding landing pages to your marketing strategy. Here are just a few: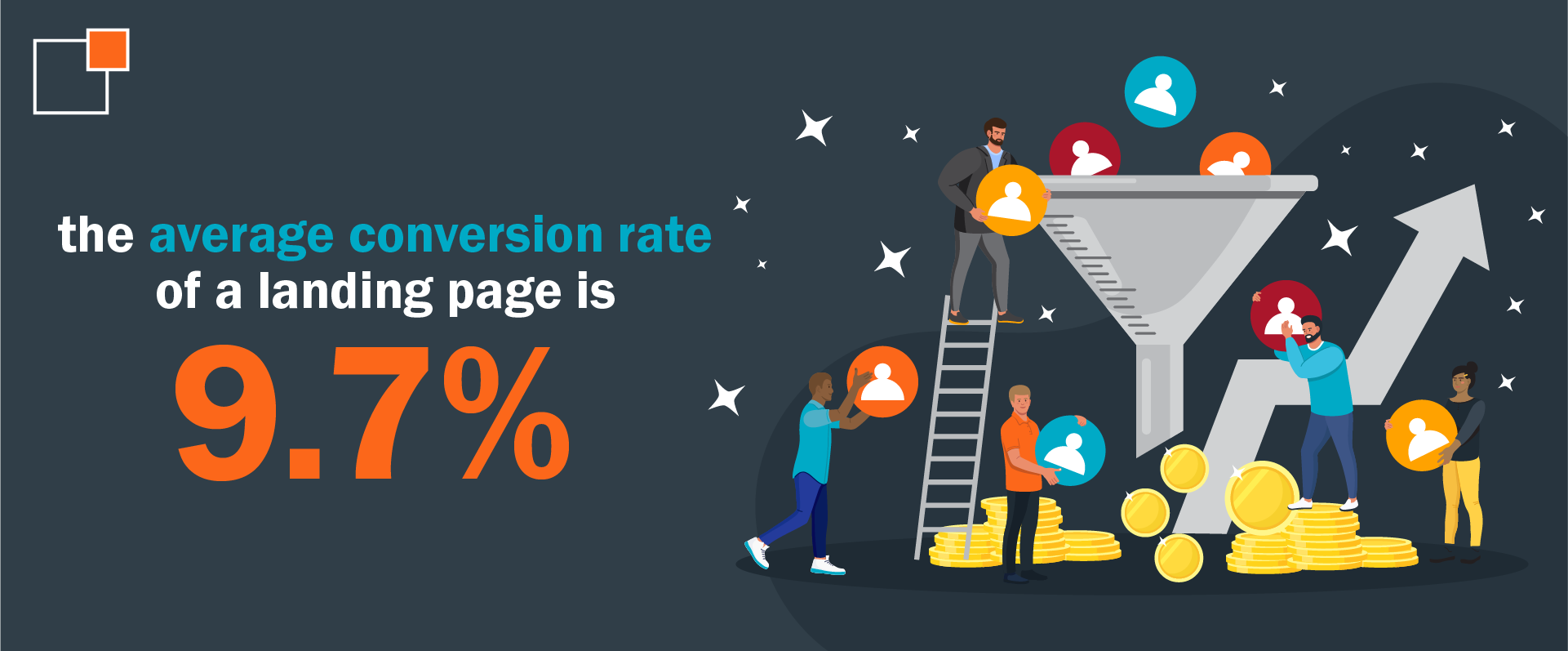 Increase Conversions: Across all industries, the average conversion rate of a landing page is 9.7%. Considering 10% is an impressive conversion rate, it's easy to see that landing pages are an excellent opportunity for your business.
Generate consumer data and insights: By utilizing landing pages, you can effectively monitor the behavior of your website visitors, discerning their preferences and identifying elements they find appealing or unappealing. You can also collect demographic information via forms or purchases. Use this valuable data to enhance their overall experience by tailoring it to their specific interests and needs.
Improve PPC campaigns: Paid search campaigns rely on click-through rates, which rely on the linked page for a complete conversion. When a linked ad fails to include an actionable next step, a substantial number of leads are lost. However, landing pages can be customized specifically for a paid search campaign, meaning the information is curated and relevant to the visitor, increasing the likelihood of them filling out a form and becoming a new lead.
Content for marketing channels: As marketers, we're always looking for content to share. Generating new ideas can get overwhelming, and landing pages may seem like just one more piece of content that needs creating. However, landing pages can be shared on social media, via email and linked to PPC ads, and if strategically written with relevant keywords, can get found through organic searches. When implemented effectively, landing pages can accomplish multiple objectives simultaneously.
Lead generation: Lead generation is time-consuming and can quickly eat away at business resources. However, with strategically designed landing pages, you can swiftly convert visitors into leads through simple actions like form submissions or purchases. Creating a well-crafted landing page with a clear focus and compelling call to action can streamline the lead generation process and achieve cost-effective results.
Builds trust with consumers: Landing pages focus on one specific objective and have a clear path for a visitor to follow. By demonstrating that you understand their problems and presenting a concise and effective action plan, you can establish trust in your company's products or services. Additionally, landing pages can incorporate testimonials that directly relate to your product or service, which can further help visitors trust your company.
Okay, you've convinced me! What now?
Now that we've convinced you that landing pages are worthwhile, let's delve into the components that make up an effective landing page. Initially, it may seem daunting, which is why so many businesses opt for only a few or none at all. However, once we break it down, you'll discover that creating a landing page is simpler than you might expect.
The main components of a landing page are:
Leading and supporting headline: This is the first thing your visitors will see and should clearly and concisely explain the page's purpose. Your leading headline should be attention-grabbing and informative. Your supporting headline should be under twenty words and further explain the page's purpose.
Detailed copy: While you should avoid overwhelming your visitors with excessive text, a well-designed landing page should effectively communicate its purpose. If a lot of text is necessary, consider breaking longer blocks up with bullet points or strategically placing engaging images to capture and retain your audience's attention. It's also a great opportunity to incorporate relevant keywords throughout the page, boosting its SEO performance.
Forms: Utilizing a form of some kind is key to accurately generating leads and collecting data. You can use the information captured later to develop personas and create more targeted marketing campaigns.
Social sharing. Include sharing links or buttons for social media platforms like LinkedIn, Facebook and Instagram. Then, visitors can easily share your page with their networks, expanding its exposure beyond your company's immediate connections.
Images or video. Including a photo or a short video relevant to your landing page's objective can help visitors quickly understand your product or services. Images and videos can also help break up large blocks of copy and keep your visitors engaged.
CTA. This may seem like a no-brainer; however, a clear call to action is one of the most crucial aspects of an effective landing page. Be it a "buy now" or "sign up here," without a clearly stated CTA, you will lose out on potential leads.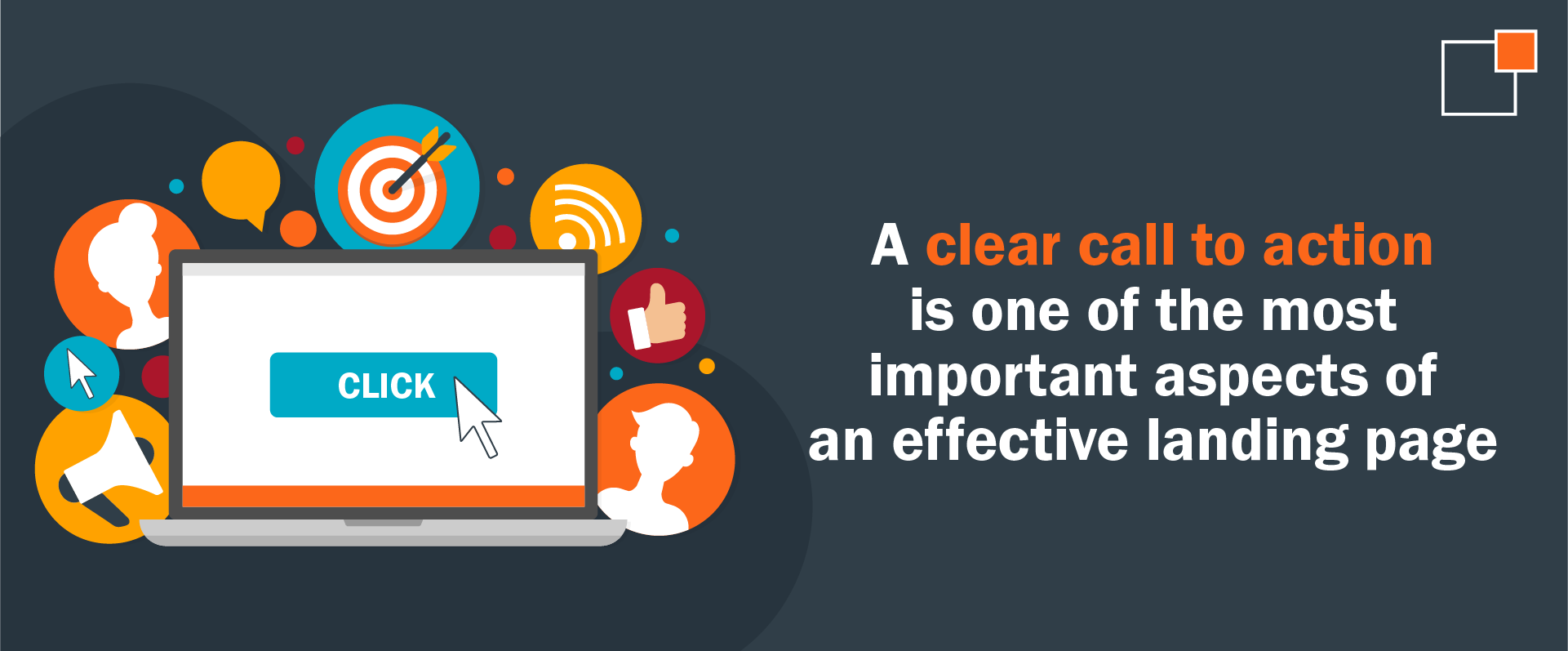 Don't forget the thank-you page
At this point, you may think your job is complete, but alas, there is a final step. Every landing page should have a f
ollow-up thank-you page
. This page serves as a confirmation page, offering your visitor evidence of their submission or providing the next steps. Thank-you pages can incorporate an automated email response to reiterate the submission confirmation, supply further instructions or offer other relevant information about your company. When acquiring a new lead through a landing page, it's crucial to eliminate any uncertainty about what comes next. A straightforward thank-you page ensures users receive all the necessary information and are left with all their questions answered.
Though they shouldn't replace other marketing initiatives, landing pages can drastically improve your marketing efforts and are a powerful addition to your overall strategy. If you're worried about coding, most host sites offer easy-to-use templates that make it simple to paste your content and include relevant links, images and videos.
Got a landing page problem? Our team of experts has your back! Whether you're already using landing pages, just getting started or feeling lost, we're here to help. We'll work with you to understand your goals and create a strategy that's right for you!
Contact Us
, and let's get started!