Today, the Optimization team at thunder::tech is going to take a little break from dropping its normal SEO knowledge bombs and relay to you an interesting story on what we can learn from Google. Prompted by the news that there was a spike on Election Day in Americans who were searching the phrase "who is running for president," we began to investigate why.
Below, you will find a series of charts we have embedded straight from Google Trends (if you're on a desktop computer, make sure you scroll over each data point for details). For those who may not be in the know, Google Trends is a way to look at Internet searches and (as the name suggests) see trends and comparisons. This data has been "normalized." This means that they have been adjusted to a more "apples-to-apples" comparison. They do this by comparing the real absolute search volume and figures relative to all other searches at that time. We use this tool in SEO to identify trends, as opposed to search volume. It's our way of comparing two ideas or concepts that may not be related and get actual comparable data from them.
Call it simple curiosity, interest, thirst for knowledge or simple wonder, we began to dig deeper. People had a genuine curiosity for the OTHER candidates and not President Obama and Governor Romney. They wanted to see who
else
was running. This is good to see, but we happened to take notice of something else. It is worth noting that we cannot glean any data from before 2004 using Google Trends.
2004 Presidential Election: Bush vs. Kerry
If you notice during the 2004 Presidential election we see that George W. Bush held a pretty solid lead over John Kerry in the Google searches. In what was an interesting political season, we see very clearly that the victor appeared to command the search trends throughout the year. We attempted to take this one step further and look at the state-by-state breakdown of data and search trends; however, we could not find the same result. States that went blue had higher trending data for President Bush and vice versa.
2008 Presidential Election: Obama vs. McCain
Fast forward to 2008, President Obama held a commanding lead in yearly search trends. At no period in this cycle did Senator McCain overtake the soon to be President. This is actually fairly evident when your pair that information next to the electoral vote. President Obama seemed to own a commanding victory.
Once more, however, the state-by-state breakdown of search trends did not seem to have a correlation to whether or not a candidate won that state, especially in the few "battleground states" that we looked into.
2012 Presidential Election: Obama vs. Romney
This brings us to modern day and once more the search volumes for the year seem to dictate the victor. What's more is that this was a very close race in the electoral college, reflected by the
very
close search volume during the course of the last couple of months. We had a sneaking suspicion this would be a close election here.
Okay, So There's Some Pattern Here, But What Does It Mean?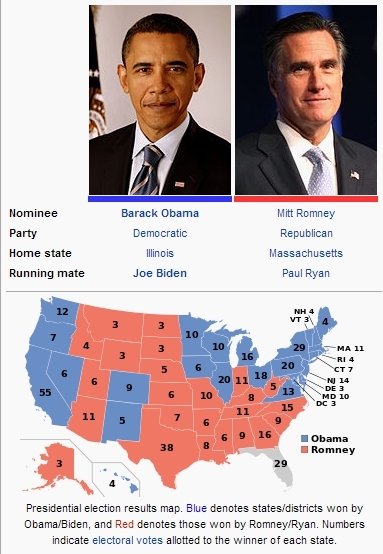 Why is this even the case? Well, it's simple human nature. When people find something they don't like, they distance themselves from it. A similar nature may be unfolding in the world of Internet searches.
People want to know what their candidates are doing.
People want to know where their candidates stand on key issues.
People want their beliefs and thoughts to be validated.
People will actively seek out what they find to be favorable as much as they have to.
This does not mean we can expect this to transpire over and over throughout history, but we are seeing a very interesting trend in yearly search volume and Electoral College votes. Only time will tell if this has true merit, but it's certainly an interesting coincidence if nothing else.