Which marketing automation tool should I choose?
Great question! It is one we are asked all the time.
Sorry to burst your bubble, but you aren't going to find the definitive answer here because what works for one organization doesn't always work for another. Here at thunder::tech, we look at platform selection as a process and not merely a recommendation, mainly because it is much more complicated than asking a single question.
Right now you are probably asking yourself, "if you aren't going to tell me the answer, why should I keep reading?"Here's why: By the time you are done reading this post, you will learn what factors to consider and which key areas to focus on during your platform selection process. You will also find a few platform hints to give you a helping hand when first starting out, which focus on the merits of HubSpot, Pardot and Marketo, but our tips can be applied to any other marketing automation platforms as well.
As I just mentioned, platform selection is a process, so take your time and do your due diligence when making your selection. Consider each of these during your search to find the best fit for your organization:
Price
Time
Use Case
Integration
Reporting
Summary
So let's get to it!
Price – The cost of a platform is typically the first factor that can eliminate options from your search. But don't be quick to strike one from the list from initial sticker shock, opting for a cheaper platform instead. What you will come to notice is some platforms with lower entry costs end up nickel and diming you for years to come.
So instead, put together a five-year cost projection to give you a clearer picture of the type of investment a platform will truly be. We highly recommend this because the pricing structure is different on pretty much every platform.
Here are the things you should include in your projection:
Upfront platform costs – Be sure to compare what is included in this cost. Some platforms include a complete onboarding and training program to get you well acquainted with the system. This can be very valuable and reduce the learning curve significantly.
Training and certification fees – If a platform doesn't require an onboarding fee, you might come across training fees if you want one-on-one help with your software. In addition to those fees, if you want to become certified on a platform to demonstrate your fluency, be ready for a registration fee.

Pardot charges a $200 registration fee to take your certification test. If you are unable to pass the first time around, it is a $100 retake fee.
HubSpot includes a certification fee in your onboarding costs.
Marketo has a $175 registration fee to become a Marketo Certified Expert. This is the first of three certification levels that can be earned.

Marketo also offers a program called Learning Passport, which is a subscription to their library of training courses. Marketo does not have the pricing of this service published because it is determined by a number of factors, so be sure to ask about this during a platform demonstration.
Monthly subscriptions fees – Most automation platforms have a subscription-based pricing model, which ranges based on the platform level you choose. This is where things start getting a little complicated when comparing platforms because of the number of packages available and the features/functionality included in each.

To make sure you don't end up with expensive features you don't need, make a list of mandatory functionality you are looking for. If your needs are basic, you probably aren't going to need something like dynamic web content based on visitor demographics, so don't pay for it!
Think of these platforms as a car with different trim levels and optional extras. You can add options to lower levels to improve upon them, like leather seats or navigation, but at some point, it might make sense to get the 500 series rather than the 300. It all depends on what your needs are.
Additional user costs – Each platform package will come with a number of users you can have access the system. If you are going to exceed that number, make sure you include the cost for additional users when determining your final investment. These will most likely be in the form of a monthly fee, which can add up quickly.
Additional contact costs – While looking at your options, you will see contact amounts based on the number of contacts in your database. A good number to work off of when comparing is 10,000. The minimum monthly price for 10,000 contacts on HubSpot, Pardot and Marketo are as follows:

HubSpot: $2,400/month for 10,000 contacts then $10/month for each additional 1,000 contacts.
Pardot: $2,000/month for 10,000 contacts. Pardot does not publicly list the cost for additional contacts on its website. Ask about this during your demo.
Marketo: $895/month will get you 10,000 contacts, but you don't get much else in terms of functionality.
Projected email costs – If you are currently using an email service provider, then you know all about cost per sends. What you might not know is that some automation providers don't charge for email sends, just contacts. This can drastically impact overall pricing and your eventual decision on a platform.
Time – After price, having a clear understanding of the amount of time you will need to invest in a platform is vital. If you are going to be the person in the platform, executing campaigns and analyzing metrics, ask yourself this question:
How much time am I able and willing to commit to making marketing automation successful for my organization?
While you formulate your answer, keep this in mind: Automation isn't easy, and it requires dedication for it to be successful. Some platforms can get pretty complex, requiring additional time to invest in learning the system. If you are able to take on this responsibility full-time, learning the ins and out of your selected provider, then going with a more advanced system could be right for you.
While conducting your platform demos, be sure to have the instructor walk you through some of the basic tasks you will need to complete during daily platform usage. This includes things like building an email or landing page, pulling reports, developing automated process and creating prospect lists for campaigns. If completing these seems overwhelming, that system might not be right for you.
HubSpot is known for being one of the most intuitive platforms out there, making platform adoption a pretty simple process.
Pardot's user interface and processes are a bit more complex than most. Even after spending months working in the system, you may come across something that seems like it should be simple tasks that proves more difficult until you learn the platform fully.
Marketo has the steepest learning curve of the three due to its inherent process and frequent platform updates. Updates are useful, but it can be a challenge to relearn tasks as the processes evolve.
If you come to the conclusion that you might not be the right person for the automation job, the world isn't ending. There are plenty of agency partners that can help you set up, build and execute campaigns and tactics within automation platforms.
Use case – Not all platforms are created equally. Keep this in mind: Your organization has a target audience and ideal customers to use your product; so do marketing automation platforms. Building off of what we mentioned above in relation to price, platforms offer different packages with different functionality. Make sure you have a clear understanding of what your platform needs are before starting your search. We have seen new clients come to us time and time again with legacy systems they purchased that don't do what they need or have functionality they don't use or want.
Be realistic when planning how you will use a platform. Paying for added functionality because you think you might use it takes funds away from other initiatives that could use the cash. Start with what you need before adding what you want.
Integration – Having an automation platform is great, but only if it integrates with legacy tools and systems you are currently working with. This is a huge point that is overlooked by many organizations. The best thing you can do to avoid costly platform migration down the line is to make a list of all of the current platforms and applications that you want to integrate with automation. Below is a list of examples to help get you started.
CRM – Contact Resource Management system
Website analytics tools
Social media platforms and monitoring tools
Email service provider (if you aren't going to use your automation platform for email)
Webinars and video
ERP system
Reporting – This is by far the most important piece and should not be taken lightly. Showing the ROI on your marketing automation platform is vital for the C-suite, so be sure that the reporting capabilities of the platform you select can provide you with the details you need across the channels you utilize.
This means that reporting and integration go hand in hand. Your goal should be to create a closed-loop reporting system, which allows you to accurately attribute conversions and sales to the appropriate source. By having a structurally sound attribution system with hygienic data passing through it, you will be able to identify what tactics work and which ones don't.
HubSpot offers great attribution reports that are easy to build, read and paint a clear attribution picture.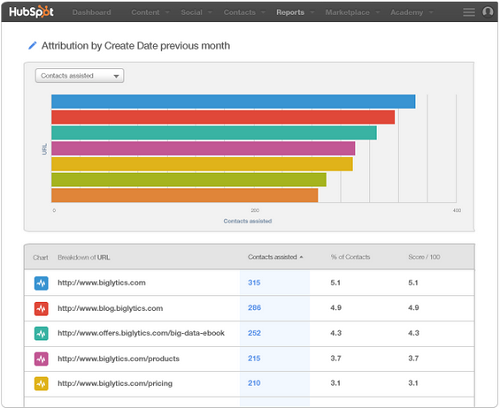 Pardot does not offer a comprehensive attribution report, but what they do offer is equally as important. One of Pardot's best reports is their Lifecycle Stage analysis. This gives you a breakdown of your pipeline, from visitors to won deals, along with funnel velocity timing.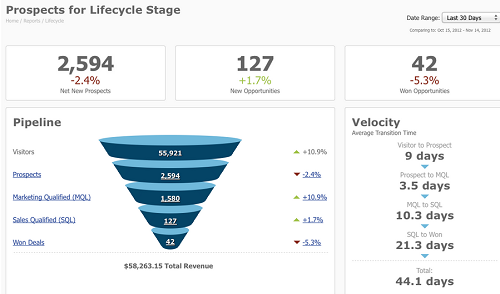 Marketo offers some of the most detailed reports out there, from their marketing program investment reports which focuses on attribution, to their Opportunity Influence Analyzer that provides a step by step breakdown of a prospect's buying process.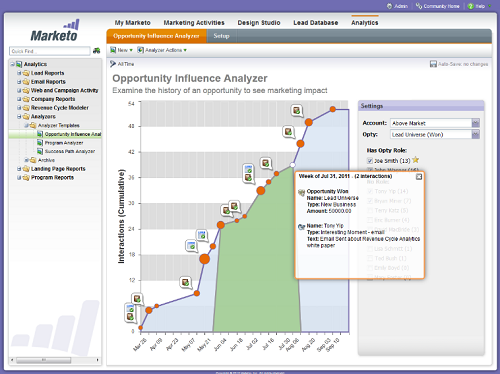 Time to wrap things up….. If you only take one thing away from this post, let it be this: There is no magic bullet or specific platform that will solve your marketing needs. A marketing automation platform is simply a tool that, when utilized properly, can be the most valuable asset in your marketing stack.
We know that was a lot of info, so let it soak in. You can always come back to this post and use it as a guide while you navigate the selection process waters.
And if you don't want to dive into the automation pool alone, or need help as you go through the platform discovery process, we will have sunblock on our noses and our goggles at the ready.