When was the last time that you purchased something online? Today? This week? This month? With the rise of cyber monday and two day shipping, retailers understand that E-commerce, in its many forms, is the way of the future. JP Krainz, Account Services Group Manager at thunder::tech says that online shopping is key for him when making purchases for his family.
Online shopping allows for flexibility and time savings. By purchasing online through sites that have free returns, I can order multiple sizes and styles of clothing without having to bring my kids into the stores.
People are all about convenience. When they need something, they look for it in the easiest way possible that offers the least amount of friction and wait time. The only issue is, what's convenient for one person isn't necessarily convenient for another.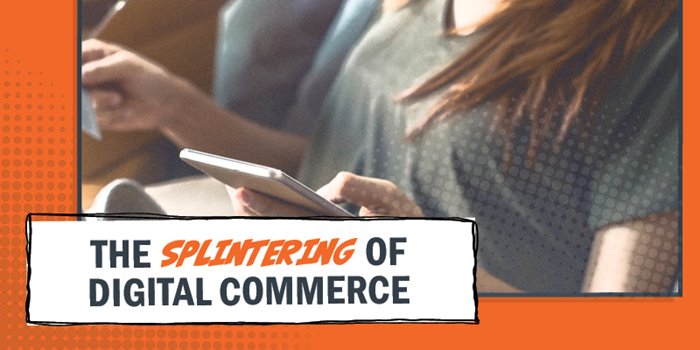 That's why there are so many new sales channels popping up every day. Jack needs to buy parts for his landscaping business and prefers a platform that makes it easy to buy on the go and get it shipped to him quickly. Meanwhile, Amanda frequently finds herself clicking on social media ads to buy clothes. Then there's Sam who can't get around very well because of a back injury, so he uses a grocery delivery service twice per week.
Companies are getting smarter about how they can reach their customers where they already are. Before they can do that, they have to know exactly who their audience is, and have to figure it out quickly.
"Knowing your audience first is really what's going to get you one step closer to the right medium or the right channel for you and your brand," said Madison Letizia, Director of Communications at thunder::tech.
The next step is examining the vast number of different digital sales channel options. To see what makes the most sense, base your choice on budget and the product or service that you are selling. Let's simplify it a bit and break it down by category.
Your Website
Perhaps the most logical online selling platform is your own website. It's the central hub of all of your information, and a logical space to offer online sales. A preexisting website is often the first step companies take when jumping into ecommerce.
"It first started with online ordering," said Fares Chamoun, CFO and President of Aladdin's Eatery. "We had a good solution that we put in place and it integrated with our system and was really easy and user friendly for the customers. Now we're doing 10-15 percent of our sales through online ordering when all of those used to be phone calls."
Offering an online purchasing experience can put traditional brick-and-mortar businesses like restaurants, grocery stores and some service providers ahead of the competition and give customers an easy way to make purchases. Think of a spa with a retail arm. Most likely, none of their customers will come into the spa just to buy a candle, but if candles are available online when someone is booking a service, that might up their revenue stream.
Third-Party E-Commerce
Here's where we talk about the 800-pound gorillas (*cough* Amazon) of the ecommerce world. Platforms like eBay, Amazon and Google Shopping have quickly become a go-to for online shopping, with Amazon completely dominating the space at 47 percent of total retail ecommerce sales (eBay comes in second with 6.1 percent). However, this presents an opportunity for companies who sell through retail outlets like Walmart, Costco or The Home Depot to get their products in front of more customers online.
"You have to be involved. If you want to compete, if you want to be relevant, you've got to be out there," said Rob Fisher, Vice President of Marketing for Madison Electric. "We started with Amazon four or five years ago mainly as a pet project for marketing. Over the past four years, we have expanded our digital commerce footprint across many retailers, including The Home Depot, Lowe's, Menard's, Ace, Walmart and numerous electrical distributors that are starting to convert some of their traditional wholesale business to e-commerce."
Madison Electric is a B2B company selling products to distributors, who then sell to electricians. Amazon may be best known for its B2C popularity, but it offers the same kinds of benefits and opportunities to B2B organizations.
"The Amazon journey has been great. It's also been challenging and very profitable," Fisher said. "We continue to grow at over 60 percent year over year with very limited internal resources supporting the business. Amazon allows us to provide our customers an easy alternative to purchasing our innovative tools and products in areas where the local distributors might not carry them."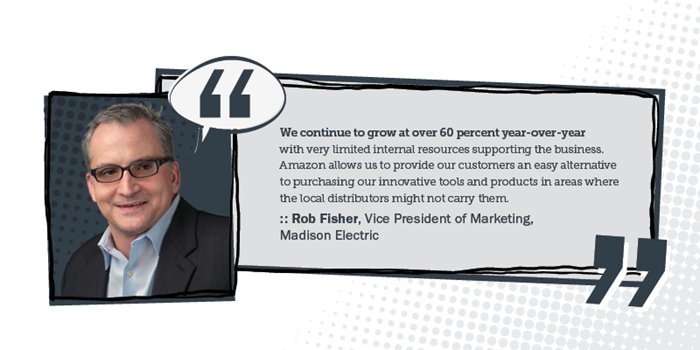 The challenge is ensuring your company can manage the logistics of the increased business that will likely come with selling of third-party ecommerce sites. Not to mention the increased workload of managing content, drop ship capabilities, data integrity and meeting packaging requirements.
"Amazon has a lot of strict rules and people have learned the hard way that you don't get a grace period to catch up," Letizia said. "They're going to push you to get everything in and get everything in on time because they have customers they have to please. And if you don't meet those standards, they don't want you in the club."
When going with something like Amazon, it's all about planning ahead and taking things at a reasonable pace.
"Be very strategic in terms of the set-up," Letizia said. "It might be all of your products up at once. Maybe you'll test out one line of products or just one product in general just to see how it goes. If you go all in, it could get really messy or maybe too hard to manage all at once."
That's how Madison Electric started selling on Amazon, and it helped them adjust as needed.
"You'll learn a lot and there'll be some growing pains for sure," Fisher said. "We started with a handful of products and then just kept increasing it to a place where we were comfortable, and now we're actually to the point where it's become a significant part of our business."
Social Media
Social media isn't just for sharing cat videos and getting in fights with family over politics. It's also a fantastic way to sell your products and services. B2C brands tend to get a ton of exposure on channels like Instagram and Pinterest, but B2B brands are also finding value in LinkedIn and Facebook more than ever.
"I think that LinkedIn has kind of been on the back burner for a while, but over the last two years or so you've seen them really evolve their ad manager platform and their services," Letizia said. "I'm starting to see a place where they're evolving past other channels, especially really owning that B2B audience that they already have and they just weren't taking advantage of."
Brands selling products or services that lend themselves well to stunning visuals do very well on Instagram. Pinterest, on the other hand, was the original click-to-buy platform that has gone quiet over the past few years, but has a strong potential for a comeback.
The important thing to know when deciding to sell over social media — aside from target audience — is that customer service is crucial.
"When you put ads out there, you're inviting commentary and you're inviting engagement," Letizia said. "If you don't have someone who can skillfully respond to those good, bad, or indifferent comments, then you're going to lose the game very early because people will just have that initial reaction (it only takes seven seconds to form a judgement) and that will be their sentiment towards you and your brand possibly forever."
Third-Party Delivery
The rise of companies like UberEats, InstaCart and DoorDash has opened up a world of discovery for consumers. By using one of these platforms, consumers are exposed to a number of companies they may otherwise not have known about. Besides, the convenience factor of being able to have groceries or food delivered from virtually any local restaurant or store is irresistible.
"These online delivery systems have been kind of disruptive," Chamoun said. "A lot of people are testing it out now because it is so prevalent and I think that affects the restaurants that aren't on DoorDash or UberEats yet."
Similar to companies who aren't selling on third-party ecommerce sites, those who don't have a presence with third-party delivery services are losing out on major exposure.
The Bottom Line
Finding the right channels for your company to sell on can be a delicate balance of budget and resources. Knowing your audience is step one, followed by a strong strategy. Then, you can identify platforms that fit your brand, expand your reach, and work toward your short- and long-term goals.
"We are currently focusing on creating a real omni-channel experience for our customers," Fisher said. "We want to be everywhere they want to be and make the Madison experience consistent across all touchpoints, including retail (brick and mortar) e-commerce (Amazon, The Home Depot, Lowe's, Menard's) and web (website, rep portal, and social media)."
Preparation is key. Get your data sets in order, know platform requirements, and be prepared logistically for new workloads and workflows. When in doubt, phase in and scale up.
Contact thunder::tech today to learn more about how we can help you with you digital commerce needs!