Hello there! Social Media Team here.
In case you haven't seen one yet, Instagram ads are here. From Ben and Jerry's ice cream to Michael Kors watches, unexpected photos from brands,
large and small
, are now making appearances in your Instagram feed. Welcome or not, Instagram ads have arrived as stealthy (or not-so-stealthy) posts interspersed between friends' snapshots of adorable puppies and Sunday brunch. For a channel with
400 million users
, it was bound to happen.
So what do Instagrammers think of these ads? Are they relevant or out of place? Are they eye-catching or an eyesore? Two members of our team recently discussed them – the good, the bad and the ugly – and decided to share the conversation with you. But the dialogue doesn't have to stop here. Let us know in the comments what you think about this new Instagram feature.
Madison:
I saw my first Instagram ad, and I felt both intrigued and annoyed. I was able to instantly pick out the ad because it was – let's just say it – bad. The brand was Trulia and the image wasn't Instagram-like at all. I could feel my face crinkle and I just stared at the out-of-place content. I did not follow this brand, but yet it was there, bothering me.
Taylor:
Scrolling through Instagram, like many other social media channels, is so quick and mindless. Until a photo catches my attention, I typically don't stop to read the post copy. As a visual platform, brands really have to step up their photography game to grab users' attention. I feel like some sponsored posts are missing the mark here.
Madison:
Exactly. These growing pains are natural when advertising is introduced to an organic channel like Instagram. Brands are trying to discover how to integrate their ads into a platform with an audience that has high standards for the content being shared. (Just ask #nofilter fakers!) Some will succeed, but some will fail and potentially tarnish the relationship users have with the channel.
Taylor:
Even with the cleverest of hashtags and filters, standing out on Instagram isn't always easy, since finding the visual sweet spot is trial and error. On this channel especially, standing out also requires blending in. Instagram users expect a certain quality of imagery with a more casual, human aspect. This, not a blatant advertisement, is what they want, but producing this new style of content is a territory many brands are exploring for the first time.
Madison:
Completely agree with the "blend in to stand out" theory. That should be the mantra of all Instagram advertisers! Finding the look, voice and perspective of the brand on Instagram is slightly different than finding those things for a brand as a whole. This niche needs to be approached with specific goals as though it's different than other social media channels, ads and even offline marketing.
Taylor:
Speaking of goals, what are the goals of brands advertising on Instagram? On a channel where hyperlinks are omitted from posts, promoting a call-to-action is made even more challenging. Is the goal a brand awareness, loyalty and brand affinity? Is the goal to increase product sales? If the goal is online sales, how can brands make users' shopping experience between Instagram and their e-commerce site as easy as possible?
Madison:
True, the built-in call-to-action button on the ads will help drive leads, but what will help keep and convert leads? Like Strongbow – it's known for intriguing images and has already carried that into its ads with good copy that draws users to the CTA. However, the landing page for this ad is somewhat lacking. I clicked, I learned (and I got thirsty!), but in terms of moving me to the next part of the funnel, I was left hanging. Strongbow is performing above some other brands on Instagram, but they could have prompted me to follow their account or sign up for email…something.
For the most part, I think food and fashion brands will see the most success with these ads because of the natural visual appeal of those products, but "outsiders" like app and tech brands will do well too because of the quick lead-to-conversion process available on a mobile device with their products.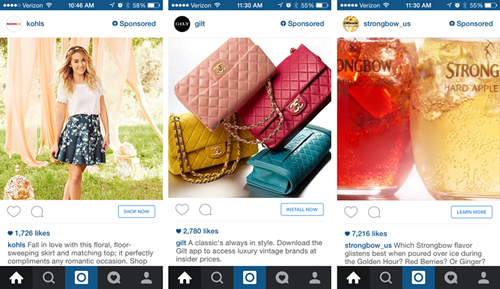 Taylor:
Absolutely! On the subject of visual impact,
Instagram Carousel Ads
are a whole other matter to consider. These multi-photo ads entice Instagrammers to spend more time absorbing brand-focused content. They also allow brands to tell more of a story with the hopes of remaining top-of-mind as their rich content is being viewed. And now that Instagram ads can be square,
landscape or portrait formats
, brands are even less restricted by what they can share, allowing them more creative freedom.
Madison:
All good points. We do, however need to remember that the two of us are a bit of a different audience than the typical Instagram user. We look at these features all day, every day and dissect them into the smallest pieces. Let's see what our teammates outside the social media have to add…
Carly B., Lead User Experience Designer
"Honestly, of the Instagram ads I have seen, not one has really caught my attention. I'm not sure if that's a good or bad thing. They haven't made me stop and investigate any further other than say to myself, "Hmm, who's this? I don't think I follow them. Oh, that's an ad. Okay, next."

I can't imagine ever following a brand based on an ad appearance since I'm inherently inclined to ignore ads. But, at the same time, they weren't annoying and I can't remember seeing very many."
Christian D., Senior Multimedia Specialist
"The best advertising doesn't feel like advertising, and that's what Instagram has set up. The first ads I saw fit seamlessly into my feed and didn't disrupt my experience within the app. It was imagery I was familiar with and enjoyed seeing.

Instagram has done a great job of integrating ads into its experience, but it needs to continue to set up advertisers for success. Provide tips, guidelines and case studies for advertisers to fit into the Instagram ecosystem. The ads need to feel like they belong instead of being an interruption. I don't mind seeing good ads here and there. Heck, I might even 'like' an ad at some point…"
Taylor:
What do you think? Tell us in the comments or shoot us a tweet,
@thundertech
. Or, even better, show us your favorite or least favorite Instagram ads so far.