Video marketing isn't just for B2C brands. According to a Hubspot survey, 75% of business executives watch work-related videos at least weekly. Video is a great way to get your customers familiar with your brand, products and services. With two minutes or less, you can get more information to your customer than they would get reading your website for the same amount of time.
Before jumping into any one specific tactic, you should ask yourself the following:
Who is my customer and what information are they looking for?
How will my customer consume this content?
What do I want my customer to do after watching this video, or series of videos?
Is there a problem that I'm trying to solve? For example, if you get hundreds of support calls around one topic, perhaps you make a video covering that topic to reduce calls.
Set a specific goal for your video tactics. This should be more specific than just "increase sales" (which, yeah, we know is the ultimate goal). A better goal would be something like increase trade show booth traffic (if it's being shown in your booth) or to increase CTA click-throughs (if it's on your website). In other words, make your goals measurable.
Once you've defined goals and outlined your objectives, then pick a tactic or collection of tactics that will fit with each goal. Here's just a few common B2B video tactics.
Brand videos
All brands have a story to tell. At the end of the day, we're all human and connect with real life, human stories. This is a great way to get your brand's personality across to your customers. For example, Transport Services witnessed the rise, fall, and rise again of the greater Cleveland area and played a role in the city's recovery and told it with this emotionally charged video, produced by thunder::tech.

hujyfi6pxj
Testimonials
You provide great service to your existing customers, but sometimes it's hard to build that trust with new or potential ones. Stories from your existing customers, especially those of notable success in your industry, can help build exactly that.
Product or service focused promos
If you provide a series of products or services, videos specific to each one can assist in the sales process. These can be used on your website, at trade shows and in various sales meetings. These should explain the features and benefits of the product in an easy to follow, engaging way. This example from temporary construction safety equipment manufacturer PSS quickly shows the features and benefits of it's LaneGard3 temporary barricade in an engaging way.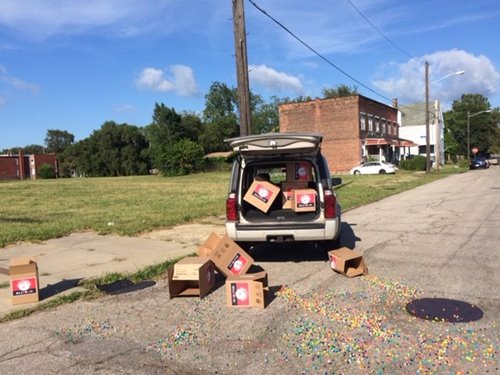 Tutorials
Once you've sold your product or service, providing a positive experience to your existing customer is important to keep them around for future business. Creating easy to follow tutorials, or how-to videos, gives your customer an opportunity to self-support themselves on how to use your product or service. Who likes to read manuals anyhow?
Targeted advertising
We see customers using tactics like remarketing advertising to re-connect with customers through Google's ad network but it's usually static ads. Incorporating video in this type of strategy can help drive traffic to your video content, especially on YouTube.