It's no secret that content is having a moment. Over the past few years, marketers across verticals and industries have become hip to the idea that in order to have a successful marketing program, they need a strong content strategy to propel it.
The intent of a content strategy is to generate relevant, unified, engaging and, ultimately, sustainable content that resonates with your target customers. Your strategy should answer why your company is creating content, who you want to reach with it and what differentiates your brand from your competitors.
But having a strategy is only the beginning. More often than not, brands go through the exercise of creating a strategy, but they fail to create an action plan for how to execute it. There's nothing worse than consistently pumping out content for four months and then going silent for three because you don't have a sustainable process for continuing to create new content. It happens, but it shouldn't.
If you find yourself struggling to stay organized and on track, then you need a content workflow. A content workflow establishes team member roles and responsibilities and defines each step in the content creation process. The first part of your workflow should be determining who's in charge of what.
Teamwork Makes the Dream Work
Defining the tasks that need to be completed and who on the team will own each deliverable is key to keeping your content production rolling and efficient. While each team and process may vary depending on your organization's unique content needs, at a minimum, most teams will have the following roles:
Author/writer: The author is responsible for writing, editing and updating the core content. The author may also be responsible for the creation of supplemental content pieces in the COPE stage.


Project Manager: The project manager is responsible for managing the project on a daily basis, coordinating timelines and overseeing overall execution.


Editor: The editor is a critical reader who is tasked with refining and enhancing written content.


Designer: The designer develops visual content elements to support or provide additional context to written content.


Publisher: The publisher is responsible for publishing and, oftentimes, distributing completed and approved content.
Creating a Content Creation Process
Once you've identified the key players, a documented workflow should be defined for each content format. You may have a slightly different process for creating blog posts, whitepapers and case studies, but the core steps will be the same.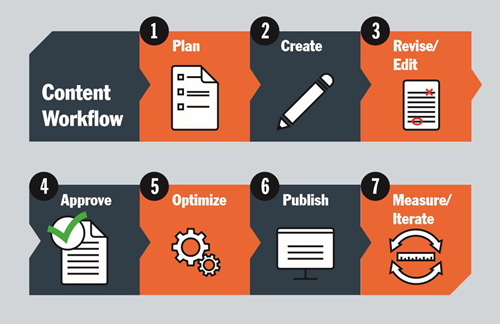 Plan: In the first stage of the content workflow before starting to write, your team should identify topic clusters—substantive topics or themes—which can be created and later broken down into additional content pieces. It is also important to consider the necessary keywords to include during this stage.


Create: During the creation stage, the author should write the content, and the designer should develop any supporting design elements.


Revise/edit: Once the content is written and the creative elements are designed, the editor should review the content for grammar, structure, voice and tone and return it to the author to make the necessary revisions.


Approve: After the author makes the revisions suggested by the editor, the project manager should circulate the content piece(s) to the appropriate reviewers to provide any additional feedback and give final approval. Approvers may include both internal and external stakeholders depending on the business structure or content type.


Optimize: What good is a piece of content if it's not properly optimized for search? Those keywords you identified during the planning phase come into play during this step. Prior to publishing anything, a team member should optimize the content based on keyword research to ensure it is searchable and attracts target audiences.


Publish: After the content has been written, edited, approved and optimized, it's ready to publish and distribute across the appropriate channels, such as your email newsletter or social media communities.


Measure and Iterate: So your content is out in the wild, but is it working? Taking the time to measure how your content is performing and iterating on your approach is essential to success. Review your content and pivot as necessary.
Workflow Management
So, now that you have a team assembled and a process defined, there's still the question of how to pull all these parts together in a way that's easily managed. Lucky for you, there are plenty of tools out there to help with just that.
Editorial calendars aren't just for social media. Having one comprehensive calendar that captures your entire content process is a must. A few things to be sure to include on your calendar include:
Content topic or focus
Content author
Content owner (back to the team member responsibility list)
Content publish date
Current content production status
Content type or format (e.g. blog post or whitepaper)
Publishing or distribution channel
Editorial calendar tools such as Asana or AirTable offer affordable options for smaller teams just starting out, while more robust tools like CoSchedule and Desk-Net are great options for larger, more sophisticated teams. Not exactly sure what to add to your editorial calendar? Never fear, Convince and Convert has more than 100 ideas you should consider.
Having a plan for creating and distributing content will ensure your content is the best it can possibly be.
Ready to bring your content marketing strategy to life with a workflow that works for you? We can help with that.