You're standing in a store aisle, scanning the colors and shapes that fill the shelves, either looking for the usual brand you know and trust or waiting for a new one to pop out at you and tempt you to try it. We've all been there. Debating between this or that. But how do we pick? What makes it harder to decide? Or easier? What affects our buying behavior?
Package design. That's what makes us pick the skincare line with a simple, clean bottle over a cluttered flimsy box, or the granola bar that shows real fruit photography or fun illustration over a solid color, or the new power tool that's packed in a strong cardboard box over the one wrapped in plastic.
Simply put, package design is how a product is enclosed before sale. It serves as the vehicle for the information about what's inside. This can be a little confusing when pinpointing where package design actually starts and stops. The external design of a product can be as minimal as the single sticker on a bottle of wine, to the box that houses rubber gloves all the way to appliance and furniture boxes. These visuals that encase what you are purchasing/consuming are your first physical impression of whatever is inside. Generally, first impressions take about seven seconds, so there are many important elements to consider when creating and interpreting package design.
The Elements of Package Design
Let's break it down into four key categories:
Color
Color is its own language and can cause consumers to feel certain emotions. This is often the first thing people notice, and arguably the most important when trying to reach a target audience. ZeeZee's, a leading brand of wholesome kid-friendly apple sauce and snack products, uses bright colors contrasted with white to catch kids attention and keep them excited, while our work for microbrewery Goldhorn's beer can design uses similar colors in a much more muted and neutral way paired with darker brown, bringing a level of rugged maturity. In other designs, the addition of metallics and black can also create a sense of luxury.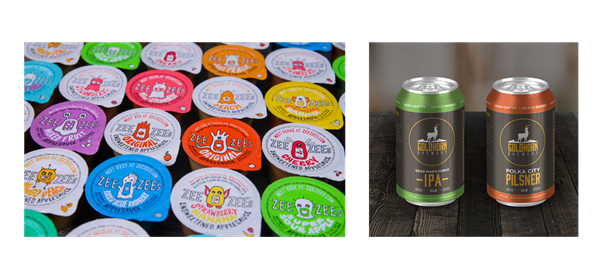 Typography
Typefaces and fonts have personalities. They should embody and heighten your product and brand message. In two of our packaging projects, we used very different type treatments to convey a different message. The Portside Rum label utilizes a bold and worn sans serif typeface that conveys a handmade, gritty Cleveland vibe whereas the Freerange Skincare label uses delicate serifs and hand lettered cursive to evoke a clean and fresh elegance. Type should be legible and organized with the proper hierarchy to convey information.

Shape
Shape is a visually and physically important element: how it sits both on a shelf and in one's hands. It can be masculine or feminine, which is important to consider when targeting a specific audience. Men's personal care products are typically packaged in sharper, edgier containers with darker tones while women's are commonly in curvier organic packaging with brighter, flirtier colors. Today we are seeing a shift in modern packaging towards women, rustic packaging towards men, and natural materials for children.
Quality/Convenience
The product itself has to feel good in the consumer's hand. If an iPhone was packaged in a plastic bag, how reliable would you think the phone would be? You also don't want anyone to be confused about how to open or utilize the outer packaging. The goal is to have them appreciate the package but acquire the product.
It's All Psychological
Humans consume information before consuming the product itself. In those first seven seconds, the consumer is having a sensory and emotional experience, envisioning this product in their life. It has to speak to them and tell a relatable story.
If a consumer has limited knowledge on the specific products themselves, they rely on their immediate and emotional connection to the packaging and branding in order to make a decision. Does your bag of cookies make them feel nostalgic for grandma's house? Do your tea boxes make them instantly envision health and vitality? Consumers desire honesty and clarity when it comes to a brand message. They want information to be transparent (ingredients, how it's sourced, where it's from) as well as a clear message of the brand personality and values (organic, kid-friendly, strong, fun etc.).
What The Future Holds
Now more than ever, consumers are visually influenced and experience driven. Online shopping and social media have taken over, bringing the need for eye-catching packaging to an all time high. It is a never-ending fight to stand out among a sea of products that are newer, cheaper, more prestigious or better known than your own.
Design is now touching all steps in the packaging and consumer process. Reusable elements are continuously reminding users of the brand. Tissue paper, bubble wrap and shipping boxes are being decorated with brand colors and elements to market every step it takes before reaching the product itself.
The seconds and minutes spent scanning store shelves, as short as they may seem, are make or break it in the decision making process for a consumer. The design of the package and product has now become such a vital part of marketing that we can expect to see continued innovation and endless creativity form brands in order to keep fighting for consumer attention and loyalty. Going that extra mile with design to stand out for one extra second might be what attracts that consumer and gain their loyalty for years to come.

Need help with your next visual package design or graphic design work? Contact us today!