In a time when online presence is paramount, businesses and organizations strive to captivate their audiences with compelling digital experiences. Brands are updating and redesigning their websites just to stay competitive, and true innovators are looking beyond simple upgrades and considering ways to bring static content to life. That's where the creatives at thunder::tech step in.
We've worked with many companies over the years, helping to innovate and iterate web designs. Most recently,
Cohen & Company
reached out to see if we could help convert their
corporate social responsibility
(CSR) PDF into an interactive web page on their site.
Here's how our latest web collaboration with Cohen & Company went down:
The Challenge
Right away, both teams knew simply copying and pasting the content wouldn't be sufficient; the importance of the topic pushed us to take it to the next level. We opted to take on the challenge of developing completely new components and enhancing the overall user experience.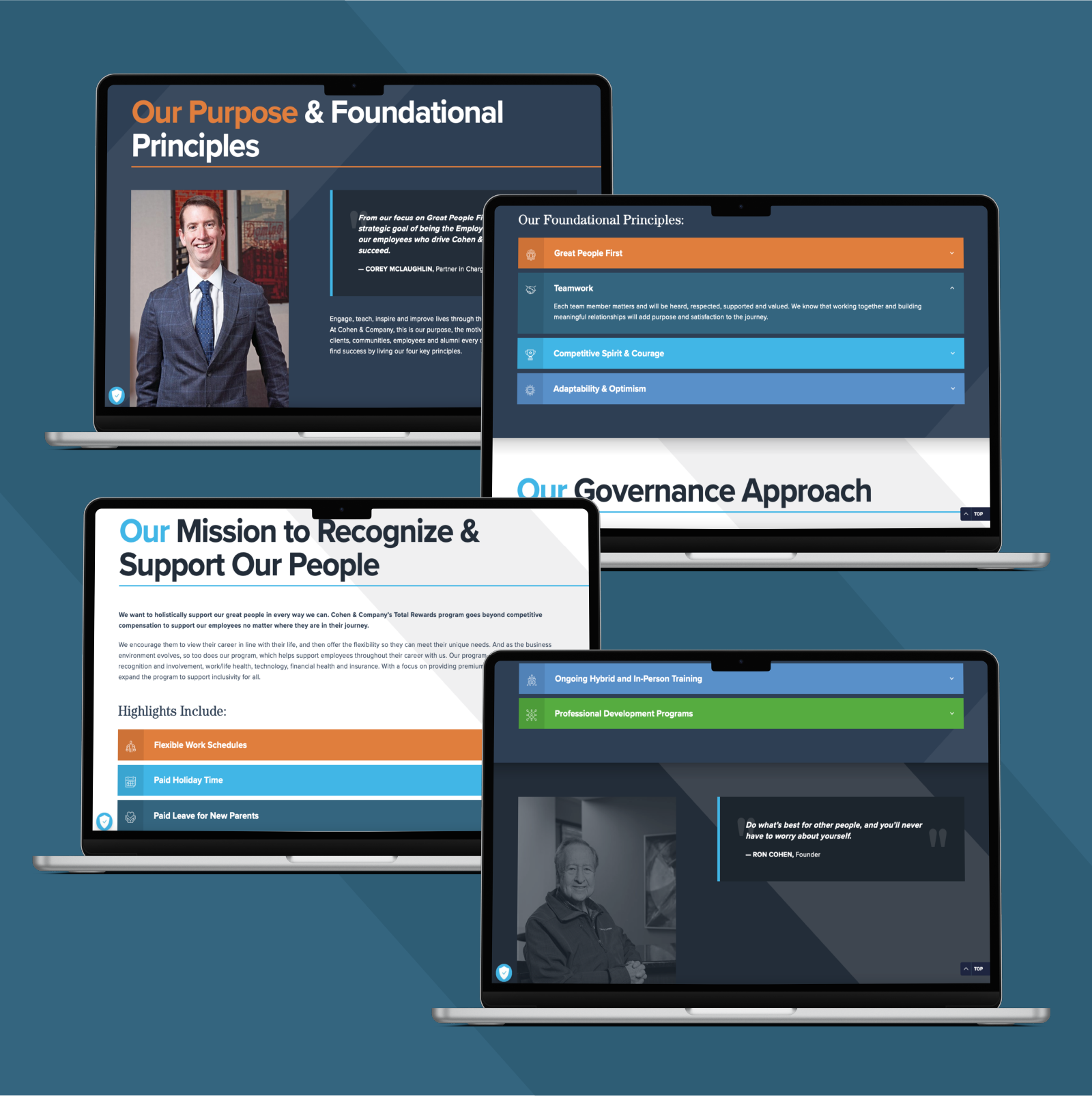 The Solution
We began by immersing ourselves in user experience (UX) design, analyzing ways to deconstruct the content of the PDF and reimagine it as dynamic web-based components and widgets that could foster meaningful connections with users.
Our team jumped right in. Through a few rounds of revisions guided by our conversations with Cohen & Company leadership, we landed on the impactful design elements that highlight the most relevant information and make navigation easier than ever.
Our work didn't stop there. Before we called the project complete, we ensured that every newly developed component could be implemented in other areas on their site. This means that any future updates needed can utilize the same UX and Visual Design components, allowing for a consistent, cohesive and engaging experience for their audience.
A Strong Partnership
A key part of our solutions is working jointly with our clients so we can understand all the nuances of what they hope to achieve. Not only does this help us create the perfectly tailored solution, but it also helps to build a stronger partnership.
In fact, our partnership with Cohen & Company began over a year ago with the launch of their full site. The new template is an expansion or iteration of the site and serves as a testament to our continued partnership and commitment to providing innovative and effective solutions.
At thunder::tech, we pride ourselves on finding creative solutions to challenging problems. Our work with Cohen & Company is just one example of how we deliver on this promise.
Contact us today to learn how we can help elevate your digital presence!