If you've ever cried real tears at work because a blog you poured your heart and soul into got six total views (and three were from your mom), we feel your pain and we have the solution. Meet your new best friend: the pillar page.
The humble pillar page is the perfect union of content marketing and SEO. It works stealthily behind the scenes to increase your organic traffic and Google Search rankings at no cost.
If you've never heard of a pillar content strategy, no worries. By the time your scroll bar reaches the bottom of this page, you'll be an expert.
What is a pillar page?
A pillar page is a broad overview on a specific topic related to your business that links out to more in-depth content. Users have the option to learn more about the topic by clicking through to these supporting resources.
These resources, in turn, link back to the pillar page, creating a content web anchored by the pillar page. (That's why it's called a "pillar" page—it serves as the foundational page holding together the rest of the content.)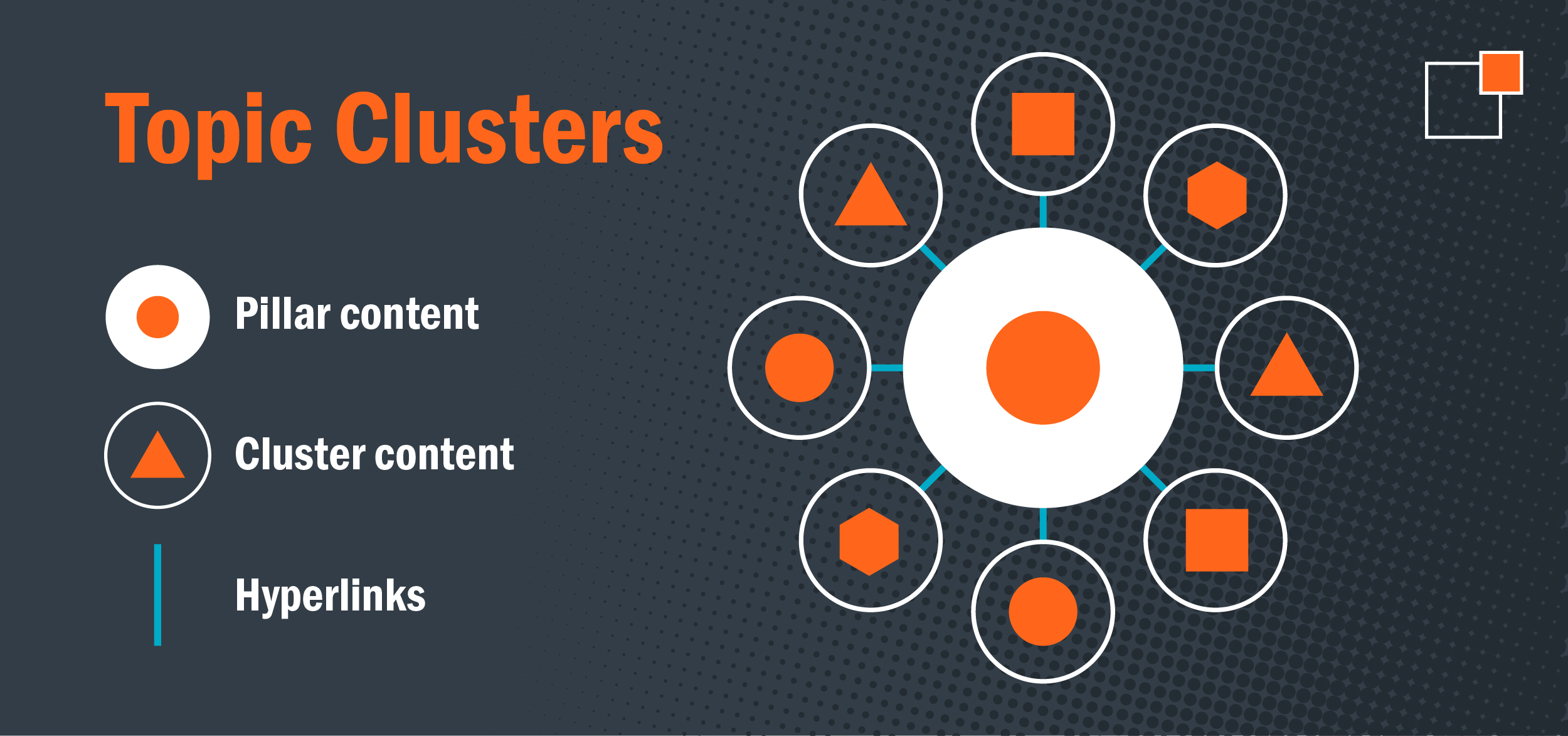 Every pillar page is made up of:
The pillar page itself
In-depth resources, often blogs or other informational pages
Internal links connecting the pillar page and supporting pages

For example, say you own a business that sells running gear and related products. While your entire site may be about "running gear," there are several subtopics within that full site umbrella. These topics include "running shoes," "training for races," "gear for rainy runs," "hydrating while running," etc.

Any of these topics would make a great pillar page. You would simply need to provide a long, broad overview of the topic, supported by other pages. A pillar page about running shoes could link out to pages about:
Selecting the right trail running shoe
A video demystifying arch support
Do I need insoles?
When should I replace my running shoes?
How to tie running shoes for better ankle support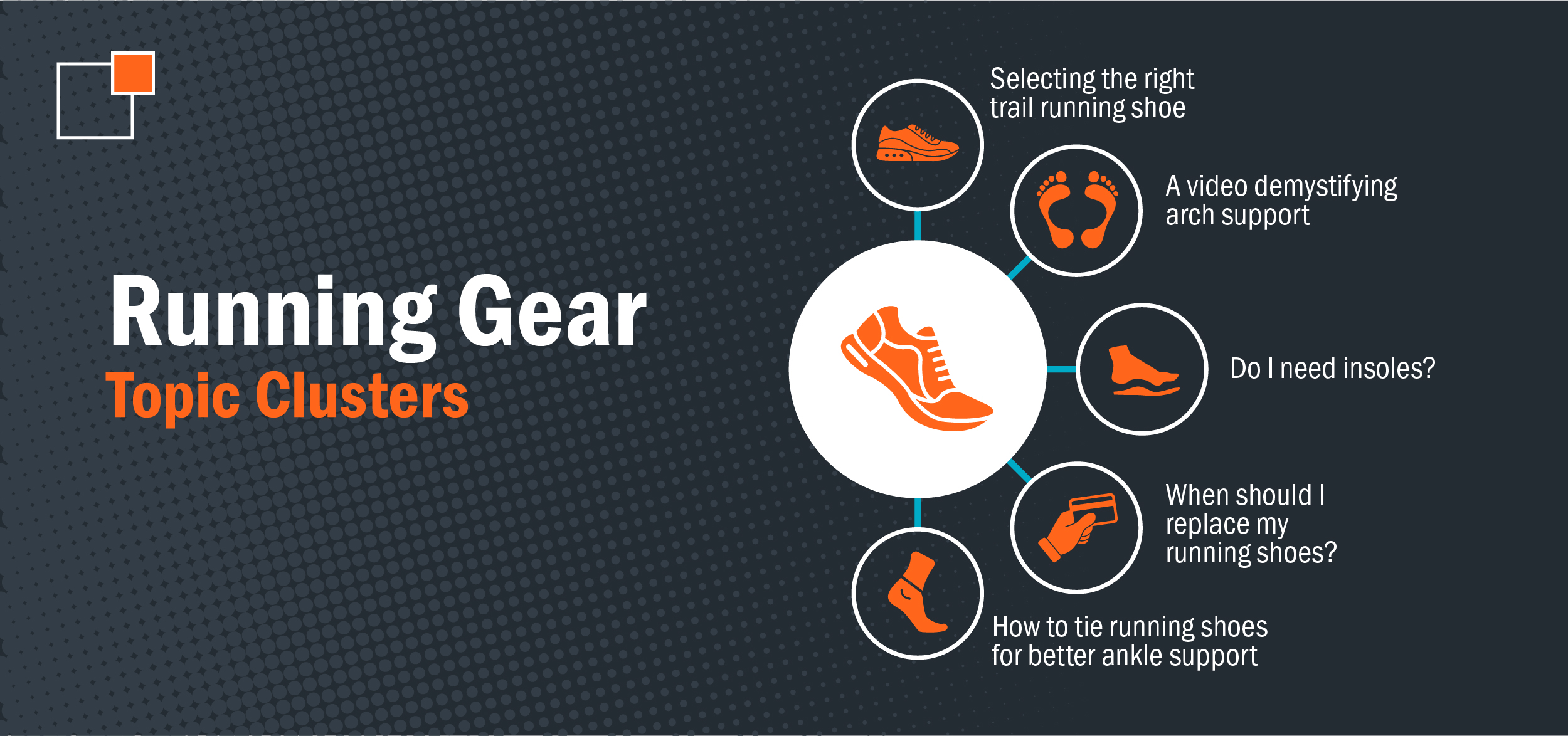 And plenty more. By including strategically placed internal links from the pillar page to these content pieces and vice versa, you create a content web anchored by the pillar page.

What's the point of a pillar page?
There's a lot of clutter on the average website. It's hard out there for a web crawler to determine which pages contain useful, timely content and which pages are duds. Ultimately, Google wants to provide searchers with the best, most relevant information. If Google can't tell what your content piece is about, you won't rank highly—end of story.

Pillar pages take page clarity to the next level. Rather than posting consistently in a series of disjointed blog pages, which can be hard for Google and site users to sort through, pillar pages create a site structure that organizes and links several resources all related to the same topic in the "web" we mentioned earlier. This makes it extremely clear to Google what your pillar page is about.

Do pillar pages really improve my Google SERP ranking?
Yes. In our opinion, pillar pages are the absolute best way to capture high volume search terms on Google without paying for Google AdWords.
We know that
Google's AI actually understands
the concept of subtopics and topic "clusters."
"As an example, if you search for "home exercise equipment," we can now understand relevant subtopics, such as budget equipment, premium picks, or small space ideas"
Organizing your content around a pillar makes it easy for Google's AI to find your topic and subtopics and serve them up to the world on page one.
Additionally, the Google algorithm is a big fan of internal links. One HubSpot research study found that adding more internal links into their content increased their SERP ranking.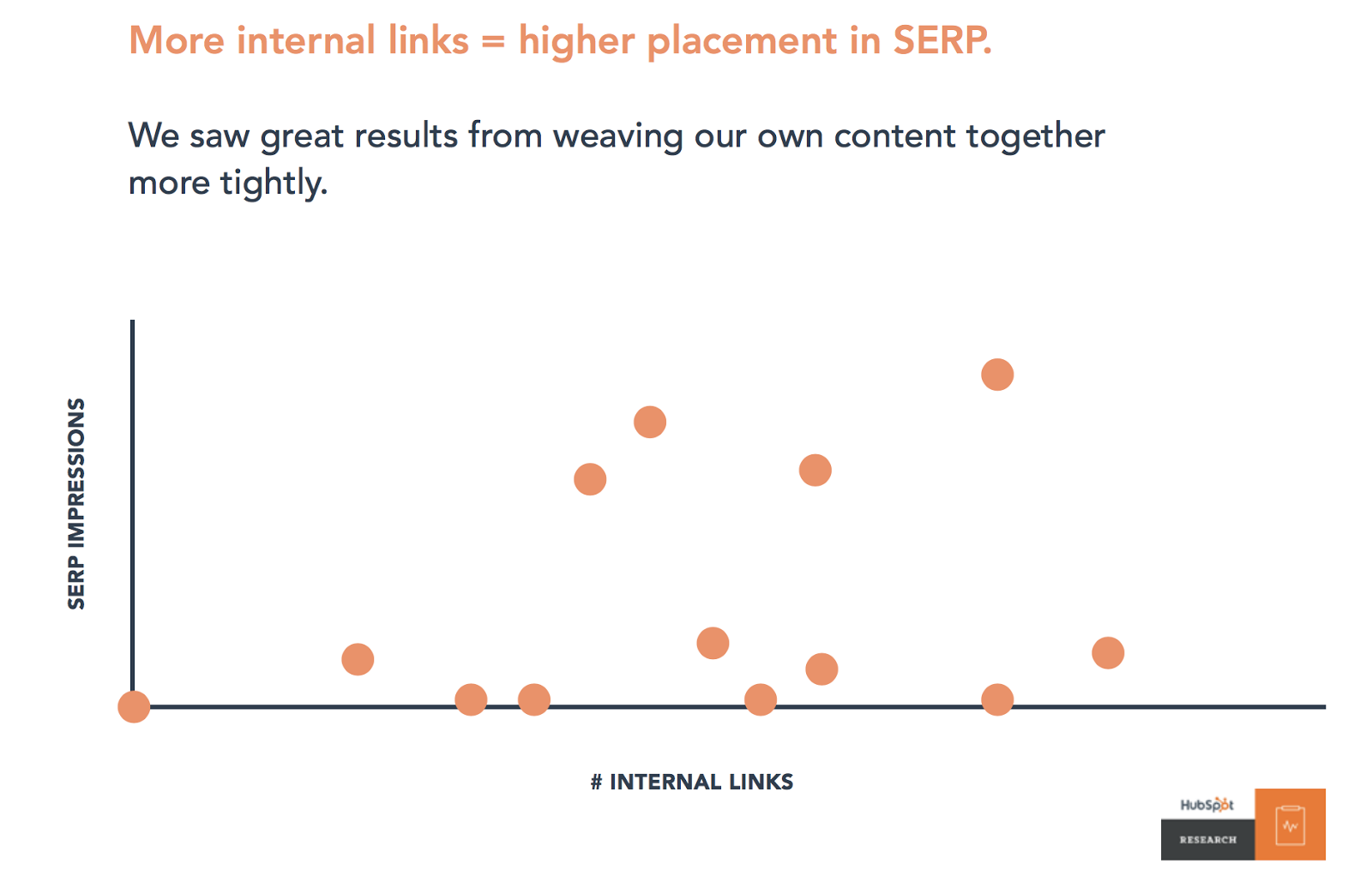 via HubSpot
They can be finicky, but with the right mix of links, header tags, added media and other SEO elements, your site can punch well above its weight, ranking #1 for highly searched terms you wouldn't be able to capture with just a blog or two.
How can a pillar page drive sales?
"Content builds relationships. Relationships are built on trust. Trust drives revenue." ~ Andrew Davis
A higher Google ranking means increased traffic and more leads. Audiences also have more trust in sites that rank in the top spots, which boosts your business's credibility.
One study by Chitika found that the search result in spot #1 receives 35% of clicks on the page. The second spot receives less than half that percentage with diminishing returns the further down on the page you go.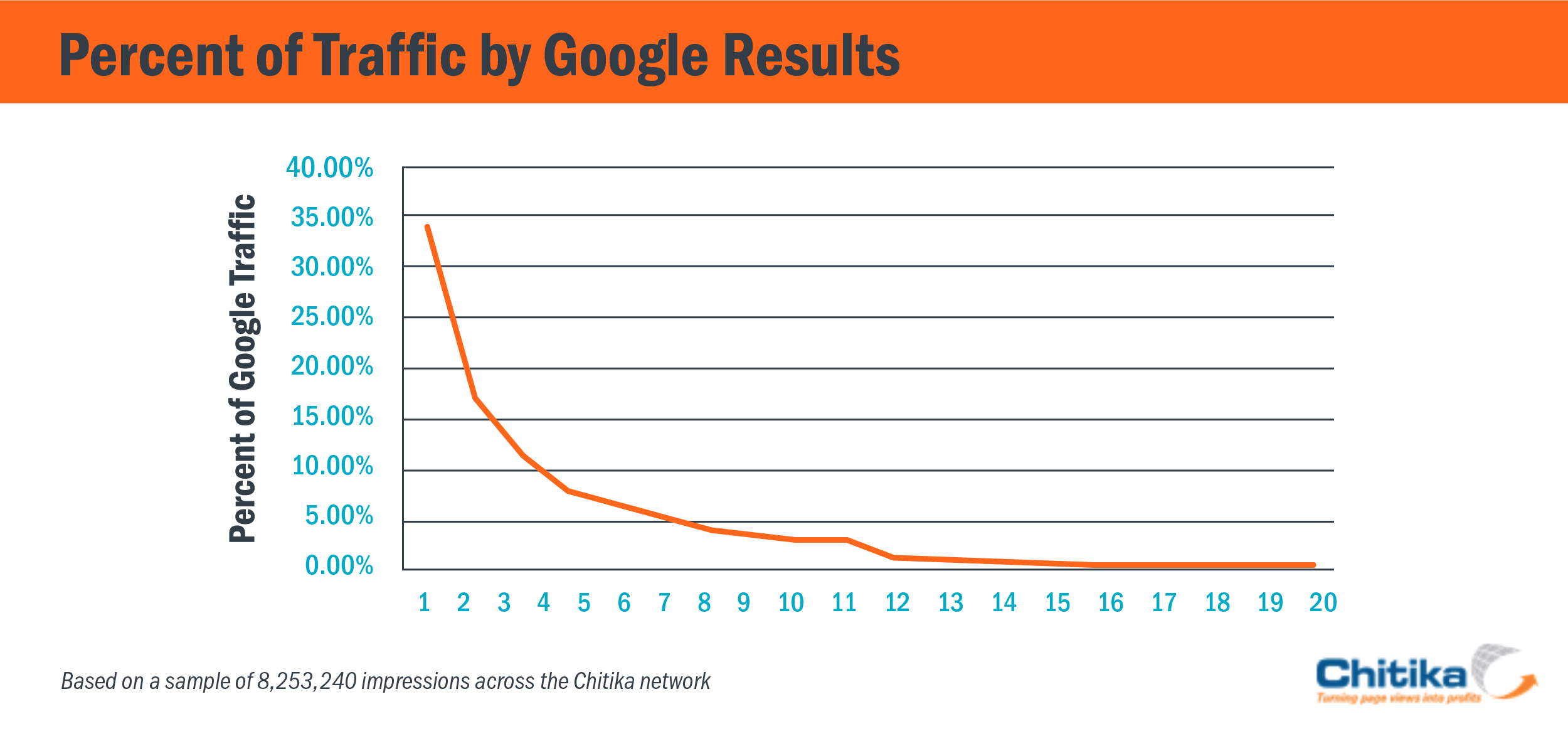 Any good marketer knows an increase in traffic naturally means an increase in leads. Users who find your site via a pillar page are more likely to be qualified leads as they have already expressed interest in the topic related to your business.
Basically, more organic traffic means more highly qualified leads means more sales, all because you wrote some blogs and tied them together. That's the power of the pillar.
How do you create a pillar page?
In simplest terms, there are four steps to creating a pillar page.
1. Decide your pillar page topic
Start by determining what you want to write about. What's a great content topic your business wants to be known for? What does your audience want to learn more about?
You have a lot of room to play around here. You can write more product-focused pillar pages (i.e. "how to buy new running shoes"), or you can write about a more general lifestyle-based search term (i.e. "how to train for a half marathon"). Just be sure the topic is broad enough that you can break it down into a good amount of supporting topics.
Tip:
You may want to conduct some preliminary keyword research here to determine what your audience is searching for. Knowing what people want to see can inform your decision.
2. Select your keywords
If you haven't already, conduct keyword research around the topic you selected. You will want to pick two types of keywords:
Primary keyword:
The keyword you will optimize your final pillar page around. Should be more general.
Subtopic keywords:
Keywords you can use to create your supporting pages. Should be more specific.
Tip:
The "People Also Ask" and related search sections of the Google SERP are your best friends here.
3. Write your content
This is by far the most time intensive part of the process. We recommend starting by writing and publishing your supporting pages so they have time to gather some SEO-related momentum before they get linked to the final pillar page.
When your supporting content is finalized, you can pull bits and pieces from each piece to write your pillar page. A good pillar page should be around 750-3,000 words, depending on your audience, page design and the complexity of your topic.
Tip:
Supporting content can take a wide variety of forms. We like to build our pillar pages with supporting blogs, but you can also add videos, product pages, white papers and more to the mix. Just make sure the majority of your links are internal.
4. Optimize your pillar page
The last step is to tie everything together. Link your supporting content in your pillar page and add a link back to your pillar page into the text of each supporting page. Then add finishing on-page SEO touches:
- Update metadata and URL (include your primary keyword)
- Add alt text to all photos and videos
- Add heads and subheaders
- Break up any big paragraphs for readability.
Tip:
An anchored Table of Contents is great for pillar pages! Adding one to the top of the page makes it even easier for Google and the audience to properly navigate.
How long does it take to create a pillar page?
All good things take time. While pillar pages won't cost you anything to make, they are fairly labor intensive.
We've found the most efficient way to create pillar pages is to create and release the support content first, then tie it all together. It takes a minimum of 8 high-quality supporting links to build a pillar page, but the more the better. Our best client pillar pages include 10-15 supporting links. If you're working entirely from scratch, the timeline can be around three months minimum.
What does a good pillar page look like?
Glad you asked!
Click here
to view a pillar page our team made to target the keyword "types of digital advertising."
Here are some of our other favorite pillar pages from around the web:
Content marketers have taken the art of the pillar page to new levels. Search any broad marketing term and you'll probably find a great pillar page with everything you've ever wanted to know on the topic.
If you're fed up with aggressive paid media strategies or just aren't seeing the results you expected from your site's blog, the pillar page may just be your next big strategy breakthrough. Go forth like so many marketers before you and embrace the power of the pillar!
Need a little help getting started? The thunder::tech Content & SEO teams have created pillar pages on everything from digital ads to clean energy technology, healthcare auditing and manufacturing.

Click here and let's work together to bring your next pillar page to life.