We've all heard the rumors, but now it's official. Third-party cookies are dead, and marketers must pivot to stay relevant to consumers. Third-party cookies tracked consumers between websites and allowed for custom targeting and ad placement. However, with the increase in privacy concerns and changes to government regulations, third-party cookies have steadily been on their way out. But not to worry, first-party data, if gathered and utilized effectively, can help you build stronger relationships with your audience. Now, more than ever, capturing first-party data is crucial to powering efficient and accurate marketing.

Excuse me, what is first-party data, and why should I care?
First-party data is the data your company captures. It can include demographic information, purchase history, social media conversations, customer relationship management (CRM) data and much more.
Companies that collect and use first-party data
achieve a 2.9x increase in revenue and save more than 1.5x in costs.
By capturing data in a CRM system or a Customer Data Platform, you can create more compelling and personalized content based on what you learn and retarget to appropriate consumers.
Though the uses of third and first-party data are similar, with new regulations surfacing and companies like
Apple, Google and Mozilla phasing out third-party data
entirely, capturing your own data is a great way to keep and continue to grow your audience.
How do I start collecting first-party data?
There are a few ways to start collecting your own data:
Customer surveys and forms
. You can easily collect customer data by utilizing forms and surveys and asking a few questions about your customers' experience. Most website builders have some embedded form or widget option for you to start capturing data.
Single Sign-on (SSO) with Google or Facebook.
Users love an easy sign-in experience, especially if it means they won't have to remember yet another password. Though this is technically a third party, it becomes first-party data if the user provides permissions to their profiles. You can then collect essential data, including social URLs, names, interests and geolocations.
User Registration.
You can generate ideal customer profiles in just a few seconds. Offering a first-time discount on a product or service is a great way to incentivize this registration and build retention rates for future email campaigns.
Content Sharing.
Activate content sharing on your website or app to capitalize on multiple channels. Users love sharing relevant and engaging content on their platforms, whether written, video or a product/service. You can capture social media URLs, names and geolocations through content sharing. This is where building a
solid content strategy
is essential, as it's a great way to start gathering first-party data.
Use analytics tools.
Event tracking through a tool like
Google Analytics
is a great way to track the interests and preferences of your users across different interactions on your website or app. You can use the data you collect to improve the overall customer journey.
Newsletters.
Inviting visitors to subscribe to a newsletter can capture valuable first-party data. Just ensure your newsletters offer valuable content to avoid the dreaded spam folder or increase un-subscription rates.
I collected data. Now what?
Collecting first-party data is only the first step; knowing how to utilize your data is how to start building more robust and sustainable relationships with your customers. Here are five ways to harness the power of first-party data: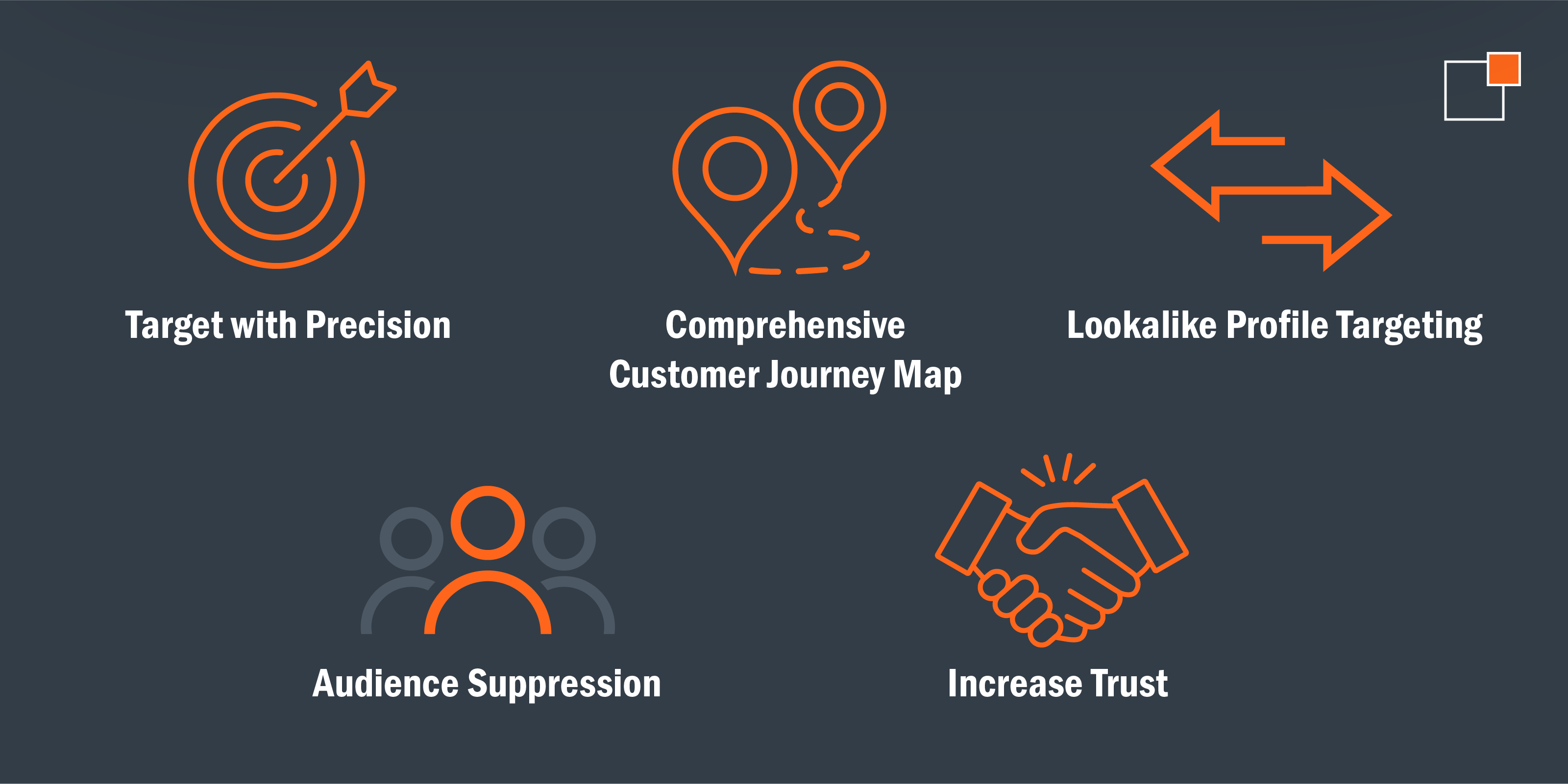 Target with Precision
Using your data, you can target real people with real buying power. You can create precise customer segments with tailored messaging for each group by analyzing customer behavior, preferences and interests. Which in turn can improve the overall effectiveness of a marketing campaign, increase customer engagement and drive revenue growth.
Comprehensive Customer Journey Map
This means taking all the available data on a customer and building a comprehensive profile. Customers often engage with a company in many ways, including on a desktop, mobile app, social media accounts and more. By compiling these different interactions and creating one comprehensive profile, marketing efforts can be more personalized to each customer and improve their overall experience.
Lookalike Profile Targeting
Lookalike models can help you target ideal customers not already in your pipeline. Because they have similar preferences and interests and their behaviors mimic your current high-value customers, lookalike targeting can increase your overall ROI.
Audience Suppression
You may be thinking, audience suppression? Wasn't the point of this to increase my overall engagement? Well, yes. However, you don't want to irritate your current customers or discourage them from revisiting you with poorly timed marketing campaigns. By segmenting on and offline marketing campaigns, you can remove customers who have recently made an in-store or online purchase who, for some time, will likely no longer be looking for your product or services.
Increase Trust
Utilizing the feedback and reviews you collect is excellent for content creation and a great way to increase trust with your audience. With nearly
70% of consumers
looking at reviews before making decisions, showcasing reviews is a great way to engage your customers.
Potential pitfalls:
It's not all sunshine and rainbows. Collecting first-party data takes planning a clear strategy. You need to know what resources you have, what you're collecting, how it's relevant to the customer journey and how you'll utilize the data collected.
Data happens in real time. In the digital world, things move quickly and data decays just as fast. Part of your strategy should include a plan to harness collected data on each customer in a timely manner, or you risk losing potential customers.
Though it can be challenging to start, you'll build the foundation for long-term success by spending time developing a clear strategy.
Third-party data is dead, and it's time to pivot.
Forward-thinking marketers know that first-party data is essential to keeping up with competitors and staying relevant to consumers. First-party data is a powerful tool that can improve marketing strategies and build more robust and sustainable consumer relationships.
You can create more personalized and targeted marketing campaigns by understanding your customers' preferences, interests and behaviors. With the rise of privacy regulations and changes to tracking practices, first-party data is more critical than ever. Don't get left behind! Start collecting your own data today
thunder::tech has a team of experts ready to help you start harnessing the power of first-party data. Contact Us, and let's take your marketing strategy to the next level!