Like most marketing practices, influencer marketing has morphed drastically in recent years and looks completely different from its inception. Gone are the days when sending free products for promos was enough to get the word out and welcome to the age of being real. Consumers are savvy – they know when something is forced and will quickly write a brand off for being inauthentic, which makes finding the right influencers more critical than ever.
Influencer marketing
isn't new to thunder::tech; we've been partnering with brands on this service since before the word "humblebrag" was invented. Through our experiences, we've learned a lot about what consumers like and even more, what makes them convert. By focusing on establishing real connections and building trust between quality creators and brands, we pride ourselves on a relationship-first approach to influencer marketing.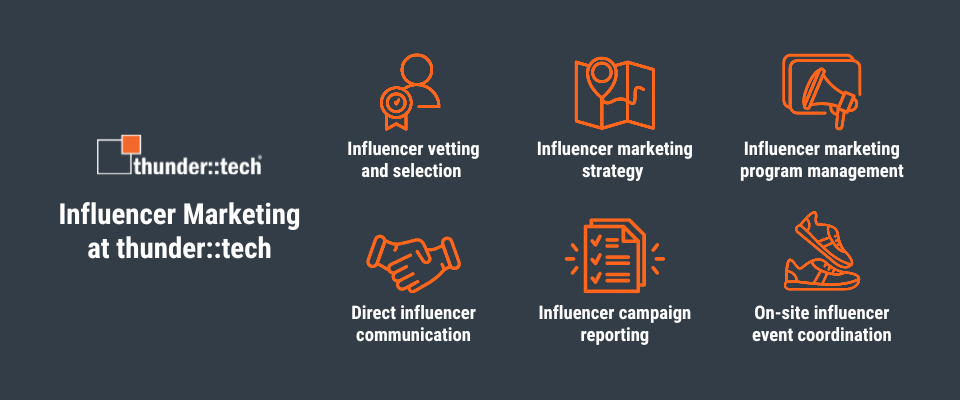 Why should you care about influencer marketing?
Influencers build their audiences through authentic connections. Audiences seek out influencers they identify with who share similar interests and values. The relationship forms organically, without kitschy ads, and the more content the audience consumes, the deeper the relationship and trust in the influencer become. So, when an influencer shares a brand with their audience, their followers are more likely to support that brand based on their trust in the influencer.
This is where your opportunity lies. Influencers are already reaching your target audience. They've put in the work to build authentic connections with your target audience; there's no need to reinvent the wheel. And let's be honest, "ad blindness" is real. We've all seen an ad on social media and quickly scrolled past it to get back to our feeds' "real" content. However, influencers are professional creatives; they can bypass "ad blindness" and get your brand in front of your target audience using fun and engaging strategies.
Overall, influencer marketing has a high ROI. Influencers can boost brand awareness, drive traffic to your site and push sales at a high rate. Name a better combination.
What is influencer marketing at thunder::tech?
Finding the right influencers to establish and maintain relationships with takes time, the time you could spend on your other responsibilities. That's where we can help! But remember when we mentioned we've been in the game for some time now? We've developed our own way of doing things to build relationships with the best influencers for your brand::
We focus on getting the best influencers for each brand, not just the ones with the most followers. This means looking into engagement, true reach, audience demographics and more to make connections that count.
We work with influencers on every level, from celebrities to nano, to get results for every brand.
We rely on data and results to inform strategy and create performance-driven and scalable influencer programs.
We encourage all industries to explore influencer marketing because expanding awareness, reach and leads isn't a mission limited to DTC brands.
We go beyond surface-level transactions and dig deep to maintain long-lasting relationships with creators.
Details, please::
We'll customize a strategy that suits your needs, but here's what we offer::
Influencer vetting and selection
Influencer marketing strategy
Influencer marketing program management
Direct influencer communication 
Influencer campaign reporting
On-site influencer event coordination
If your team is ready to get started with
influencer marketing
, we are prepared to help!
We want to help you build your audience and establish authentic relationships with influencers that fit your business. Let's Connect!