Bounce rate is a metric that gives insight into how an overall website and its individual pages are performing. It is an important metric to pay attention to, but there are several areas to consider when factoring a bounce rate such as site design, quality of content, user interest (or lack of user interest) and average session duration.
According to
Google
, bounce rate is defined as, "the percentage of visitors to a particular website who navigate away from the site after viewing only one page." If a site has a bounce rate of 39%, that means that 39% of users left the site from the page they landed on without clicking through to another page. The landing page could be the home page, about page, product page or really any page that search engines pick up content from. Oftentimes, a high bounce rate is considered bad, which in many cases it is, but there are other areas to consider such as average session duration and if the user is new or returning that could factor into the high bounce rate.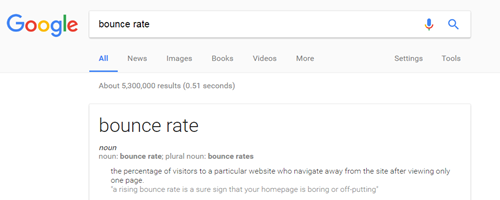 Because of this, Google Analytics users (or clients of Google Analytics users) might have a few questions like:
Is a high bounce rate always bad?
What is considered a high bounce rate?
How does Google calculate bounce rate?
What are the reasons for a high bounce rate?
How can a high bounce rate be improved?
High bounce rates on pages such as a home page or an about page are usually considered bad because those serve as the introductory pages to a website. Content on those pages should be engaging and user flow should be easy to navigate to pages that include goals such as product and/or service pages, contact pages, shopping carts or information requests.
On the other hand, high bounce rates are not always bad. If a page has a high bounce rate, but the average time on page shows visitors are taking the time to read the page and engage in content, then you should not be concerned about the high bounce rate, especially if the page is toward the end of the user flow.
What is a good bounce rate?
This can be a tricky question due to the fact that there are different variables that need to be taken into consideration when analyzing a website's bounce rate. Giving an overall benchmark bounce rate to compare to isn't as accurate as it may seem. Here are some examples of variables that can have an effect on bounce rate.
Percentage of New vs. Returning Visitors – Returning visitors are usually coming back to a website for a reason. This means if the website in question has a high amount of returning visitors, the bounce rate will generally be lower than a similar website with mostly new visitors.
Objective of the website – News websites and blogs may have a higher bounce rate than reference or branded company websites because visitors may do directly to a post or article they found interesting, only to read it and leave. Ecommerce websites can also have an impact on bounce rate, depending on what is being sold.
Website or Company's Industry – Industries can have very different bounce rate metrics due to the difference in content, visitor profile and much more.
When answering this question, it's always important to look into the data to see why the bounce rate is at its current level. Consider the above variables as well as others you might find, and try to discover obstacles within the website or pages that may be causing visitors to leave. Generally speaking, if a website has a bounce rate of less than 30%, most likely that site's bounce rate can be considered "good." But just because a website has a bounce rate of 45%, doesn't mean that this website has a "bad" bounce rate and needs to be fixed.
What is a bad bounce rate?
Bounce rates below 20% and over 90% express areas for concern. If you have a bounce rate below 20%, there is a high chance that there is a problem with the Analytics setup. As previously mentioned, it is best to check your Analytics code, even if the bounce rate is 25% to 30%. A 90% bounce rate is oftentimes caused by bad design or browser compatibility issues. Once a bounce rates goes over 60% and hits 70% or 80%, it is time to consider quality of content, amount of content and website design. Contact pages will sometimes have higher bounce rates because visitors are likely to exit a site once they fill out a contact form. If contact form submissions are properly tracked as conversions, Google Analytics users can compare conversions to a high bounce rate to see if conversions outweigh the high bounce rate.
How is bounce rate calculated?
Bounce rate is calculated by dividing visits with only one
pageview
by total number of visits. If a page toward the end of the user flow of a site has a high bounce rate, it is suggested to use the Google Analytics behavior flow tool to see where users dropped off. The behavior flow tool can help give insights as to which pages need to be improved
What are the reasons for a high bounce rate? / How can a high bounce rate be improved?
Incorrect Analytics implementation can cause a high bounce rate. Make sure all pages of your site have the same code installed and that the code is properly formatted to Google's standards.
Site design plays a big part of bounce rate. If you have a high bounce rate, consider redesigning the entrance (or landing) pages. Optimize pages so they are better aligned with search queries on your site. You can observe search queries in Google Analytics and use the keyword search tool in AdWords for keyword research, which will help to identify prime concepts of content.
If you are unsure of how to set up a page, use Google Content Experiments, which will provide A/B Testing for areas of your site such as headlines, call to actions, colors, images and page layouts.
User behavior is factored into high bounce rates. A user bookmarking a page on your site, going to it and then leaving is considered a bounce, which can contribute to a higher bounce rate. Because of this, it is important to look into direct traffic and returning users within Google Analytics.
While detecting a bounce rate will not solve all of your problems, it will guide you in the right direction in terms of determining what areas of your website are performing well and those that need to be improved upon. Determining a good bounce rate is not a one-size-fits-all matter; therefore, you should observe patterns and set benchmarks that will improve your website in the long run. If a high bounce rate is detected on an introductory page, you can start improving your website by identifying design flaws, link patterns and quality of content. Most importantly, making sure Google Analytics is properly set up will help your company or brand make necessary data-driven decisions that will put you on a successful path.
Want to learn more about Google Analytics and the services it provides?
Contact
our Optimization Team today!