How the Current Labor Market is Affecting All Brands
The labor market is going through a tremendous shift and will continue to be a challenge for most companies. Anyone listening to the news or following the
JOLTS Report
(Job Openings and Labor Turnover Survey) understands the entire economy and every organization is seeing a change in how they staff. Making things worse is the evidence pointing to the likelihood of this being an ongoing problem.
The pandemic isn't the only reason employees are rethinking their work status. First, a technological shift has been occurring for years. This enabled everything from widespread remote work to enabling workers to easily find and learn about potential employers online.
Second, we have a collision of demographic shifts taking place. The lowest population growth in the US for the past 100 years, an increase of Boomer Generation workers retiring, a declining birth rate, constrained immigration and declining workforce participation are all happening at once.

thunder::tech has had the pleasure of working with many brands with a variety of excellent cultures and workplace benefits. However, these benefits haven't been actively marketed to the recruiting world to build outside brand awareness.
In this
two-part series
, we are going to breakdown how marketing can be a more critical partner to HR through both strategic employer branding and new recruitment marketing tactics.
With that, let's dive in!
What is Employer Branding?
An employer brand is the internal promise of a brand to current and potential employees. Building an employer brand is a long-term process, just like building an external brand for consumers. Employer branding is certainly connected to the outside facing brand but also includes important internal elements such as:
Organizational purpose and values
Organizational culture
Employee policies
Employee satisfaction
This work starts in HR and usually involves Marketing, but ultimately the CEO needs to buy in to any efforts and support the strategy to build a strong employer brand.
Why is employer branding important?
In order to pull top talent from the labor market, you need to have a strong strategy in place, and this is where employer branding comes in to play. According to a LinkedIn report, over
75% of job seekers
are already researching your reputation online
before
applying. By promoting your work culture, employee policies and company values, you will be positioning yourself as an employer of choice and having the top talent come to you.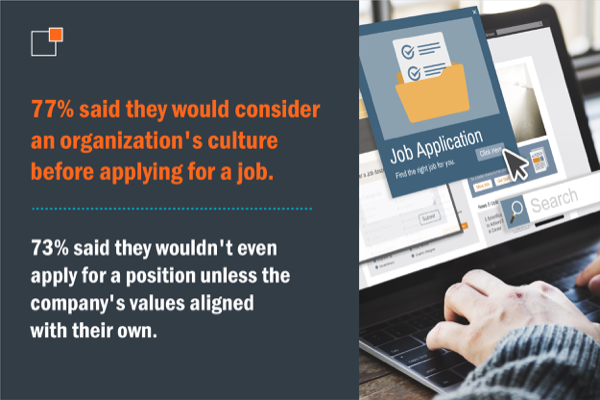 Components of an employer brand
Building a strong employer brand has many facets that HR and Marketing Departments can work on together. Some of these components of an employer brand include:
How you articulate the organization's history and purpose
Your brand's visibility to the public
The quality of your online reviews (both from a consumer and employee point of view)
Willingness of current employees to refer you as a place to work to their network
The community you have built through existing employees, loyal customers, online followers and even past employees

The content within these communities - What is celebrated, discussed, and shared?
The frequency and quality of the messages that the brand communicates

Your understanding of the target audience

Personas of your ideal employees
Their media and research habits
Understanding what they want out of a job

The evolution of your benefits and policies and how you promote them
Starting at the top of the funnel
Many HR recruiters think about their role at the bottom half of this funnel, which is technically correct, but the work done at the top of it is what can make their job easier and produce more impactful results.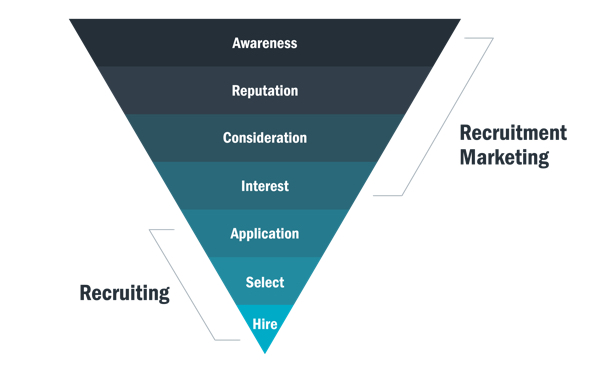 Creating an employer brand supports all steps of recruiting and should especially work at the top half of this funnel. An employer's reputation can precede the applicant's interest particularly with large companies, but that does not mean small and mid-sized companies are off the hook. If you do not have the budget of a large company, your ability to reach the right audiences (through the above persona research) will create air cover (awareness) for your brand to talk to your target labor pool with the potential of being recognizable over time to them.
If you are not a well-known employer, remember how much research potential employees can do on your brand before applying. This is where your employer branding efforts are married to your
recruitment marketing tactics
.
If you are looking to build out your employer brand or increase your recruitment efforts, we at thunder::tech are here to help develop your strategy.

ALSO, be on the lookout for PART TWO of our Employee Recruiting Marketing Strategies & Tactics Blog where we will be diving deeper into tactics to build employer awareness and recruit top talent!