The first half of the year usually tends to be the most active, but in 2019 we made it even more interesting by blending in the celebration of thunder::tech's 20th anniversary. We had a lot of fun celebrating this milestone and have collected some photos (nearing a thousand actually, oy!), a timeline of our logos and other artifacts that have helped us reminisce and remember how we got here.

While it was inspiring to kickoff the year by celebrating the past, we really have been focused on preparing for "Day 2" at thunder::tech. Our mission is to continue to evolve and help our clients accelerate and invent the future in a connected world
—
and we've been busy. In the past six months, we've:
Added more media planning and buying talent to the team
Doubled our website support team
Expanded our business development team
Our performance marketing practice has expanded our Amazon marketing services
Our in-house video production team has expanded into new markets under our thirtysix::thirtyfive studio
Our recent client work has also been recognized with a Gold Addy award and a prestigious nod from one of our CMS partners, Kentico, with
a global site of the year award
. This award cements our standing as one of their top five most awarded global partners in a class of over 1000 partners.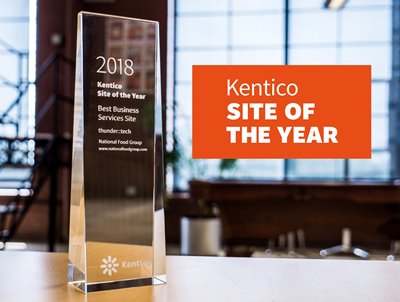 While doing all of this with an amazing group of existing clients, we were also very fortunate and excited to welcome some new clients into the mix and expand duties with old friends. In our Destination Category, we are proud to be handling the following new marketing duties:
Destination Toledo, the convention and visitor bureau for Northwest Ohio, as their marketing and advertising agency of record
The Jet Express, a seasonal ferry service to the Lake Erie islands as their marketing agency of record
Assisting our long-time client, the Ohio History Connection with their Ohio Sports Exhibit launch
Expanded work from the Museum of American Porcelain Art
Community video work for the Major League Baseball 2019 All Star Game
Schneller Aircraft
Snap-On Solutions
Expanded work from Henkel's OSI adhesives brand
Continued duties as the agency of record for PSS
Partner with Master Pizza as their marketing agency of record
Bring on Leprino Foods, the world's largest mozzarella cheese manufacturer
Launched new video work for Garden of Flavor juice company
Released Twin Oast Brewing identity refresh and packaging design work
Expanded a client's restaurant properties by managing communications for their acquisition of one of the best known wineries in the Midwest, Mon Ami Restaurant and Historic Winery on Catawba Island
Other notable additions have been work for Carlisle Brake and Friction in our Automotive Category and the addition of the Sexy Hair and NEOMED brands for new project work.
It has obviously been an exciting first half of 2019 that we are incredibly grateful for. Thank you to thunder::tech's dedicated clients, team members, partners and fans. We could not invent the future everyday without you!