HR Marketing may be a newer (official) service offered here at thunder::tech, but we are by no means newbies when it comes to driving potential employees to companies' career pages or building up their brand awareness. We are still feeling the effects of the "Great Resignation," with companies big and small struggling to fill open positions with quality staff members. That is why we are taking a quick trip down memory lane to highlight how our successful strategies flooded clients with applications from potential candidates.
Catawba Island Club
A family-focused, lakeside beach club,
Catawba Island Club
(CIC) is known for their beautiful views of Lake Erie, where families and friends make summer memories that last a lifetime. With many members spending their warm summer days at the club, CIC needs seasonal workers to handle the influx of activity happening. The surrounding area's small population makes hiring outside talent an additional challenge. This is where our team at thunder::tech was able to jump into action.
The target demographic for employees at CIC are individuals in their early 20s or college students looking for a summer position, so our team determined paid social ads to be the ideal form of advertising. While creating the graphics and copy for the ads, we wanted to be sure to focus on the benefits employees would receive, including a sign-on bonus and potential for internship credits, in addition to highlighting the family atmosphere. Facebook was the main platform used, targeting the ads regionally as well as tourist destinations with opposite busy seasons.
After perfecting the post, the hiring campaign was launched at the beginning of March, but by May 1st, all the ads had been pulled due to overwhelming success in filling all their seasonal positions. Being ahead of schedule with hiring, we chose to start preparations for next year. One strategy we have since added is the use of TikTok both as an activation for current members and as a way to bring awareness of the club to the audience we are hoping to recruit.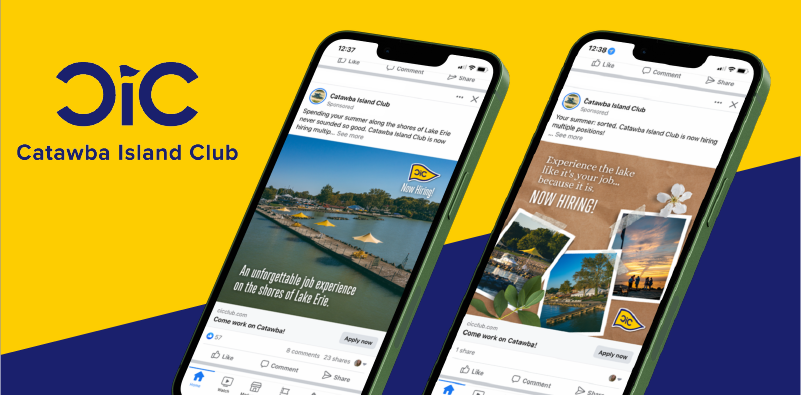 The Davey Tree Expert Company
Founded in 1880,
Davey Tree
provides environmental solutions across North America, such as grounds maintenance and research-driven tree services. As an employee-owned company, culture is at the center of everything they do. So, when the team at Davey came to us in need of a strategy to grow awareness of their open positions, we knew we wanted to capture their culture and values in our work.
The thunder::tech production team headed out to one of Davey's working sites and spent three days filming with the crew. Through working together as a team, we decided to create a series of videos giving potential employees an inside look at the job and company. The videos highlight the different aspects of the position while also interviewing a current employee working on the job about their experience with the company.
After finishing the individual videos used to successfully fill their open positions, we decided to utilize the footage and create a highlight reel encompassing all aspects of working at Davey. The reel was added to their HR page so that all potential employees could have a glimpse of the exciting jobs that happen at Davey.
Kappus Company
From ice cream machines and grills to commercial-grade refrigerators,
Kappu
s Company
supplies a variety of food and beverage equipment to companies across the country. With a list of open positions needing to be filled on their site, they knew changes needed to be made to attract potential employees to apply. This is where we jumped in, ready to revamp their careers page.
One of the main changes we made, in addition to the visual updates, was making sure that the job descriptions were apparent and transparent. This included posting the pay range for the position and benefits that come with working at Kappus Company, showcasing the company culture, adding their core values and testimonials from current employees. We added a general application form right on the page and a photo gallery accompanied with the new "#kappuslife" to show what is currently happening around the office.
The careers page redesign was so successful that Kappus Company decided to continue iterating their site and eventually completely redesigning the entire thing.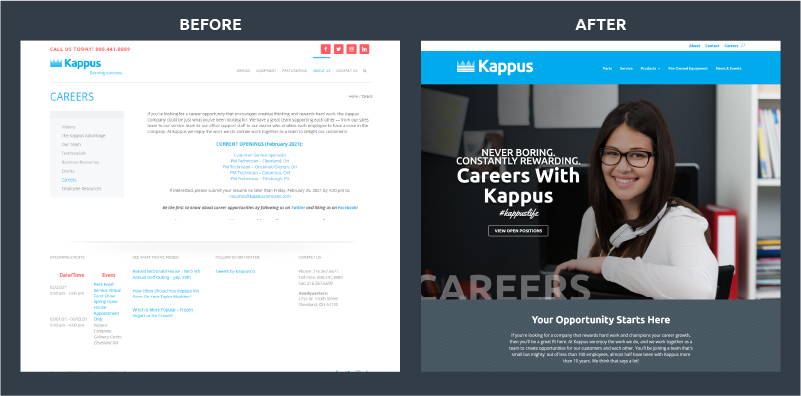 Marc's
A unique store that combines their signature closeout section with a grocery store,
Marc's
opened its first doors in 1979 and has since taken its well-deserved place on the
Top 100 Grocer
list. As they continue to grow in popularity, the chain has been expanding its locations and in turn needing to hire new employees to work at the newly-opened stores.
The team at Marc's struggled to get applications, so they reached out to thunder::tech to help. We launched a hiring campaign utilizing programmatic ads on social media. By adding this strategy, they went from just 15 individuals who attended their hiring event last year to over 55 people signed up for interviews. Both teams' hard work and dedication led to filling all positions and having their most successful store opening to date.
thunder::tech
The final case we are going to cover is ourselves and some of the changes we have made to recruit individuals to
thunder::tech's
growing team. After COVID forced us to change our working environment, we learned how successful remote working can be and we are now a "work from anywhere" office. Employees can choose to come into the office every day or never again. This has opened up our talent pool significantly.
Another strategy we have fallen in love with is the use of TikTok. Initially launching our profile to share insider marketing tips, we quickly saw the opportunity to promote our open positions. After just a few posts about our Project Coordinator position, we hit over 90,000 views and received a massive influx of applications. Plus, believe it or not, the candidate that we ultimately ended up hiring out of Chicago found us through TikTok!