We're over halfway through 2022 and it's crazy for us to believe! With six months already behind us, this is a great time to observe what has and has not been working in the marketing world and how you can improve your strategy for the rest of the year. And oops, we did it again…here is another edition of Hot or Not Marketing Trends, but with a summer twist!

Hot ::
Local SEO and Travel Search
A summer without travel? Please! Local SEO has proven to be a powerful tool when it comes to tourism and locking in seasonal bookings. In fact,
46% of all searches
on Google are local searches. Local SEO works to improve your rankings and visibility when customers search in their local area, which leads to more business that you may not have gotten otherwise. Not only that, but
72% of people
conducting a local search will visit a store within 5 miles. Any physical brick-and-mortar business can benefit from local SEO in the summer, especially restaurants, hotels, shops and entertainment!
Video Memes
We've all gone down the video meme rabbit hole; don't lie. Those videos that are only a few seconds long but give you the best laugh. So, it's no surprise that video memes are a great way to add humor and relatability to your brand. Short form video gets great engagement time and time again (don't believe us, see our last
Hot or Not Blog
), but memes have shown to generate
10x the engagement
just on their own. If you create a video meme that reflects your industry, there is a chance it may get shared, which brings more exposure to your social channels. Need an example?
Here's one that we shared earlier this year!

Blogging
Blogging is not dead! (You're reading one right now.)
57% of marketers
say they've gained customers specifically through blogging. It's an easy way to inform your audience, drive traffic, convert leads and drive long-term results. Plus, blogging does the work for you. One blog post can give you additional content to use on other platforms and drive site visitors just by existing. We call this the
COPE approach
: Create Once, Publish Everywhere. Think about all the times you searched a location before traveling…you probably read a few blog posts to get the inside scoop on what to do in the area and other useful tourist information. Or the times you were searching for the perfect summer recipe? A good blog can give you enough recipes for the whole week in addition to tips and tricks to perfect your dish. Blogging is more prevalent than you think!
Community Engagement
Engaging with your audience online is one of THE most important parts of social media marketing. Community engagement can look like responding to comments and DMs or even sharing user-generated content (UGC) and fun Instagram stories. You want your audience to feel seen and connected to your brand, and part of that comes from content they can engage with.
One third
of the most viewed Instagram Stories are from businesses, so it's safe to say consumers love them. Add some summer vibes to your stories by featuring themed polls, Q&A's and This or That campaigns!

Not ::
Inauthentic/Non-Inclusive Images
The era of non-inclusivity should be long behind us. Consumers are tired of seeing inauthentic stock images, overly edited bodies and people that don't look like them. So much that
59% of people
say they are more loyal to brands that stand for diversity and inclusion in online advertising. Social media is highly visual. It's time to toss out stocky photos and choose ones that align with your brand, customer base and feel authentic. Get to know your audience!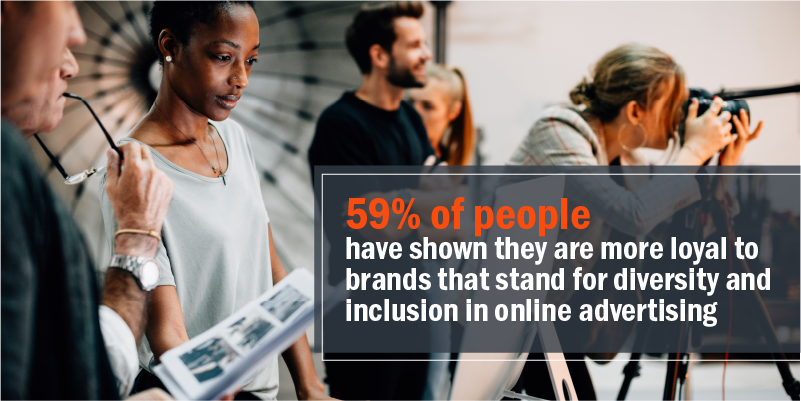 Tone-Deaf Messaging
In a world of constant uncertainties, there is nothing worse than being oblivious. It does your brand no favors and your audience WILL notice. Sometimes this can look like not posting at all, other times, followers will be looking to you to speak up or set an example. It's important to lead with empathy and conduct your posts as if the world is watching, because it is. Avoid being tone-deaf by staying up to date on events in your industry and the world and meeting with your team to develop an immediate course of action.
Constant Sales
Summer sales are great…in moderation. Performing constant sales is viewed as a desperate attempt to consumers. You shouldn't have to beg for their business, especially if you're marketing correctly and there's value in your product. You want discounts to bring in the right customers. By offering them too consistently, consumers can grow desensitized, and your sales will lose urgency. Don't be "that brand"! Avoid constant sales by developing a sales frequency rule, and only run sales according to that schedule; whether it's once a month, every season or only around certain holidays.
Excessive SMS Alerts
That moment when you think a loved one is reaching out but it's just another text alert. Similar to running constant sales, excessive SMS messages can be invasive and clingy (like a toxic ex). No one wants that. In fact,
60% of consumers
say too many text message alerts is the number one reason they would unsubscribe from a business's text messages. Don't get us wrong, SMS is still a very helpful marketing tool, but only when done correctly. We recommend only sending out SMS alerts when you have important or new information to share or sticking to sending them only a couple of times a week at most.
We still have the rest of 2022 to make changes to our strategies! It's time to get on track for 2023 and make an impact. Consumers are looking for relatability and authenticity, regardless of what time of year it is.
Need some advice in developing effective strategies? Our team is here to help; reach out today!