Summertime and the living is easy. Right? Ha! That saying couldn't be further from the truth for social media marketers! Along with creating innovative and effective social media strategies for brands, marketers are also on the lookout for what's on the horizon. We all know the digital world is evolving constantly, but we also know some trends, functionalities and updates aren't worth a second glance. With so many new things happening all the time, marketers have to discern what to focus on to better their craft.
Introducing: Threads
Well, Meta decided to blast off and drop
Threads
, a text-based app that looks shockingly like the all too familiar Twitter. Not to be dramatic, but this was HUGE! It's already the official
fastest-growing app
with 100+ million followers. We take it back; we really aren't being dramatic! It actually is growing at lightning speed.
Because of this, the obvious next step would be to create an account, form a strategy and start creating strong content. But don't hit "post" just yet. With the newness of the app, there must be a learning and observing period to understand what we're working. Here's what we've learned so far:
Super simple account creation
The main reason the platform is growing so quickly is because of how easy it is to create an account. Within two clicks from your Instagram page, your Threads account is made. From there, a feed is created for you to curate! For social media scrollers, this is paradise. Personal users and brands alike dove in headfirst and just began posting content without rhyme, reason or strategy. The overall vibe is conversational, casual and community-driven and that's due to the first users creating the exciting dynamic.
Public space = community building opportunities
Since there is no direct message function on threads, all conversations are held in the public space. This is an amazing opportunity for brand community management and visibility. This also continues to drive the focus of "casual conversation" for ALL Threads users, not just personal profiles. We anticipate the aesthetic-less nature of Threads to continue to grow as one of the cornerstones of the platform. Every other platform comes with a certain expectation of content, but Threads takes on a "come as you are" mentality. Talk about a community atmosphere!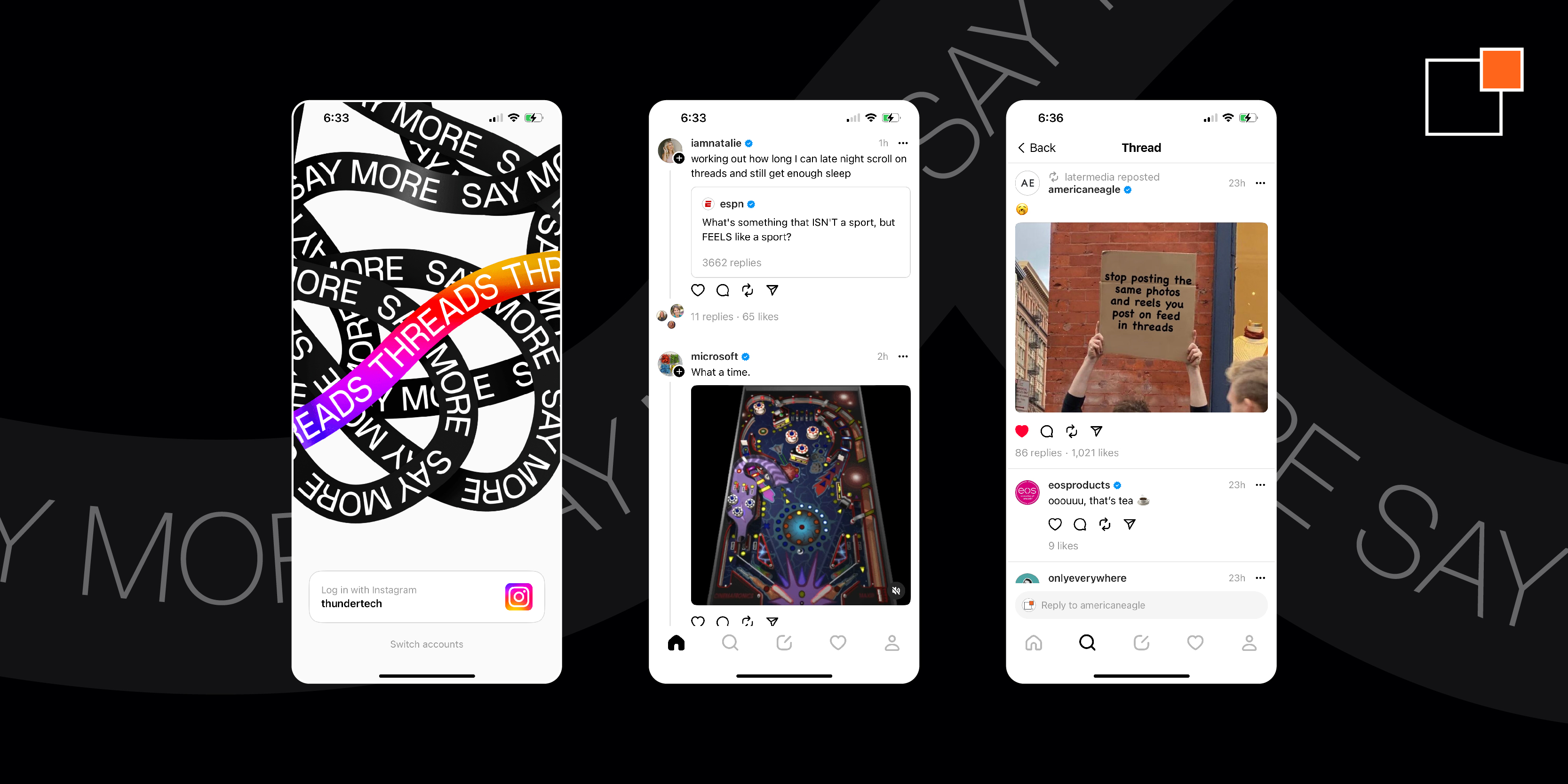 Analytics are MIA
Obviously, the fun and games on Threads has some drawbacks right now. Detailed analytics have yet to be implemented, giving brands a lack of incentive to participate. Additionally, there aren't any engaging post features, like polls or quizzes. One last downside for marketers specifically, there's no draft OR schedule function, which heavily impacts a social media marketing workflow.
Essentially, the handbook for engaging social media strategy is thrown out the window in this rather chaotic app, so it's up to brands to monitor Threads and test out different strategies until they hit their stride.
A Twitter Showdown?
While comparisons to Twitter were initially made, Threads is the text component to Instagram. We see them work like salt and pepper, with Instagram for photo/video sharing and Threads for text. Though they have completely separate tastes, they work together really well.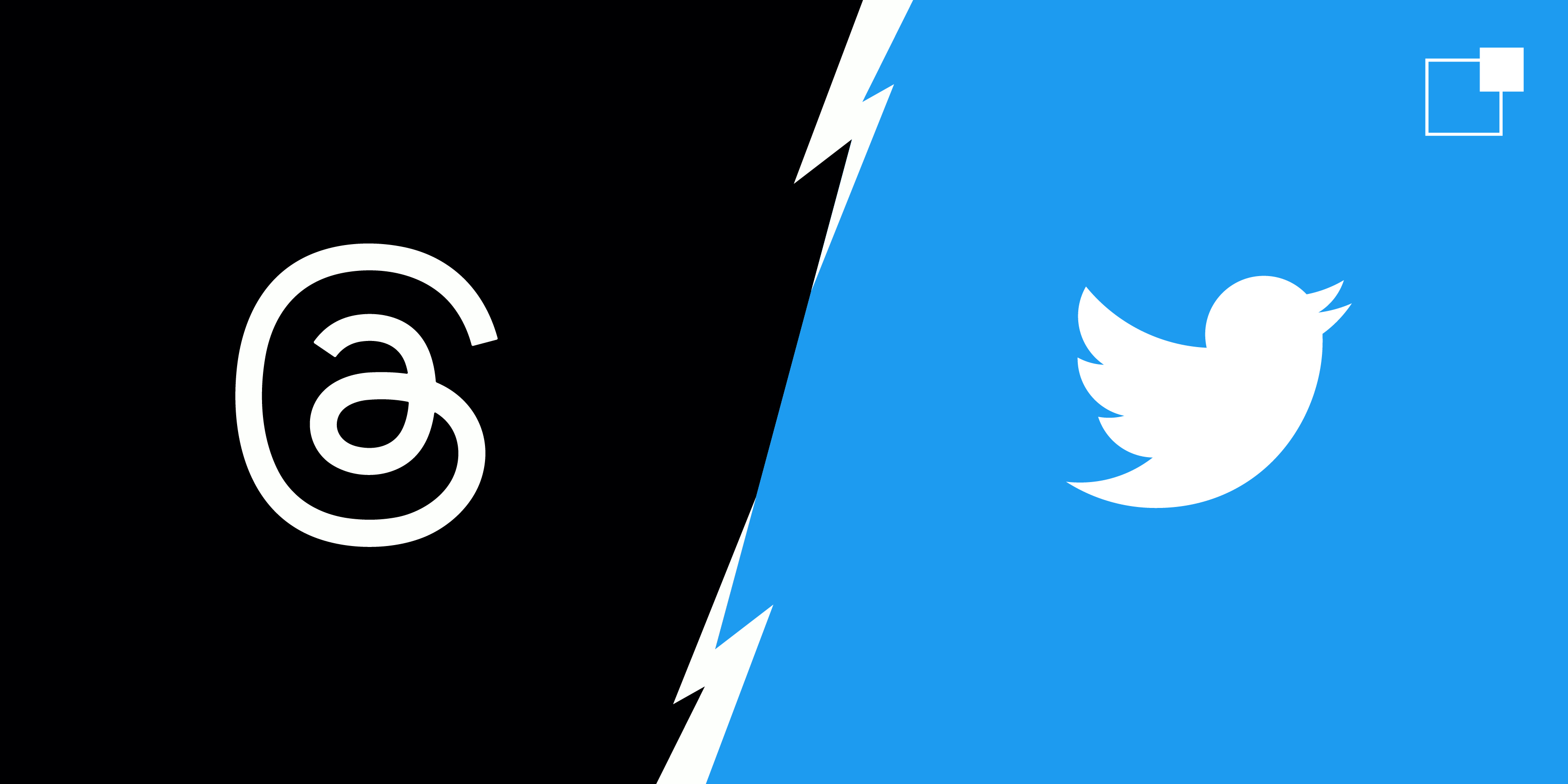 What now?
So, how can you get started on your Threads journey? We've got a few pointers:
Make an account: We recommend brands snag a username on Threads to be present on the app. Its growth is unlike anything the social media world has seen before, so it's worth participating.
Learn how to navigate: The best way to become familiar with the layout of the app is by diving in and testing things out yourself!
Engage when it feels right: Once you've become comfortable on Threads, join the conversation! There's a ton already happening so don't feel forced to participate but rather wait until you find the community that feels right to you.
Subscribe to Marketing Momentum: The news around Threads is incredibly fresh and we anticipate lots of developments as everyone figures out what's going on in this new world. But we're here to help you keep up with everything as it happens and the best way to do that is by subscribing to our newsletter where we deliver updates right to your inbox!
Right now, marketers are monitoring user behavior and what typical social media platform features will arrive to Threads and potentially change the game. The game plan is to watch, learn and start brainstorming what your brand's strategy could be on the app. We're cautiously optimistic for the future of Threads and how it can benefit brand voice and reputation in a conversational, relatable and positive way.
Now we know there are a plethora of articles pouring out there, telling you want to do and fueling the confusion. But we are here to be by your side as we figure out this new opportunity and create a strategy crafted for your brand.
Our social team dove in the moment Threads dropped and is ready to bring you along the journey. Just shoot us a message and we can get things started!