The impact of COVID-19 has led to strange times for marketers. We're seeing new paradigm shifts every day, and at thunder::tech, we are working hard to help you navigate its impact on your business. This content is one of many resources we are creating for marketing and management in the midst of the coronavirus.
As things continue to change, we're helping by providing marketing advice, fresh perspectives and strategic planning for companies during and after the pandemic. For a full list of our COVID-19 resources, click here.
Thank you to the incredible interest that marketers showed in this original post about ideas for marketing during COVID-19. While the coronavirus is still with us and causing plenty of problems for businesses, it's now
changing
consumer
behaviors
across
industries
.
When we first published
this list
of 25 ideas for marketing during the coronavirus, it was primarily focused on the immediate short term implications of pandemic. Now that quarantines are over, re-openings are happening and consumer behavior has noticeably altered, let's focus on the next set of ideas that marketers should think about during COVID-19.
Note that some of these ideas are similar to those in our first blog, but should be thought about and executed differently for a long-term strategy. Now that we're in it for the long haul, it's time to think beyond getting relevant organic social posts up and start thinking about shifting your business model permanently.
COVID-19 is a digital accelerant
The coronavirus didn't really create any completely new consumer habits, but it did accelerate the adoption of digital means. From content streaming to social media usage, online ordering and home delivery of anything, these trends were all in the works, just accelerated by the constraints instituted by the pandemic. As consumer behavior continues to shift, brands need to move quickly to build and strengthen a lot of practices, especially their digital prowess.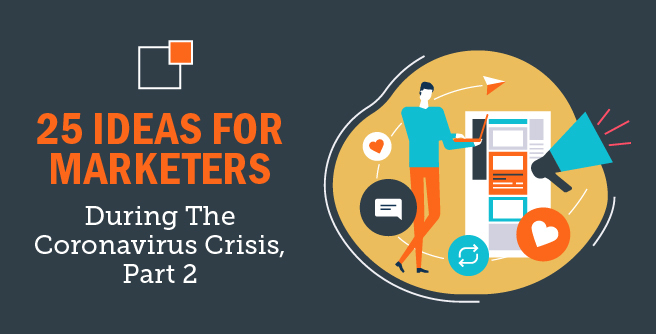 25 more ideas for marketers during the coronavirus
These ideas are big and small, suitable for both B2B and B2C brands.
Revisit long-term planning and strategy work you're always too busy to work on.

Marketing is usually in a lead role when driving the digital transformation of your organization. Dust off your road map and get things started or move your current transformation at a quicker pace!

Make serious decisions about expanding or growing new sales channels.

More online marketplaces such as Amazon, eBay, Kroger, Target Plus, Jet.com, Boxed.com, Walmart.com and others are maturing and offering incredible opportunities.
If you aren't already selling to the end consumer, be prepared to think about going direct to consumer (D2C or DTC). Ask yourself honestly, why wouldn't you?

Clean up your client / prospect database.

Pair purchase data.
Append mail data.
Use already collected data to build or refresh customer personas.

Update your internal systems. There's no time like the present to tackle this one!

Look into new delivery partnerships.
Establish gift card systems.
Set up online reservation systems.
Install or upgrade your desperately needed CRM

Social media and streaming trends were accelerated by COVID-19. Due to increased remote work and social distancing, odds are high that users will continue to spend more time on these platforms.

Stock your content! Develop blog posts, podcasts and social media posts for your business. Post with care based on the changing sentiment during the crisis or better yet, save the content for when it's appropriate.
Work on building your content studio for digital usage, especially social media. Check out the in-depth article in our volume 12 Trends Magazine.
Trial OTT and internet radio advertising (if you aren't already).
Pay to promote timely content.

Some businesses are still seeing a surge rather than a downturn at the moment. If you are, don't let it go to waste! Take advantage of this attention and build your audience.

Draw new customers to your email lists.
Entice social followers by ramping up organic efforts for audience building.
Bring in new customers to your loyalty program.

Tune up your professional social channels

Keep expanding your LinkedIn network with meaningful connections.
Research and follow good industry sources.
Clean out the clutter on your feeds by going on an unfollow spree to remove distracting content.

Update social media brand pages with what COVID-19 has changed

New hours
Altered location data on data platforms such as Facebook, Yelp, Swarm, Apple & Google Maps.
New policies
Pickup / drop-off / delivery details highlighted on Google local listings

Your conference and trade shows have likely been canceled even into the fall, so brainstorm what you can now do with that budget to reach similar audiences:

Brainstorm (and fund) new lead generation activities.
Come up with other methods to retain your best customers.
Invest in content that educates from afar - video, whitepapers, case studies, etc.

Upskill and cross train your team through online marketing training and certification courses
Strategize with your sales teams to understand how to best support them in the near and long term of operating in a constrained world because of COVID-19

Will sales need marketing to bring more leads to them?
Will email and marketing automation play a larger role in sales funnel development?
What kind of content is being required in an altered buying process?

Work on an SEO tuneup by developing a strategy and content to gain traction in the coming weeks and months.
If video is a serious part of your marketing, organize your video marketing efforts around the Hero, Hub, Help model for better mid and long term planning.

Test re-opening messages to customers to learn their reactions
Keep leadership in front of your employees and customers at this time

Overhaul your brand entirely. A brand refresh can be time consuming, so now is the perfect time to tackle it!

Alternatively, focus on refreshing only one brand element, like your visual identity. You have plenty of time to think thoughtfully around it rather than rushing to the market.
Tighten up your internal messaging and positioning work.
Renew and expand your brand standards.

Update your media relations outreach list.

Media contacts are changing as layoffs and furloughs are affecting this industry like others.
Take care if this is the time to insert your brand into the news cycle.

If you see a slowdown for your product, can you ramp up promotion on any of the following:

Bulk purchasing.
Discount and coupon strategies.
New models like subscription or product-as-a-service offerings.
Pull forward bookings, reservations or other purchases that may occur later in the year but can be promoted to create more cash flow now.

Make up a new holiday to run promotions or better yet, grab onto a "national day of" that already exists.
Lend a hand to your HR department. Human Resources needs marketing, too! Help build your employer brand to improve:

Your approach to job postings.
The careers page of your website.
Your corporate LinkedIn job postings and page.

Talk to your customers! A current client is between 5 and 25 times less expensive than acquiring a new one.

Run online surveys to get your customers' opinions. Odds are good they'll be online more often in the days to come. Take the opportunity to learn more about their changing habits or desires for your offerings.
Develop a virtual customer panel that gives VIPs first looks at what you're considering and allows them to part of your go-to-market strategy.
Aid your sales team with current account communications

Research and deploy brand-friendly hashtags (or create your own, just be careful!) that are appropriate given the current state. Examples :

#COVIDcrafting
#QuarantineLife

For marketing and sales teams, a slow period is an excellent time to do outreach paired with:

Educational content that nurtures relationships.
Marketing automation to reach and track digitally.

Livestream or host webinars

Does your service translate to being paid for via a live stream?
Can you educate customers or run training sessions over live streaming or webinars?

Build brand goodwill.

Is this crisis a chance to offer your product or service for free or deeply discounted for public safety or those affected by unemployment?

Showing support to your community

How are your employees affected? Can you communicate internally and externally how you're supporting them?
Are there nonprofits that you associate with that would benefit from your financial support or marketing help during the pandemic?
Regarding the Black Lives Matter movement, how can your organization truly work on improving equality?

Develop COVID-19 specific content on your website

What do you need to tell employees, customers and partners?
If there is any effect on your products or services (i.e. supply chain disruptions).
As many venues go through re-opening, post how your policies and procedures have changed.
As the pandemic unfolds and work continues to evolve, keep up with your changing consumer. We welcome your ideas in the comments area below about what you're doing differently. Keep up the good work, brave marketers!