Updated June, 5 2023
Google Analytics: the bedrock of activity measurement on the modern web. Like many Google-branded properties, its life began as the product of an innovative start-up before it was hoovered by the Big G, rebranded, and pushed as The One Option. Since Google acquired Urchin Software in April 2005, three versions of the platform have been available to users. In October 2020, the latest update was unveiled: Google Analytics 4, or GA4.
While GA4 has been available for almost two years now, learning what makes it different, new and improved is very relevant, especially given that support for older versions of Analytics will cease to collect data starting on July 1, 2023. There's no time like the present to upgrade your account and ensure you're set to continue collecting data in Q3 2023 and beyond.
What is Google Analytics 4?
Google Analytics 4 is a complete overhaul of the tracking, naming and user interface known to Universal Analytics users since 2011. The update introduces a more streamlined user experience, with the most relevant stats front and center on the Home page, a live ticker of current users (previously hidden under a sub-menu) and a Recently Viewed section that essentially acts as a record of your GA4 browsing history.
The inclusion of the Insights section on the GA4 homepage speaks to the overall evolution of this new product. This section will feature a revolving door of notable changes, potential problems, conversion opportunities and more; all generated using machine learning. While this feature was available in the previous version of Google Analytics, it takes center stage with GA4.
Instead of relying on strict data collection from extensive page-tagging and cookie-enabled browsers, GA4 aims to be future-proof by sampling the gathered data and making intelligent extrapolations to predict patterns and trends. The feature allows marketers to focus on the user journey and not technical details involving their "time-on-site" or whether or not they have "bounced."
Key Features and Benefits of Google Analytics 4
From advanced measurement capabilities to a user-centric approach and more control over data privacy, GA4 offers a range of benefits that can help you stay ahead of the competition and drive more conversions.
Enhanced User Journey Analysis
GA4 has introduced a new user-centric approach to data collection and analysis. Unlike Universal Analytics, GA4 uses an event-based data model to deliver user-centric measurement, which provides deeper insights into user behavior and engagement. This approach lets you understand how users interact with a website or app individually, across multiple devices and platforms, and in real time. GA4's user-centric approach also focuses on privacy, with more advanced controls and options for users to manage their data.
The enhanced user journey allows you to understand better your customers' journeys across devices and platforms to deliver more personalized experiences based on that understanding. The update is handy in today's digital landscape, where customers interact with brands across multiple devices and platforms before purchasing.
By tracking user engagement across multiple touchpoints, you can better understand your customers' journey from awareness to purchase. This information can help optimize your marketing efforts and improve the customer experience. For example, you can more accurately attribute conversions to specific marketing channels, identify when customers are disengaged and take steps to re-engage them.
Improved Audience Insights
One of the key features is the ability to create audiences using new dimensions and metrics in the audience builder, which allows you to make more specific and targeted audiences based on user behavior, demographics and interests. The GA4 update provides enhanced options for controlling event value and event count, which can help you better understand user behavior and optimize your marketing efforts. The audience builder also includes a new option to match between two dates, which can help analyze changes in user behavior over time.
Customers have more choices and higher expectations than ever before, making the understanding of user behavior and preferences crucial. By getting to know your customers, you can take a more targeted approach to reach them by delivering more personalized experiences and building products and services that fit their needs. This can lead to increased loyalty, engagement and customer satisfaction.
Advanced Reporting and Data Visualization
Google Analytics' new advanced reporting and data visualization features can provide you with valuable insights that can help you make informed decisions and optimize your marketing strategies. The new update offers you more flexibility and control over your data analysis, including:
Customizable dashboards: Use a variety of data visualization options, such as bar, line or pie charts, to create and share reports with stakeholders.
Analysis Hub: Create custom reports and analyze data using a drag-and-drop interface, thanks to the additional flexibility and control you get from the Analysis Hub.
Exploration Report: Quickly perform ad hoc queries, filter and drill down into data, segment audiences and share your exploration to uncover unique insights about your customer's behavior.
Funnel Analysis: Visualize your visitors' journey to complete a task to find areas you can improve.
User Lifetime Report: Analyze user behavior and value over their lifetime as your customer.
With advanced reporting, you can dive deeper into your website traffic and user behavior data to improve your understanding of your audience. Plus, the new data visualization features enable users to create custom reports and dashboards that display data in a visually appealing and easy-to-understand format to help you identify trends and patterns that may be difficult to spot in raw data.
How To Setup GA4
Setting up GA4 is as simple as setting up a new property for Universal Analytics. However, one significant change (for the best!) is the elimination of "Views," the third level of organization required by Universal Analytics. Instead of Account>Property>View, there will now simply be Account>Property. Any functions you used to rely on Views for can still be performed by creating custom filtered reports within the GA4 interface. This avoids issues with uncollected data and gives everyone on your team a central Source of Truth for data.
While Universal Analytics isn't going away until Summer 2023, we recommend you set up a parallel GA4 property right away. If your current Analytics site tags use the gtag.js standard, you can allow GA4 to use the same tags for data collection. However, it's always a good idea to check that your site tags are placed appropriately on every site page.
Reporting in Google Analytics 4
What used to be a maze of similar-sounding menus and reports on the left-side menu in Universal Analytics has been wisely compressed into a plain-spoken "Reports" option in the sleek interface of GA4. Many of your old favorites are still here – Acquisition, Engagement, Retention – but have been organized in a logical grouping that never goes more than the three levels deep. While the "card" interface of the metrics may take some getting used to, most of your trusty charts can still be easily found.
Given the focus shift to the user journey, it is no surprise that Advertising is separated into its own high-level section on the GA4 hierarchy; conversions by channel, attribution modeling and, of course, AI insights. It's all here, but someone with know-how needs to customize the setup. Since you just so happen to be reading this on thunder::tech, go ahead and check out our
Performance Marketing
capabilities and let's make this great together.
Overcoming Challenges & Maximizing Google Analytics 4's Potential
While Google Analytics 4 (GA4) has many new features and improvements over its predecessor, it also presents some unique challenges when implementing and utilizing it.
Learning Curve:
Transitioning from Universal Analytics to GA4 involves a learning curve, as the new version introduces significant changes in terms of the data model, reporting and interface. You must invest time and effort to familiarize yourself with the latest features and functionalities of GA4.
Data Tracking and Migration:
Migrating existing data from Universal Analytics to GA4 can be a complex process. Ensuring accurate and seamless data tracking across different platforms and devices requires careful planning and implementation. Securing the precise data migration and properly tracking all relevant events, conversions and user properties in GA4 is essential.
Limited Third-Party Integration:
GA4 is a relatively new version, and as a result, not all third-party tools and platforms have full integration support. This may pose challenges for businesses relying heavily on specific marketing tools or platforms for their analytics and reporting needs. Explore workarounds or seek alternative solutions to integrate your preferred tools with GA4.
Adjusting to New Metrics and Reporting:
GA4 introduces a different set of metrics and reporting options compared to Universal Analytics. This shift may require you to adapt your existing reporting frameworks and develop new ways to measure and analyze data. Understanding and adapting to the new metrics and reports offered by GA4 is crucial to utilize its capabilities effectively.
Limited Documentation and Support:
Again, with GA4 being so new to the scene, little documentation and support may be available compared to the more established Universal Analytics. However, Google continues to provide updates and support for GA4, and there are growing communities and forums where marketers can seek assistance and share insights, including Google Analytics:
Help Center: A comprehensive library of articles and tutorials that cover various topics related to GA4.
Academy: Free online courses designed to help marketers learn how to use GA4 effectively and get the most out of its features.
Community: An online forum where marketers can connect with other GA4 users, ask questions, and share best practices.
YouTube Channel: Step-by-step guidance on how to use GA4 features and can be a helpful resource for marketers.
Consultants: Third-party experts provide personalized guidance and help marketers with GA4 implementation, data migration and customization
Overall, by leveraging these resources and communities, you can get the support and guidance you need to overcome the challenges presented by GA4 and make the most of its features.
Setting Up Custom Events in GA4
Now let's say you want to raise the importance of an e-commerce transaction to be more valuable than Page View, as you well should. A brilliant touch in GA4 is the consolidation of all site measurements – Page Views, Events, Transactions, User Timing – into a catch-all simply labeled "Events." Whereas the Universal Analytics definition of "Event" was a custom-created action that had to be coded individually into your site, GA4 collects all of these actions by default. There is perhaps nothing more beautiful than the option presented in GA4 under "Configure":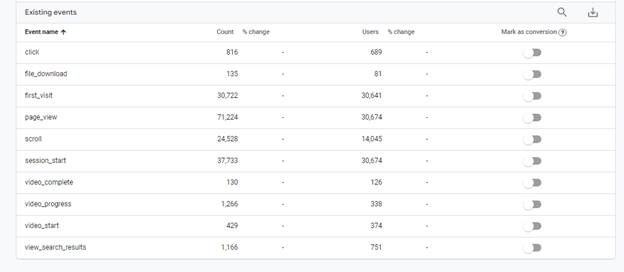 That's it! Toggle it on, and your reports will start measuring your most important events and help show where you can make improvements.
Next Steps
As with any significant update, there's a lot to learn and more to unlearn. Let this post serve as a reminder to get that GA4 Property created and start poking around. Here are some great resources for the nitty-gritty details of setting it up just right: