Google Analytics: the bedrock of activity measurement on the modern web. Like many Google-branded properties, its life began as the product of an innovative start-up before it was hoovered by the Big G, rebranded, and pushed as The One Option. Since Google acquired Urchin Software in April 2005, three versions of the platform have been available to users. In October 2020, the latest update was unveiled: Google Analytics 4, or GA4.
While GA4 has been available for almost two years now, learning what makes it different, new and improved is very relevant, especially given that support for older versions of Analytics will cease to collect data starting on July 1, 2023. There's no time like the present to upgrade your account and ensure you're set to continue collecting data in Q3 2023 and beyond.
What is Google Analytics 4?
Google Analytics 4 is a complete overhaul of the tracking, naming and user interface known to Universal Analytics users since 2011. The update introduces a more streamlined user experience, with the most relevant stats front and center on the Home page, a live ticker of current users (previously hidden under a sub-menu) and a Recently Viewed section that essentially acts as a record of your GA4 browsing history.
The inclusion of the Insights section on the GA4 homepage speaks to the overall evolution of this new product. This section will feature a revolving door of notable changes, potential problems, conversion opportunities and more; all generated using machine learning. While this feature was available in the previous version of Google Analytics, it takes center stage with GA4.
Instead of relying on strict data collection from extensive page-tagging and cookie-enabled browsers, GA4 aims to be future-proof by sampling the gathered data and making intelligent extrapolations to predict patterns and trends. The feature allows marketers to focus on the user journey and not technical details involving their "time-on-site" or whether or not they have "bounced."
How To Setup GA4
Setting up GA4 is as simple as setting up a new property for Universal Analytics. However, one significant change (for the best!) is the elimination of "Views," the third level of organization required by Universal Analytics. Instead of Account>Property>View, there will now simply be Account>Property. Any functions you used to rely on Views for can still be performed by creating custom filtered reports within the GA4 interface. This avoids issues with uncollected data and gives everyone on your team a central Source of Truth for data.
While Universal Analytics isn't going away until Summer 2023, we recommend you set up a parallel GA4 property right away. If your current Analytics site tags use the gtag.js standard, you can allow GA4 to use the same tags for data collection. However, it's always a good idea to check that your site tags are placed appropriately on every site page.
Reporting in Google Analytics 4
What used to be a maze of similar-sounding menus and reports on the left-side menu in Universal Analytics has been wisely compressed into a plain-spoken "Reports" option in the sleek interface of GA4. Many of your old favorites are still here – Acquisition, Engagement, Retention – but have been organized in a logical grouping that never goes more than the three levels deep. While the "card" interface of the metrics may take some getting used to, most of your trusty charts can still be easily found.
Given the focus shift to the user journey, it is no surprise that Advertising is separated into its own high-level section on the GA4 hierarchy; conversions by channel, attribution modeling and, of course, AI insights. It's all here, but someone with know-how needs to customize the setup. Since you just so happen to be reading this on thunder::tech, go ahead and check out our
Performance Marketing
capabilities and let's make this great together.
Setting Up Custom Events in GA4
Now let's say you want to raise the importance of an e-commerce transaction to be more valuable than Page View, as you well should. A brilliant touch in GA4 is the consolidation of all site measurements – Page Views, Events, Transactions, User Timing – into a catch-all simply labeled "Events." Whereas the Universal Analytics definition of "Event" was a custom-created action that had to be coded individually into your site, GA4 collects all of these actions by default. There is perhaps nothing more beautiful than the option presented in GA4 under "Configure":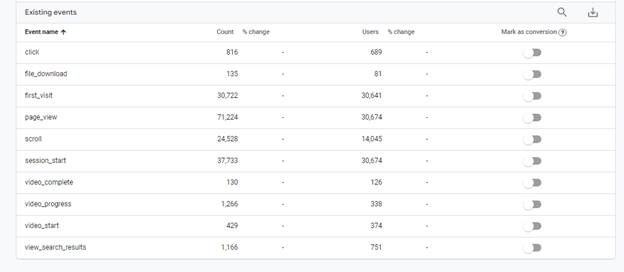 That's it! Toggle it on, and your reports will start measuring your most important events and help show where you can make improvements.
Next Steps
As with any significant update, there's a lot to learn and more to unlearn. Let this post serve as a reminder to get that GA4 Property created and start poking around. Here are some great resources for the nitty-gritty details of setting it up just right: