Have your paid search campaigns stopped driving new traffic? Are your results not reaching the performance you expected? Have you tried to fix the problem by testing new keywords but need to know if the changes have made an impact?
Performance marketing is about achieving results-based marketing for your business. When you can achieve results that also impact your bottom line, you can begin to generate real growth and not just "online noise" as many companies like to call it.



What Is Performance Marketing?
Performance marketing is a way to drive sales by using data to identify your target audience and create personalized experiences for them. Its the process of using analytics, data and technology to determine what customers want.
Performance marketers use metrics to track how well their products or services are performing in relation to goals set by the company. These metrics can include sales volume, return on investment (ROI), customer satisfaction scores and other measures of success.
Not sure if Performance Marketing is the right option? Its for::
Companies with a vision, but need a plan
Companies that want to grow and scale strategically
Companies that want to do more than just random acts of marketing
Companies that want to show a return on marketing investment
How does Performance Marketing Work?
Performance marketing is focused on building relationships with customers and helping them achieve their goals. Its all about providing value, not just pushing products.
There are three main types of performance marketing:
Lead generation: This type of performance marketing focuses on getting people to sign up for something (like an email list), so that you can contact them later with offers or information that might interest them.
Retargeting: Retargeting works by showing ads to people who have already visited your site or interacted with it in some way - like clicking on an ad or filling out a form - but didn't convert into buying anything at the time. The goal is for these visitors to come back and complete the action they started (like buying something).
Inbound marketing: Inbound marketing uses content like blog posts or videos to attract visitors who may then become leads or customers down the road when they're ready for purchase.
What are the benefits of Performance Marketing?
You don't have to be a marketing genius or set up a fancy website—all it takes is a little creativity and investment. You can use performance marketing to create content that is relevant to your audience but that also drives conversions.
Here are some benefits of performance marketing:
Its easy to set goals! All you have to do is put some thought into what kind of content people want, then invest in it.
Its scalable! You can start small with simple tactics like email campaigns and social media posts, then keep expanding as your brand grows.
It gives you control over how much money you spend on marketing campaigns. This means less stress about whether you're spending enough money on digital advertising!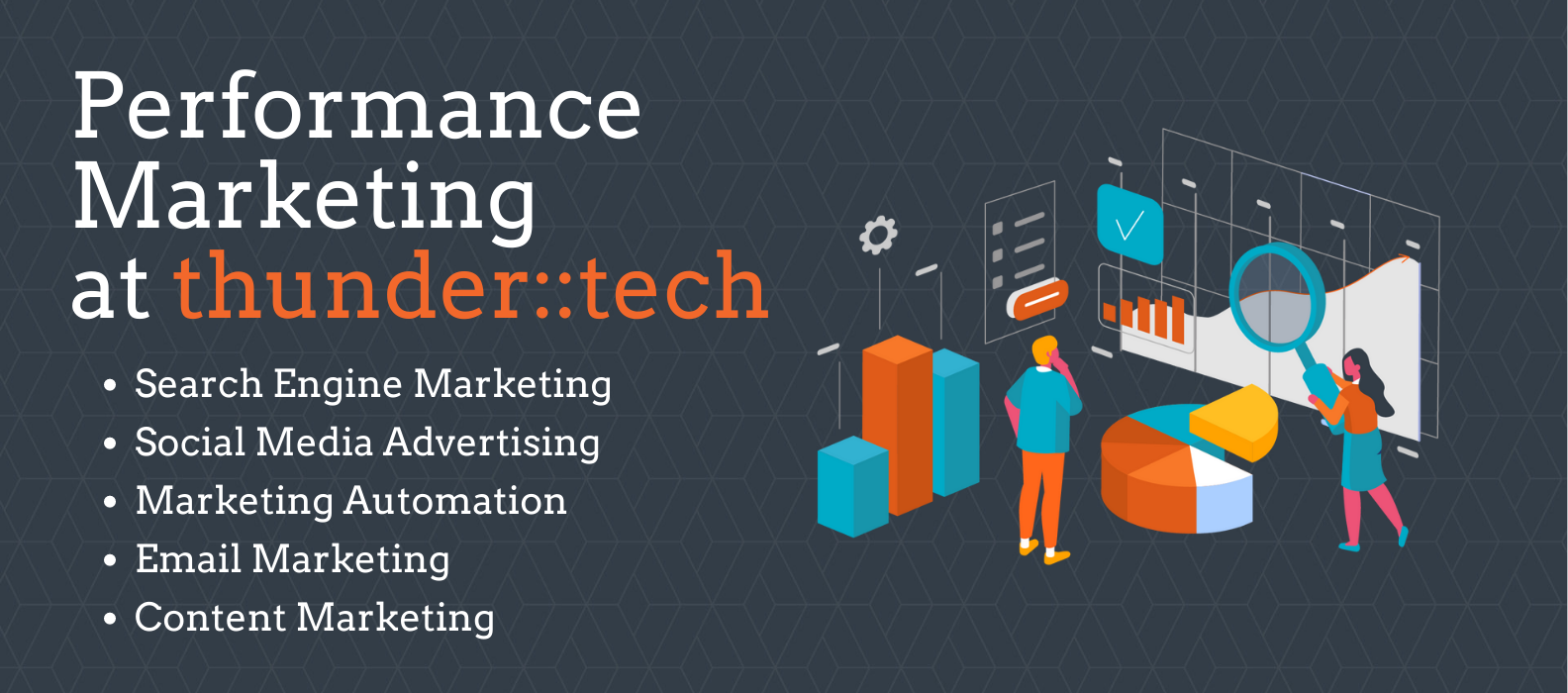 Our Performance Marketing Solutions
At thunder::tech, we offer all the following services as part of this program, and for a good reason. They are key elements of an integrated strategy and are most effective when used in conjunction with one another.
However, this does not mean that every service is necessary for every company in every industry. By working together with us through our performance marketing process, we will be able to recommend the right mix of services and solutions for your unique needs:
Social Media Marketing and Advertising
Why Businesses Choose Us for Performance Marketing
At thunder::tech, we specialize in helping businesses like yours make sense of performance marketing. We'll walk you through the whole process, from defining your goals to setting up campaigns and monitoring their progress.
We know how important it is for you to get results quickly and easily, so we will work with you to find a solution that fits your budget and timeline--and then we keep working until we've found one that works!