Pay-Per-Click (PPC), or paid search as some might call it, is a powerful advertising model that enhances your online presence. It allows for precision targeting; ads are displayed to users actively searching for information or browsing related websites. When implemented and iterated correctly, PPC can boost your sales, drive traffic to your website, generate quality leads and more. By operating through search engines, social media platforms and display networks, you'll reach your desired audience quickly and efficiently.
However, without the know-how, PPC can have a costly learning curve. To avoid wasting resources, the guidance of an experienced marketing agency specializing in
PPC management
is crucial. By leveraging their expertise, you can maximize the return on your investment (ROI) and achieve your objectives more effectively. A competent PPC management team will refine your campaigns, optimize your targeting and continuously monitor performance, ensuring that your advertising efforts align with your goals and yield the desired results.
Importance and benefits of PPC management service
There are many layers of PPC campaigns to address for them to be a valuable addition to your marketing strategy. The goal should always be to enhance your overall ROI by optimizing and iterating your campaigns. And while someone on your team can do this, it's a time-intensive multi-step process, and it's easy to miss target audiences, which can be costly. A digital marketing agency has experts whose sole focus is staying up to date with everything PPC. They can quickly and effectively manage your campaigns, make suggestions and utilize data to hone your audience.
You can expect a few things from a quality agency:
Strategic Development: They'll work with you to define your campaign goals, target audience and desired outcomes. By specifying your goals, the agency can create a comprehensive PPC strategy that aligns with your objectives.
Keyword Research: An agency will conduct thorough keyword research to identify relevant and high-performing keywords for the campaign. This helps ensure that ads find the appropriate audiences.
Ad Creation & Optimization: An agency will develop compelling and engaging visuals and copy for the PPC campaign. They continuously monitor and optimize campaign performance through testing variations, headlines and call-to-actions to improve the click-through rates (CTRs) and conversions.
Bid Management: Managing bids is a critical aspect of PPC campaigns. They'll make regular adjustments based on factors such as keyword competitiveness, performance and campaign goals. Through this, they'll maximize ad visibility while staying within budget.
Targeting and Audience Segmentation: An agency can help define target audiences based on demographics, interests and user behavior. Audience segmentation strategies help create a more tailored experience for visitors, which in turn improves overall conversion rates.
Campaign Monitoring: Constant monitoring of campaign performance is crucial. An agency can make data-driven decisions and pivot when necessary by tracking key metrics such as impressions, CTRs and cost-per-click (CPC).
Reporting and Communication: A quality agency will regularly report on campaign performance, key metrics and ROI. They'll maintain an open line with you to discuss progress, address any concerns and provide recommendations for future strategies.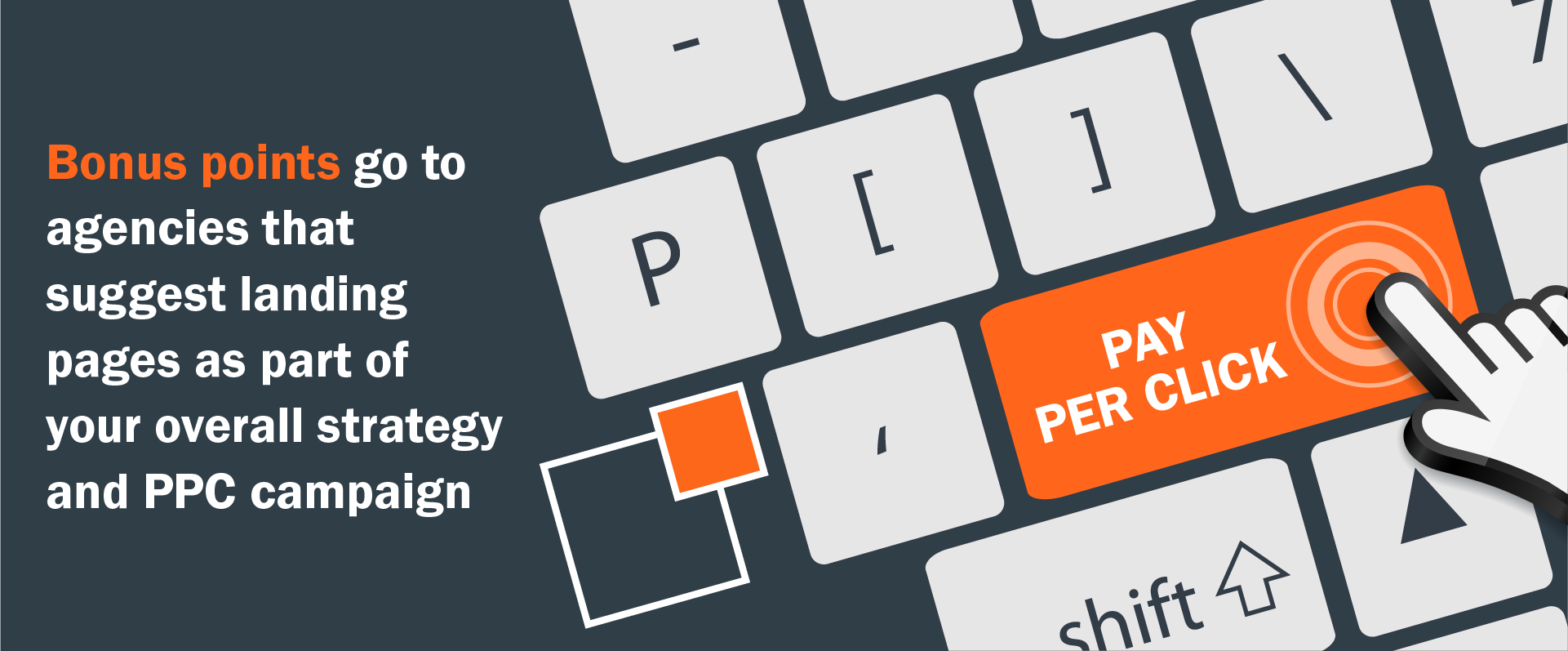 Bonus points:
As mentioned, numerous elements contribute to a successful PPC campaign that an agency can take on. Bonus points go to agencies that suggest
landing pages
as part of your overall strategy and PPC campaign. They're a healthy addition to your PPC strategy with many benefits, from higher conversion rates to quality leads.
Questions to consider
Finding an agency right for your business is easier than you might think. Though there are many to choose from, you can narrow your search by answering just a few questions for your business. Here are a few questions to consider:
1. What are your business goals?
Are you looking to increase sales, drive traffic to your website or obtain quality leads? Knowing your goals can help you identify agencies with the right experience. You can narrow your search even if you are unsure about your goals or how to effectively add PPC campaigns to your strategy. Some agencies offer additional services and can help you build a
marketing strategy
with defined plans.
2. Are you looking for a specific service?
When selecting an agency, it's crucial to clearly understand their areas of specialization and available resources. Agencies typically provide a diverse range of services, but it's important to identify their specific expertise and capabilities. Paid search, for instance, encompasses various platforms and ad types, including social media and Google Ads. Therefore, it's vital to ensure that the agency you choose possesses the necessary skills and proficiency in your selected platform.
3. What are you willing to spend?
You should have a budget in mind before approaching an agency to ensure a successful collaboration. There is no one-size-fits-all approach regarding pricing models and rates in the agency landscape. Each agency has its own unique pricing structure based on factors such as their expertise, reputation, resources, and the specific services they offer. Just make sure you're paying for the services you actually want.
Green flags

Data data data. An agency should prioritize the use of data to enhance its services. PPC advertising relies heavily on data, and a quality agency must have a comprehensive understanding of analytics to devise effective strategies and generate innovative ideas that maximize your overall ROI. A quality agency recognizes that it's not solely about analyzing existing data but about capturing new information to create new audiences and customer personas. They should have a solid understanding of how to effectively expand your reach and target new audiences.

Communication and transparency should be other fundamental core values. A reputable agency understands the importance of keeping clients informed and engaged throughout the entire advertising campaign. They have well-established communication processes in place to ensure you're consistently in the loop regarding the progress, performance and strategies implemented for your ad campaigns. You should never have to guess where your campaign stands!
Red flags
Unrealistic promises are always something you should be on the lookout for. PPC can't always guarantee specific outcomes since campaigns require continuous optimization. If an agency is promising specific results or claims they can achieve immediate success, it is best to proceed with caution.

Another red flag to look out for is a lack of industry knowledge. No matter how long an agency has been working with paid search, the world of PPC is ever-evolving. A quality agency will be up to date on the latest trends and best practices to guide your campaigns effectively.



Overall PPC advertising is a powerful tool to boost your online presence, drive sales and generate quality leads. However, to avoid costly mistakes, the guidance of an experienced PPC management agency is essential. They can refine your campaigns, optimize targeting and revitalize your marketing strategy. By leveraging their expertise, you can maximize ROI and achieve your marketing goals more efficiently.

Ready to dive in? Our team of PPC experts is eager to help. We'll work closely with you to understand your goals and create campaigns you can be proud of. Let's take your PPC game to the next level together. Contact Us today and let's get started!