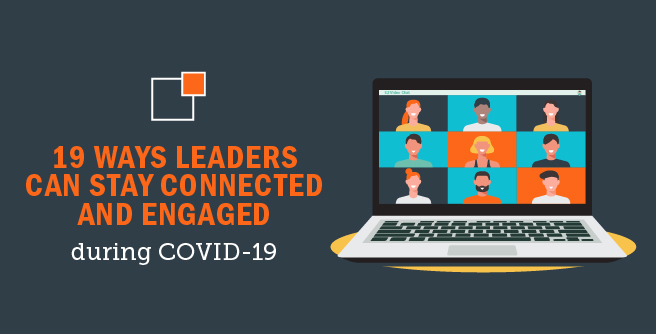 The impact of COVID-19 has led to strange times for marketers. We're seeing new paradigm shifts every day, and at thunder::tech, we are working hard to help you navigate its impact on your business. This content is one of many resources we are creating for marketing and management in the midst of the coronavirus.
As things continue to change, we're helping by providing marketing advice, fresh perspectives and strategic planning for companies during and after the pandemic. For a full list of our COVID-19 resources, click here.
Organizations big and small have figured out how wired we can be to each other while working remote during the COVID-19 coronavirus pandemic. Zooms, Slacks, email, document sharing, etc. have all proven to work with relative ease through the power of the Internet. However, the downsides are abundant.
Even though we're wired to each other; we're distant. Each week feels like a month and everyone needs a haircut. After talking to clients over the past few weeks, a shared concern keeps arising for leaders at all levels -- how can they stay connected and engaged with their teams and clients?
The Art of Staying Together While Apart
Many leaders like to MBWA -- "manage by walking around". Others are ever-present at trade shows or on speaking circuits and some like to stay to themselves while keeping a consistent presence in their office. Now that physical distancing has kept us truly distanced from each other in many ways, what's a leader to do?
Many groups began by embracing Zoom and other video conferencing platforms, but now "Zoom fatigue" is getting very real and I for one, cannot handle it non-stop, either. But, surely we can't hunker down in our home office and just answer emails and expect that's how we stay engaged!
Building a strong employer brand during this crisis
will have benefits for how quickly and effectively an organization will rebound.
To help you get your brainwaves flowing and business connected, here's a list of thought-starters. These ideas are ones that we've heard from clients and friends of thunder::tech that have successfully deployed them for the past several weeks. We've even tried some ourselves! Have you?
Virtual happy hours. Most of us have been to one, and yes they're needed, but mix up the topics or ways you conduct them. Invite clients, partners and others that haven't seen each other in months.
Virtual introductions. Sales and leadership teams have done this forever at trade shows and over morning coffees, so take it online. Can you connect clients or partners that can be useful to each other during this time? An email makes easy work of this, but a video conference will help you get to know the people better.
Client and customer check-ins. This is a great time for multiple levels of your leadership to make the rounds.
Invite your family in. Your spouse and kids are probably home as well! Leaders get real (and perhaps vulnerable) by letting the kids jump on the call for a minute. Introduce your team and get real about what's on yours and your family's minds.
Town halls. Be accessible to your teams and partners more than usual. A video conference group meeting gives stakeholders a chance to engage and hear your message.
Leader lunches. Order delivery for your leaders and break bread together - virtually.
Internal e-newsletters. Many small items or updates aren't being seen or discussed among those teams used to working side-by-side. Use an internal email newsletter to crowdsource this information.
Snail mail. The postal service is still working and ready to get your handwritten letter to whoever could use the pleasant surprise.
Middle management. If you're in the C-Suite, reach out to middle managers and those who are running more day-to-day activities than you. They'll help you keep a pulse on what's happening in more real time.
New hires. Make sure employees who have only been with you a couple months or even a few weeks feel that they're still becoming part of your team from afar.
Social media. Leaders should get more comfortable with social media. For some brands, leaders could have a larger following than the organization's company profiles ad pages. Remind your employees that they should consider following the handles and hashags that you use to post so they can keep up with the brand, too.
Ongoing education. Internally and externally there's plenty of ways to virtually learn and share in small and large groups.
Video messages. If you can't be seen physically by your employees, your customers or other stakeholders, then be seen and heard virtually. Depending on your audience and the message, everything from authentic, direct messages filmed on phones to well-edited remote videos can have an impact.
Client and customer interviews. This could be an appropriate time to conduct voice-of-customer (VOC) interviews to learn more about your clientele. You can also conduct some informal information gathering on how they're being affected by the pandemic. Call and reconnect with that partner you're interested in getting a quote from as you're updating your case studies. It's the perfect springboard to a larger conversation.
Employer brand exploration. Use this time to interview and survey your teams to learn why they really like working at your organization. Insights from this can be used to deepen or repair cultural aspects of your organization and make your employer brand stronger as you emerge from this crisis.
Recognition. Try new contests, challenges and awards to recognize those that are doubling down efforts for your customers and organization during this time.
Build a customer panel. Find and formally engage your passionate customers by asking them if they would serve on a virtual customer panel to weigh in on changes and improvements to your organization.
Thank your extended team. How can you show gratitude to the spouses, partners and children of your team at this time?
Philanthropy. While this is a tough time to give, it's needed most during a crisis. If you don't have formal pathways for corporate volunteering or giving, this could be a great time to let team members step up to decide what's important and how to contribute.
As we move into a socially-distanced reality blended with more work from home, leaders and organizations will need to embrace a mix of old and new methods to keep connected and engaged.
If you have ideas on how leaders can stay engaged and connected during this time, we would love to hear about them in the comments below!

For more COVID-19 resources for businesses, click here.