Apple's iOS 14 dropped in September 2020, but you may have noticed iOS 14 panic suddenly popping up all over your LinkedIn feed. Why is a phone update suddenly causing everyone from your marketing co-workers to Mark Zuckerberg to go bananas?
Meet iOS 14.5, the update to iOS 14 released to the public in late April 2021. From a digital marketer's perspective, iOS 14 rewrote the book on social tracking and ads overnight. It's beginning to present the user with a conscious choice in their personal data sharing.
For marketers, this update is a pretty big deal, especially when it comes to your paid social media advertising efforts. Read up on iOS 14's big changes below, and learn the few key steps you can take to ensure your digital campaigns continue to run with minimal interruption.
What's Going On?
Apple announced changes with its iOS 14 update that will impact the way Facebook is able to receive and process conversion events from tools like the Facebook Pixel.
Apple is requiring all apps in the App Store to ask iOS users for permission for the app to track them outside the platform in different ways. This new iOS 14 policy will prohibit certain data collection and sharing unless people opt into tracking. The prompt will look something like this: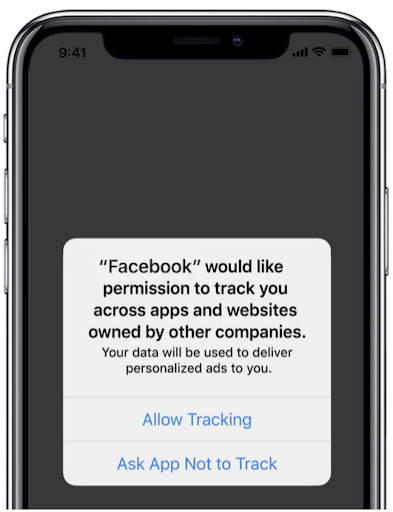 What Does this Mean for Facebook Ads?
A few key things:
If Facebook isn't able to track user behavior, the effectiveness of the Facebook Pixel shrinks, which means inaccurate reporting for conversions and ineffective remarketing efforts.
Without full tracking, it will be more difficult to identify audience insights and key demographics, including age, gender and location.
This update will also limit how many conversion events are able to be tracked on websites through Facebook, from unlimited to now only 8.
Okay, But Who's Affected?
Any business using Facebook ads for website traffic or conversions will need to pay attention to this. No matter the size, industry or scale of your business, if you run Facebook ads with the focus of web traffic or conversions, your ads will be impacted by iOS 14.
Is There Anything We Can Do?
All businesses on Facebook should do the following in your Facebook account. (If this looks like a different language to you,
reach out to our Social Media Team for assistance!
)
Verify your domains with Facebook.
Prioritize the 8 conversion events for the Facebook Pixel.
Review ads and ad sets Facebook has flagged as being affected by the update.
Implement the Conversions API for total protection and accurate reporting.
It might seem like this update is causing unnecessary work for you, but when you think about it, it's not such a bad thing. There will be a few changes (For example, when reporting now, it'll be useful to note that certain analytics will only include "opt-in" users.), but it will allow users to actively think about where their information is going. You know that it's in the right hands with your ads, but that isn't something users can always assume.
This is just another change in the ever-evolving world of digital marketing. By following the steps above, you can ensure that your website-driven ad campaigns aren't disrupted by the iOS 14.5 software update.
And hey, this is also a great time to review ad sets and make sure everything is still aligned with your intended strategy and audience. Think of it as a sort of spring cleaning for all your Pixel-related marketing.
Ready to adapt? If you have any questions regarding the iOS 14 changes to your digital marketing strategy, thunder::tech's social media team can help. Reach out with all your iOS 14 Qs here.