Ok so no, robots are not really taking over, but kind of. I mean have you seen those hotels run by robots??
Historically speaking, media buying is all about the art and science of placement. Where should the ad go? How big should it be? What's the message? Most importantly, who will see it? From newspaper ads, to magazines, radio and television, finding the media your target audience will engage with is the great challenge of advertisers and agencies. The snappy messaging, engaging visuals, appealing product – those are fundamental, but if the buying public doesn't see them, what's the point?
What is Programmatic Advertising?
Programmatic advertising is an umbrella term that describes an automated system that buys and sells digital ads across the Internet. By using complex ad exchanges as intermediaries, advertisers can place their ads on thousands of publications. This frees up the marketing strategist from having to contact every placement website/app/streaming platform individually; instead, they can spend time sharpening their audience targeting and viewing measurable engagement results to make sure their advertising dollars are used efficiently.
You would be hard-pressed to find a better explanation of the nitty-gritty details than
this piece by Digital Reach
.
Standard Display Ad
The most recognizable type of programmatic ad is the Standard Display ad. It is the classic "banner" ad that has adorned the Web since it became World Wide. While the shapes and placement haven't changed much, the targeting available is much more sophisticated, ensuring that the right user sees the right message. The most common display ad shapes are the Leaderboard, Skyscraper and Square.
Native Ad
The native ad is the chameleon of programmatic advertising. When done right, they don't appear to be ads at all. These ad units are in-line with the feed of articles or clickable links on a website. They typically consist of an image and a written headline, with some variation, depending on the host site. Now here is the big challenge with native ads: you need to deliver on the content promised by the headline. In this way, native ads are almost like syndication for your blog/content pieces. It can take a little more planning and setup, but the results speak for themselves.

Video Ad
Video ads are the commercials of the digital age. Programmatic video ads can reach users wherever they are, from social media feeds to videos embedded in news articles. Most importantly, people can interact with the video ad to help us measure engagement, dissatisfaction, or intent to purchase. While there are a wide range of video ad types (in fact, we've written about it
before
), for a programmatic platform, we're going for universality. That means no longer than 30 seconds, tells a compelling (mini) story, and offers a clickable call-to-action for more content or ability to make a purchase.
Creating a video asset seems like an intimating proposition. Fret not, there are plenty of resources available to get your message onto this playing field. You can go the DIY route with something like
Canva
, or the professional and fun route with
thirtysix::thirtyfive
, thunder::tech's in-house video studio. We obviously have a preference, but you do you.
Audio Ad
To keep the old school metaphors going, audio ads are the radio spots of the digital age. This means a programmatic platform can place audio ads on traditional radio streams, podcasts, audiobooks, even ad-supported music platforms. Perhaps their greatest strength, however, is the ability to reach audiences in screen-free moments. This means the same asset can be used to reach users across mobile, desktop, smart speakers, or connected cars. No other format can boast such range.
Ad spend in digital audio in increasing year-over-year. We highly recommend this format as a effective medium with a low barrier to entry.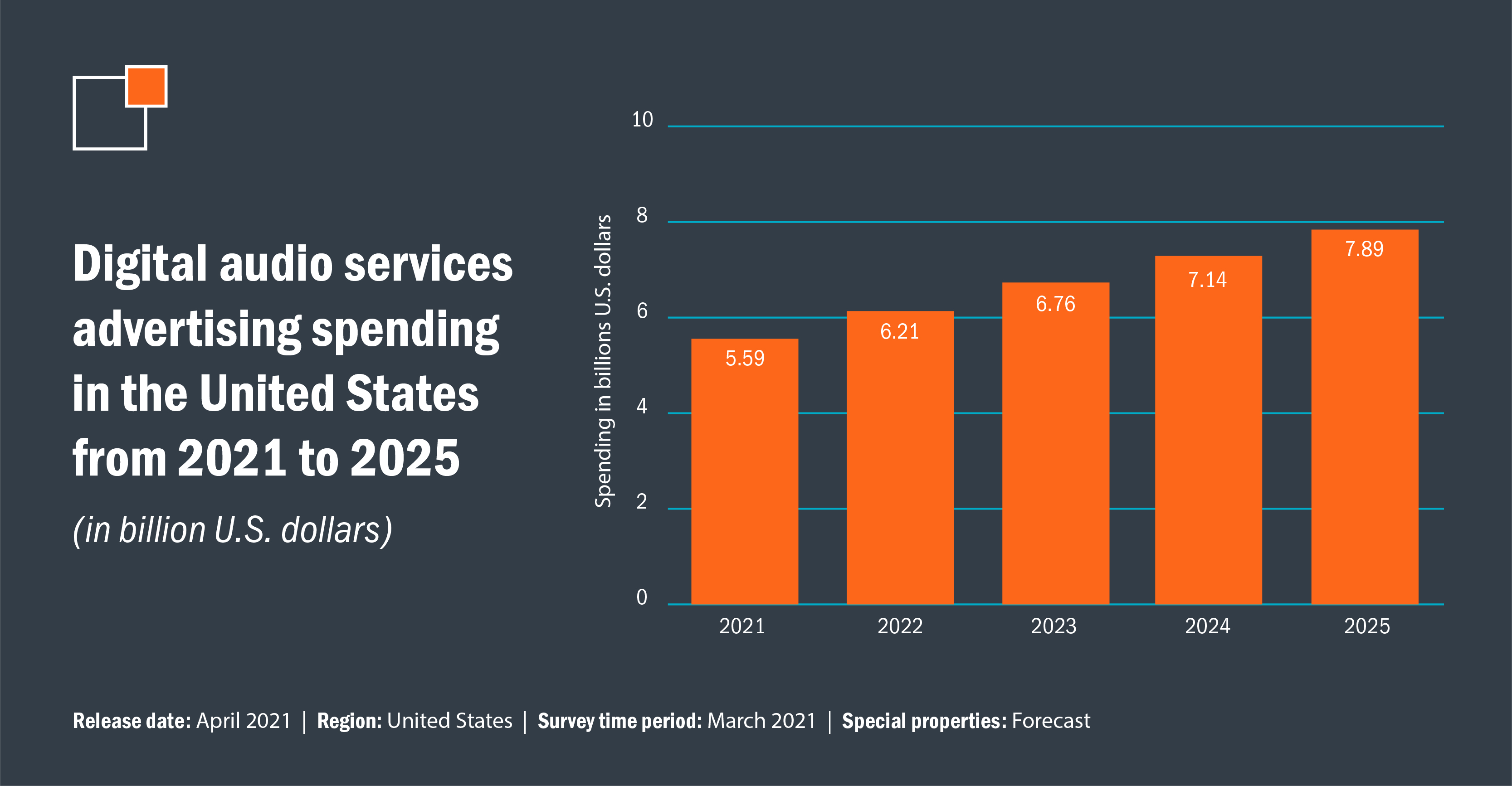 Measuring Success
The most important thing to remember while integrating this into your digital marketing strategy is that programmatic advertising is primarily an awareness medium, not an engagement- or conversion- driver. There are exceptions, of course, particularly when you utilize a remarketing strategy on the platform. Just know that if you're looking to feed the top of the funnel, programmatic is a sophisticated and advanced way to start.
Now we know this all can seem intimidating which is we are right here to help! If you are looking to integrate programmatic advertising into your digital marketing strategy, reach out today and we can get started.